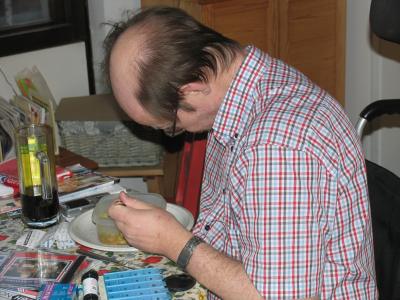 Niskatuki, oikeastaan otsapanta

My "normal" wheelchair got a new head support

Normaali asentoni on oikeastaan aika epänormaali. No jaa, minä itse olen tottunut siihen oikein hyvin. Eli omasta mielestäni ryhdikäs pystyasento on tosiaankin luonnoton. Esimerkiksi syöminen sellaisessa asennossa on suunnilleen mahdotonta.
This is my "normal" position. I think, this feels just good. But everyone other feels, this is quite horrible and I must be quite sick. No way! Actually I think, the "normal"! position is bad. Because I've been just used to it.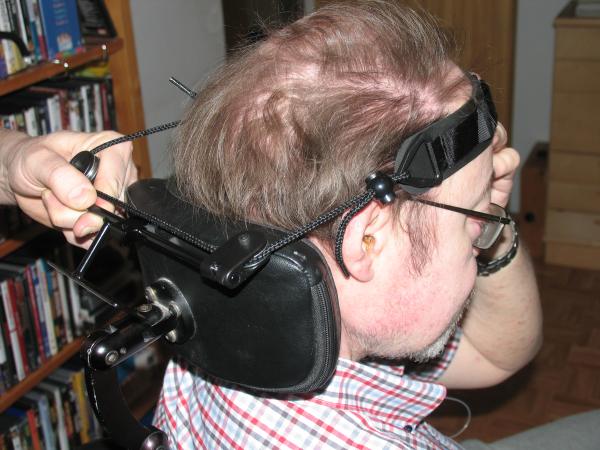 Tuollaisen otsapannan avulla pään saa nostettua "oikeampaan" asentoon. Aiemmin tuet ovat nojautuneet leukaani. Silloin syöminen ja jopa puhuminen ovat oikeastaan mahdottomia juttuja. Ja juuri niihin tilanteisiin se olisi tarkoitettu. Koska pää on aika painava; viitisen kiloa. Sitten se on kapean ja aika pitkän kepin nokassa.

Usually supports have base-point in chin. But there is quite heavy problem:: eating and even talking requires moving the whole head. And it weights about 5kg. Not any easy task to move such!
Here the base-point is in my forehead. And those other places are "free".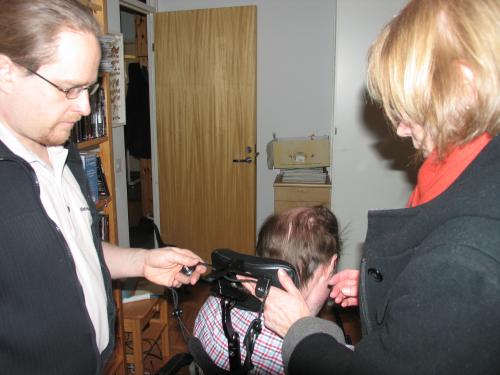 Sen asentaminen onkin isompi ongelma. Aluksi tuessa oli aika isot "siivet" sivuilla. Lähinnä sellaiset, jotke tuovat mieleen starfighterin tai Ruffen korvat trimmauksen jälkeen. Mutta ne todettiin aika tarpeettomiksi. Tämä ihan tavallinen niskatuki toimii kerrassaan erinomaisesti. Otsapanta kiinnitetään vain sen taakse.
Tätä kehitelmää oli luomassa joku otsapannan maahantuojalta (Handico Oy) ja Heli Gulin Espoon kaupungilta.

First of all, this thing has very huge wings. Like starfighter. Or ears of Ruffe after trimming his excess hair. Those are not necessary. Only that small piece back there. Because only that (and naturally the band) are necessary.
Now is the design phase. Someone (I really can't remember his name) from the importer an d Heli Gulin from Espoo are discussing the design.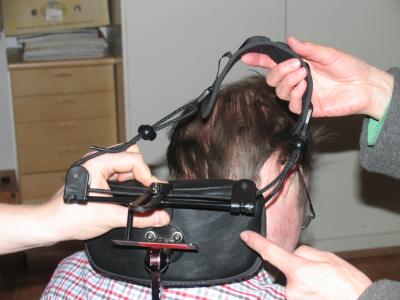 Pääni rötkähtää alas heti, kun tuki poistuu. Lihakseni tällä alueella ovat jokseenkin olemattomia. Ja se rötkäys ei ole ihan varsinaisesti kiva juttu.

When the band is taken away, my head "drops". Because my muscles here are nearly non-existent.

---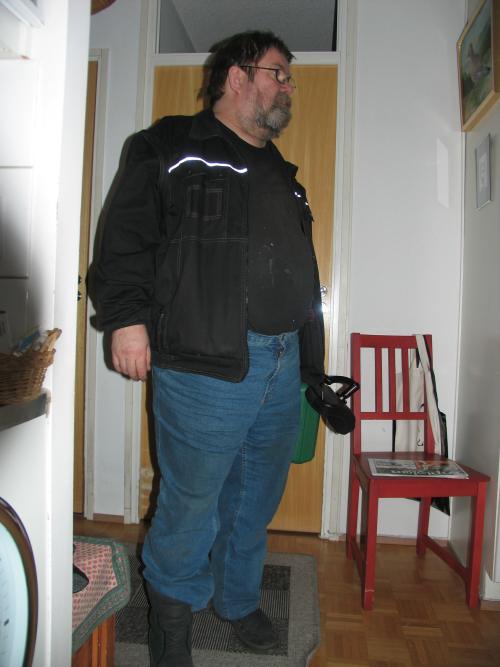 Asentaja haki edellsesti käyttämäni niskatukeni. Maanantaina joakus puolenpäivän jälkeen. Mukanaan hänellä oli oikeastaan ihan vastaava niskatuki, jota olin aiemmin käyttänyt.
Torstaina hän toi sitten valmiin. Ilmeisesti otsapannan takaosa oli liimattu paikoilleen.

Instructions were delivered go him. On Monday he fetched my old neck support. Then he did some modifications to it. Then at Thursday the thing was installed.

---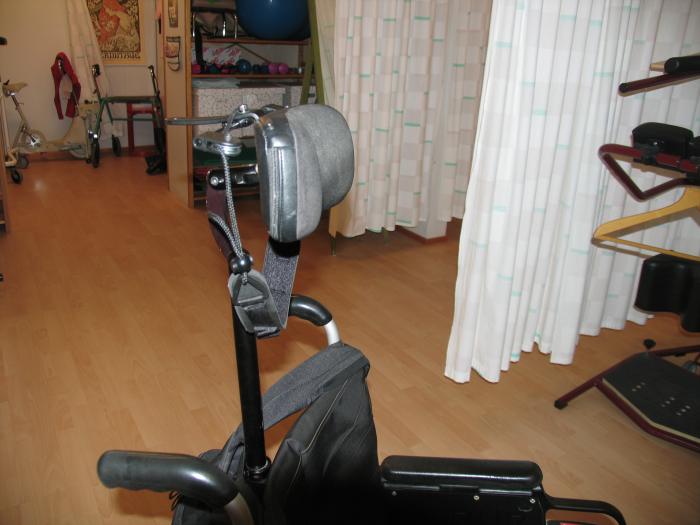 Tällainen se sitten on. Otsapannassa on jonkinlainen mekanismi, joka mahdollistaa pään kääntelyn.
Anita viritteli tuen soveliaaksi. Pyörätuolissa on mukana pikkuinen pussukka, jossa on kaikki tarvittavat työkalut.
Here it is. It has some kind of mechanism, that would make possible to turn my. In theory, anyway. In real world, that isn't very possible
My therapist Anita adjusted thing for me. My wheelchair has small set of tools. Quite easy thing then.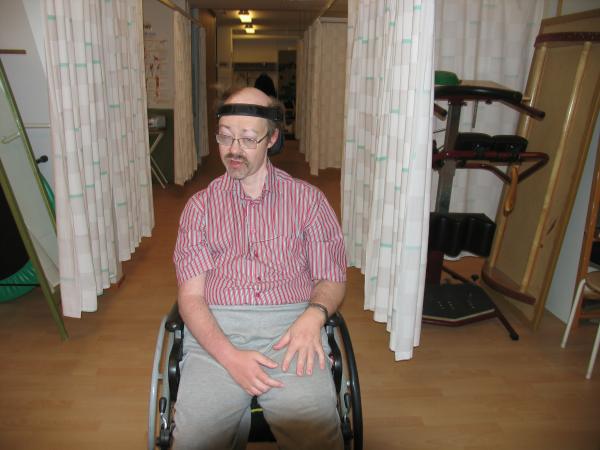 Ja tässä se sitten on käytössä. Saattaa hyvinkin hyvinkin olla niin, että käyttöönotto tehdään aika vähitellen.

And here I use it. One must start at very small steps using it. Then more and more.

---
<oar@arnberg.fi>