Kanavaristeily
Sightseeing cruise to our archipelago
Olen mainoksien uhri! Telkkarissa on tullut vaikka kuinka monta kertaa Sun Linesin mainosta kavaristeilyn erinomaisuudesta. Ja nyt sitten vakuutuin asiasta. Ja raahasin myös isäni mukaani. Eli koko kesän mainoskampajasta he saivat kaksi päänahkaa... Tässä näkyykin laivamme: m/s Diana.
Telly commercials are rather effective. I was hooked on Sun Lines cruise near Helsinki.
And (drums, please) here is out ship: m/s Diana.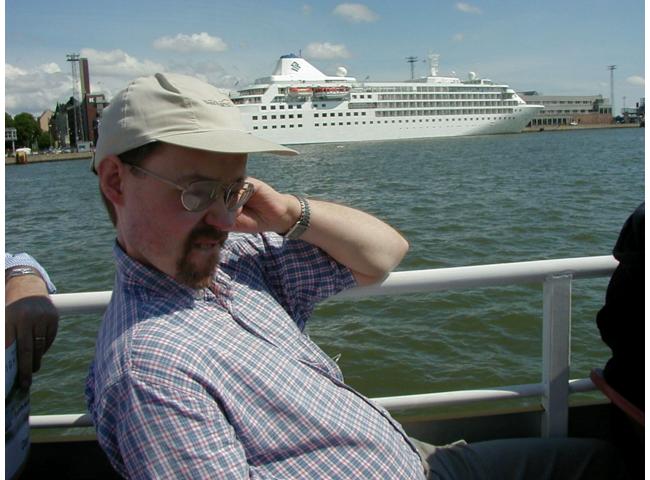 Näin kesäaikaan Helsinkiin rynnii valtavia turistilaumoja (lähes pelkästään jenkkejä) risteilylaivoilla. No joo, talvella saattaisi risteilylaiva on pikkuisen kalsa... Tässä risteilijässä on jokaiseen ulkosainän hyttiin saatu ihan oma parveke.
We have during summer awful amounts of tourists, particularly Yankee one ("You know..."). Okay, I must admit, that winter might be rather hard for cruise ships. This ship has really novel idea: every cabin has own balcony.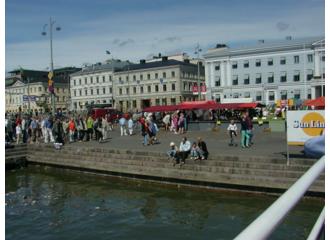 Ja tässäpä on sitten kolera-allas. Karmea nimi? Mutta pohjautuu ihan todellisuuteen. Karanteenissa olleet laivat joutuivat makaamaan siellä. Ja ilmeisesti kolera oli silloin (viime vuosisadan alkupuolella) aika oleellinen juttu.
This place is called as Cholera Pool. Not because of it's water, okay that has improved quite much. But that isn't the reason. The reason was, that quarantined ships were there in the beginning of last century. The center of Helsinki wasn't near it, naturally.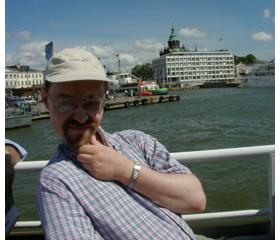 Siis ilmeisesti "lahjakkaat" arkkitehdit saavat tehdä ihan mitä vain. Esimerkiksi tuo Enso-Gutzeitin rakennus ei missään tapauksessa sovi Eteläsatamaan.
"Great" architects can do just anything. For instance this awful building by Alvar Aalto. Okay, that building is just exaptionally beautiful. But not there!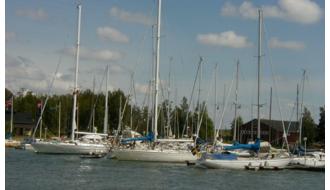 NJK:n veneitä. Siis nämä eivät ole mitään köyhien poikien leluja...
Boats of NJK. There are really expensive boats; maybe some of cheapest ones are million bucks or so...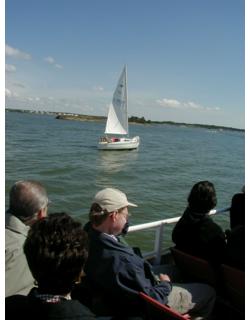 Herrajestas, purjevene, joka kulkee purjeilla. Onkos löpö loppunut? Kun useimmiten purjeet olivat tiukasti alhaalla.
Hey, this is really exceptional thing: sailboat, which really sails. Because usually they had sails down.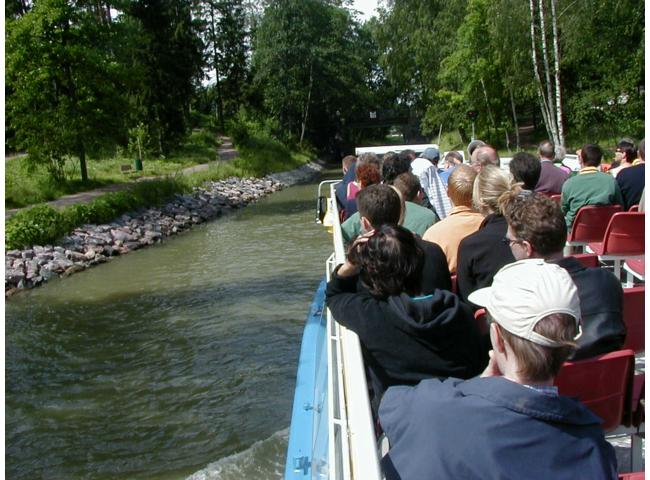 Kanava, joka on Laajasalon pohjoispäässä, on todellakin romanttinen.
This extremely narrow and romantic passage is in northern side of Laajasalo.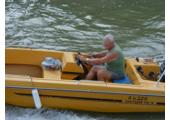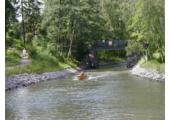 Kanava on kerrassaan kapea; sinne mahtuu vain yksi laiva kerrallaan.
This waterway is really narrow! Only one small ship can be there.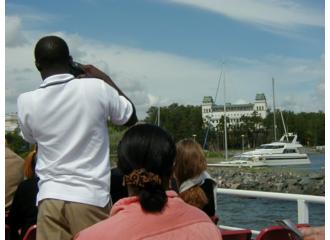 Tässä on Kulosaaren Kasinon hotelli. Ja tämä kuvaaja oli ihan uskomaton: hän katsoi ilmeisesti kaiken ajan videonsa etsimen läpi. Ilmeisesti hän sai tehtyä puolentoistatunnin risteilystä parisen tuntia videota. Kuvaustyyli (sitä kutsutaan nimityksellä "ruiskumaalaus") näytti siltä että filmiä katsova yleisö saa taattuvarmasti merisairautta...
The casino of Kulosaari. Or actually the hotel of it. Drawn by Lars Sonck, architect from beginning of this century.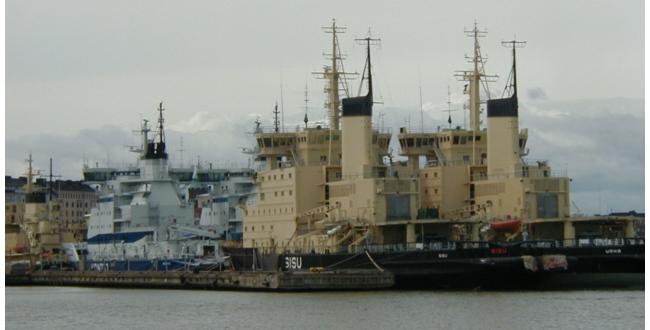 Jäänmurtajalaivasto on täällä (Katajanokan vieressä) kesäaikaan.
Icebreakers are not much use during summer. But during winter, they are really extremely important for us. Quite hard thing? Some official solved the problem by renting them during summer-time. To oil-rigs and such. But then some other official, that one gets much better money by renting them all year round! And no-one objected this brain-dead idea!!


Laivastolla oli jokin esittely tai jotain Eteläsatamassa.
Our Navy is doing some PR stunt or something like it. I think, this boat represents quite much of it...

---
Olli Arnberg <oar@arnberg.fi>