Tänään Ökö pääsi jumppaan! Siis jo jumppaan meno olioikeastaan aika kauhistuttäva juttu. Taisiis oikeastaan kauhistuttava juttu olipyörätuolin kiinnityksessä tulleet äänet.
Today I took Ökö to gym with me. And naturally Ökö loved it. In a way...
But naturally there were scary things.Like attaching my wheelchair to cab.As You can see from this picture, it was quite scary thing.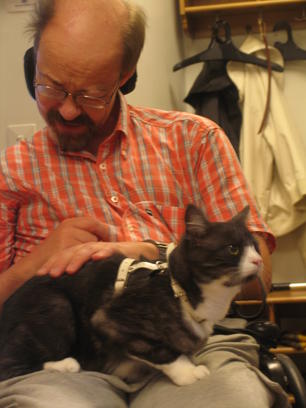 Ensin tietenkin aulassa. Ökö pysyi tiukasti sylissäni. Vaikka remmi oliirroitettu, pysyi sesilkti tiukasti sylissäni. Turvallinen paikka.
At fist we were at waiting area. Ökö obviously thought, that it would be really good idea to be tightly in mylar.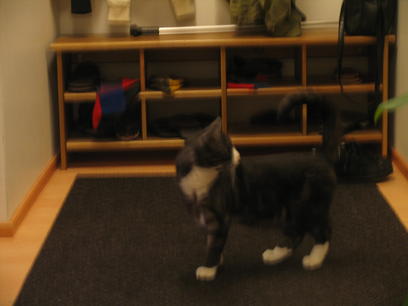 Hei, narikassa on kiva peili.
Hey, really nice mirror! Actually I don't have mirrors in my apartment.But I have two cats, so they know social things.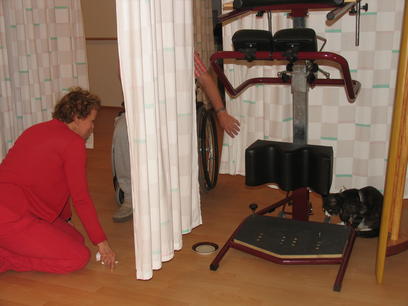 Anita yritti antaa Ökölle vettä. Mutta eipä se ihmeemmin välittänyt siitä. Periaatteessa "luonnossa" kissat eivät juo ollenkaan. Nimittäin saaliseläimet sisältävät ihan riittävästi kosteutta.
My therapeut Anita tried to give some water to Ökö.And very clearly she didn't want.
Actually in "natural" condition, cats don't drink. Quite simply, because their food contains all water, they need. You know blood and such...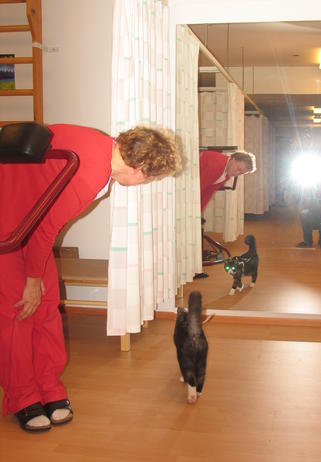 Tosi kiinnostava peili! Iso. Ja siellä on selvästi toinen kissa!
Pientä yritystä pörhistää turkkiaan on! Kaikenkaikkiaan tilanne muistuttaa kilpavarustelua. Tosin tämä on paljon järkevämpää.
This is clearly very big mirror. And there's clearly another cat.Ökö tries to look really big.and threatening. So did that another cat too.
Sound like arms race a little time ago. But this is much more reasonable.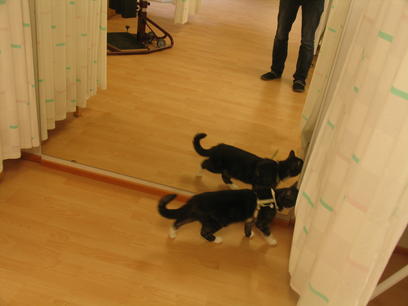 Hetkinen, missä se toinen kissa on? Selvästi tuolla takana, muttasiinähän on betoniseinä.
Nyt olemme tuottaneet yhden erittäin hämmentyneen kissan.
"Hey, where's that another cat? Here's only some concrete!"
Now we have one very confused cat...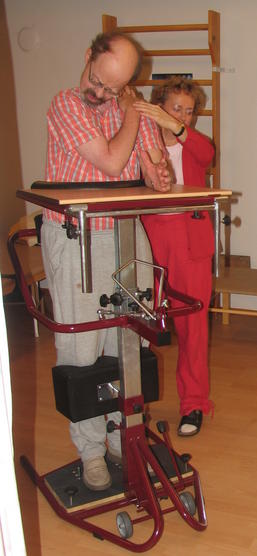 Tälläkertaa jumpassa oli touhuamista seisomatelineellä. Se oikeastaan "pakottaa" seisomaan. Mikä on oleellisen tärkeää isoille luille.
This time some standing in that thing. That's very important thing for big bones in my body.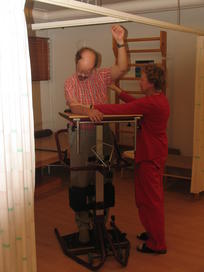 Pikkuisen teknisesti epäonnistunut kuva!
Mutta kyllä noinkin järjettömiä juttuja tehdään. Ilmeisesti siinä pyritään rasittamaan jotain tiettyä lihasta.
This small picture has quite poor quality. But those exercises there aren't really very reasonable. I think, that the main idea is getting exercise to some unused group of muscles.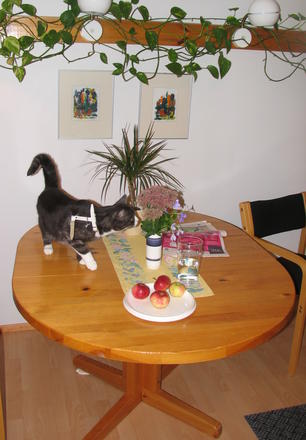 Ökö yritti pöydälle. Ja pääsikin sinne. Eikuulosta hyvältä.
Ökö on the table. Ominous thing!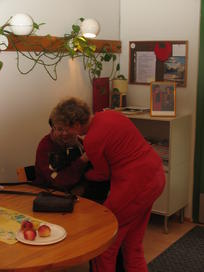 Aika huonolla menestyksellä. Nimittäin se onnistui kaatamaan pöydällä olleen lasin.
Ökö ymmärsi itsekin, että nyt tuli tehtyä tuhmuuksia. Se rynnisti toisen terapeutin. Raijan luo. Ja oli niin viatonta kissaa...
Ökö spilled down a drinking glass. Naturally so. She could figure out, that she had done something really badly.She knew, that she had been naughty! So, she run to place of another therapeut (Raija). And explaining, that she had bone nothing bad...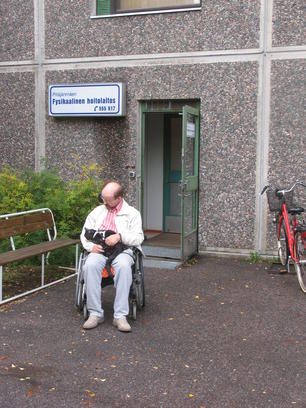 Menimme ulos jumpan jälkeen.Ökö pysyy tiukasti sylissäni. Näin pelottavassa paikassa mikään muu ei tulikaan kysymykseen.
Now, after the therapy we went out. And Ökö sat tightly in my lap. Because this is very scary place!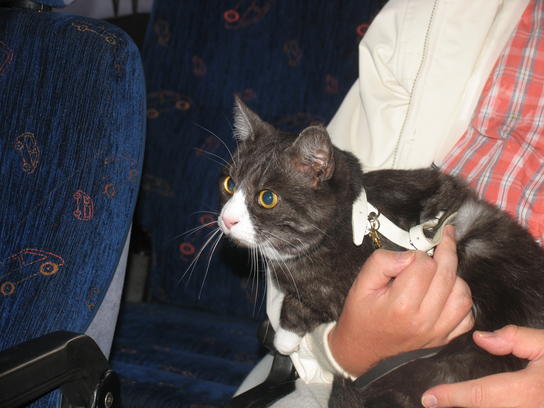 Sitten lähdimme pois. Paluumatkalla Ökö oli oikeastaan aika rauhallinen. Se oli selvästi aika väsähtänyt!
Now going home. Ökö appears to be more relaxed? Actually she is just quite tired.

---
Olli Arnberg <oar@arnberg.fi> <oar@arnberg.fi>