Lätkän MM 2003
Ice-Hockey World Championship 2003
Kisojen tunnuksena tuntuu olevan aina jonkinlainen jellona. Tämä tanssi tanssityttörivistön kärjessä.
Täytyihän sinne mennä katsomaan jokin ottelu. Se oli nyt Suomi vastaan Saksa. Ja päivä oli 6.5.2003. Eivät suomalaiset oikeastaan halunneet voittoa: he halusivat murskavoiton.
This is mascot of our Ice-Hockey Championship 2003. Always some kind of lion! There were a group of pom-pom-girls. And he did leading.
I visited one game (that was May 6th, 2003), that's nearly obligatory thing. It was game against Germany. Okay, Finns don't actually want simple win. No! They want to crush, total annihilation.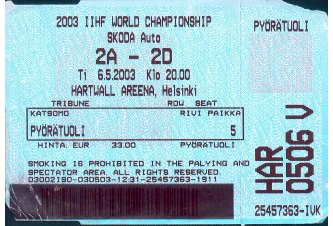 Ja tässäpä on lippu sinne lätkämatsiin. Pyörätuolikatsomoon, joka on Hartwall-areenalla ihan kohtuullisen hyvä. Lisäksi mukana tulee tietenkin saattaja, joka oli Mörskyn Janne.
Here's the ticket. The wheelchairs can access that place rather easily. And I can take one person with me: someone who pushes my wheelchair. Actually, I don't need. But having another person for paying the ticket...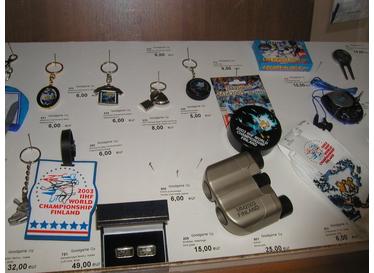 Aivan valtaisa krääsämyynti. Ilmeisesti aika huomattava osa rahasta tulee tällaisista tuotteista. Kun kisojen tunnusmaskotin kuvan lisääminen merkiutsee tyypillisesti nollan lisäämistä hintaan...
It seems, that quite significant amount of money comes from these stuff. And that isn't cheap, no way!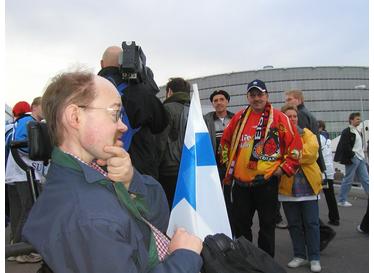 Siellä oli myös ryhmä saksalaisia faneja. Sinänsä heitä ei ollut mitenkään valtaisaa määrä: hyvä jos edes promille yleisöstä.
Hey, German fans! But their amount is really quite nonexistent. Okay, I can admit, that they surely had rather uneasy feeling with zillion Finland-fans...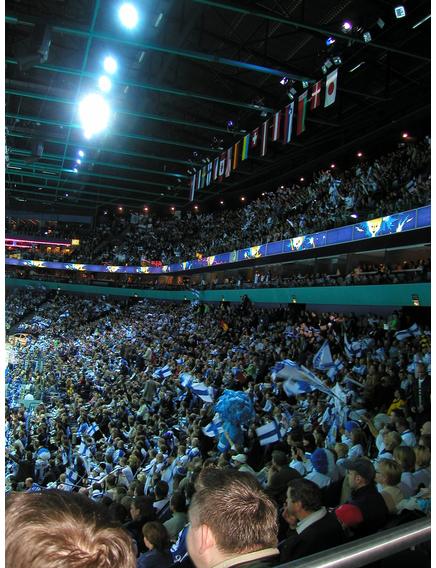 Yleisö oli ihan innoissaan! Siis ihan mitä vain myönteista Suomelle tuli (esimerki+ksi aloitus suoraan hyökkäyspäästä), yleisö hurrasi. Saksa sai buuauksia...
The audience was rather thrilled. Anything (really anything) good for Finland made cheers. And boos for Germany...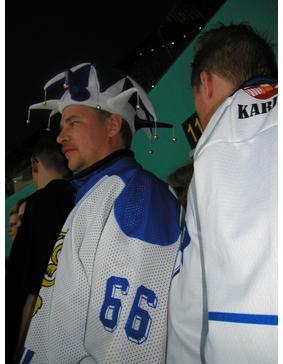 Nykyään tällainen pukeutuminen on sääntö. Aikamoinen osa yleisöstä on sonnustautunut Suomen pelipaitoihin. Se luo ihan kivaa värikkyyrtä yleisöön. Tai ei oikeastaan: kun kaikki ovat pukeutuneet suunnilleen samalla tavalla.
These Finnish-team-shirts were really extremely popular. That would make nice and colorful sight. Actually not! Because if everyone wears such...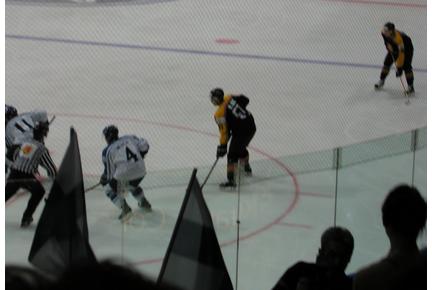 !Siellä myös pelattiin! Mutta eipä sen annettu ihmeemmin häiritä. Siitä on video (940 768 tavua).
There were some ice-hockey game, too. But one doesn't any kind of bother of that... This video shoot (940 768 bytes) doesn't give much idea.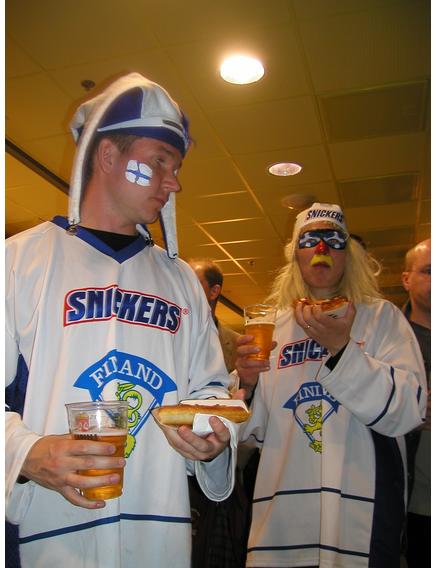 Kun suunnilleen kaikki ovat meikattuja, niin silloin tämä on lähestulkoon tavallista.
Itseasiassa söinne Jannen kanssa juuri tuollaiset oluet ja pizzanviipaleet.
We ate just that with Janne. A beer and slice of pizza.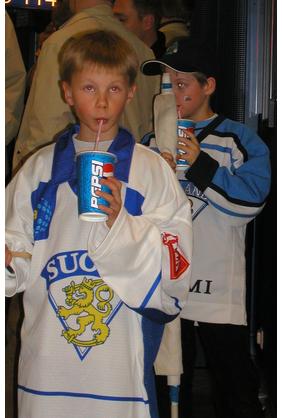 Niinkuin näkyy, nassikoillakin on tuollaiset paidat. Ilmeisesti vanhemmat on ruikutettu ostamaan sellaiset (siis halpojahan ne eivät tosiaankaan ole).
Kids had those shirts, too. I must, that kids probably are really most eager fans. So, that shirt is just suitable thing. But their parents had to pay quite much, too.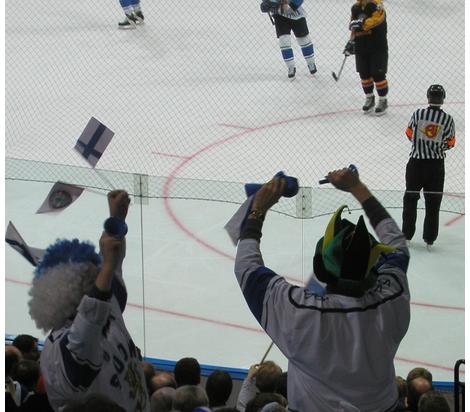 Noilla kannustajilla riitti energiaa. Siis he ovat taatusti rättiväsyneitä ottelun jälkeen. Tai ennen ottelua he ovat jonkinlaisessa horroksessa kesäämässä voimia.
Siellä oli myös ryhmä ammattimaisia trenssityttöjä yleisön innostamiseen. Mutta eipä heitä sinänsä tarvittu siihen; tunnelmaa riitti! Ensimmäinen (3 231 106 tavua) ja toinen (1 510 818 tavua).
These fans had really immense amounts of energy. How they do that? are they in some kind of hibernation?
Pom-pom-girls were really professional. I've got two videos of them: (3 231 106 bytes) and (1 510 818 bytes).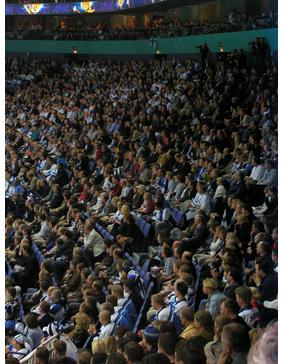 Yleisö alkoi jo hiljentyä.
Ottelu päättyi tasapeliin (2-2). Ja yleisöstä saattoi nähdä, etteivät he olleet ollenkaan tyytyväisiä asiaan. Kieltämättä tämä on fanien kannalta kerrassaan hiljentävää.
Voiittoa juhlitaan perusteellisesti ja pitkään. Häviö panee tappelunhalun päälle. Mutta tämä?
Audience was getting rather quiet.
The end result was a draw (2-2). And the audience doesn't definitely like it. Because we should win it with big difference!

Seuraavana päivänä (se oli torstai 8.5.2003) olikin vuorossa oikeastaan päävastustaja Ruåtsi. Ensimmäisn puolentoista erän jälkeen tilanne oli 5-1. Selostaja Antero Mertaranta arveli, ettei kukaan voi möheltää tällaisia lukemia. Mutta Suomen joukkue osa ihmeitä: lopputulos oli 5-6. Eli Suomi lennähti laulukuoroon!
Mutta eipä Suomen joukkue ole ainoa, jolla on häpeää: USAn häviö Tanskalle on toinen aika törkeä juttu... Tietenkin Kanadan tasapelikään ei ole ihan kunniallinen.
Next day (that was Thursday May, 8th) was really important. Sweden! In first one and half periods was really nice! We had 5-1. The commentator said, that no-one can fail that situation. But our team is really quite special. Sweden won 5-6! So, end of everything for Finland!
But Finland isn't only team that should be very shames. USA lost to Denmark! And Canada made a draw.
---
Olli Arnberg <oar@arnberg.fi>