Edellisenä iltana oli Euroviisut. Myöhään meni. Tosi iljettävän myöhään. Venäjä voitti, vaikka Kreikka oli mielestäni huomattavasti kivempi. Ja Espanja oli ihastuttavan sekopäinen. Sovelias määrä on ihan kiva juttu.
Last night it was European song contest. Russia won. I watched that and that took awfully much time. I liked song from Greece. And one from Spain was really nicely mad!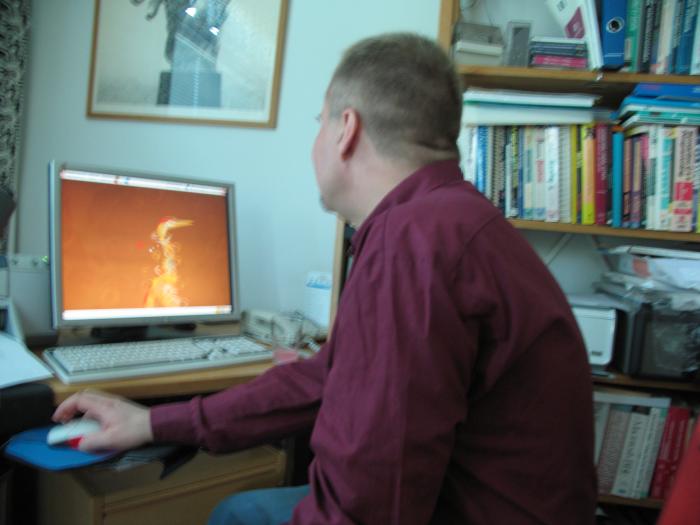 Kaksi tietokoneistani oli jo päivitetty. Nyt kolmas. Näissä kaikissa tietoneissa käyttöjärjelmänä on Linux, jakeluna Ubuntu. Ilomeisesti siinä on suurena etuna laiteajureitten suuri määrä ja ennenkaikkea niiden toimivuus.
Two computers of mine had been updated earlier, Now it was time for third. Ari came here quite early, about at 10AM (really awful thing).
My every computer has Linux as operating system. That thing doesn't change. But the distribution would change. It has been Debian before this. Now it's Ubuntu. That has really many device drivers which worked really well.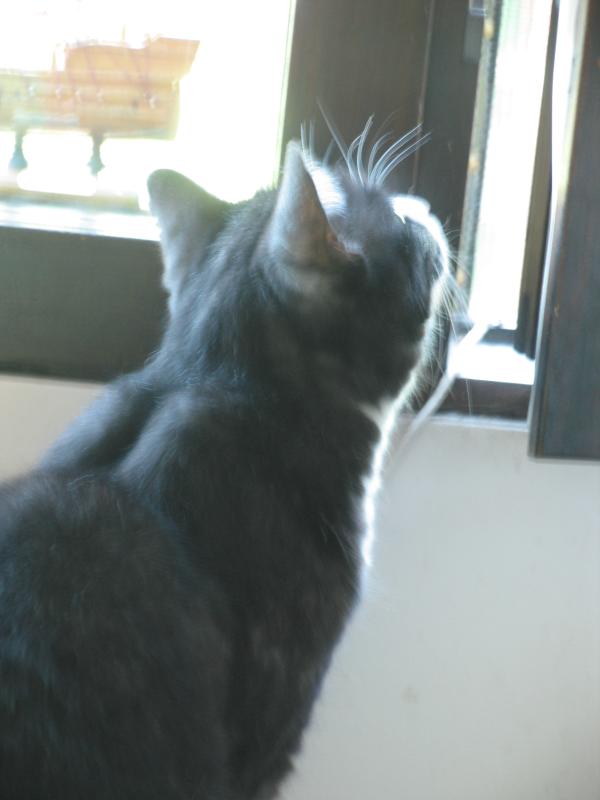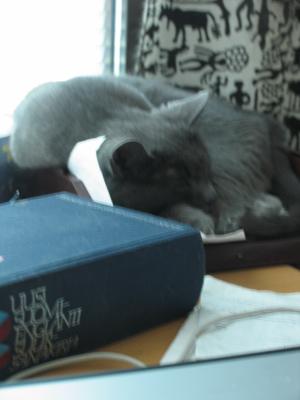 Helmi suhtautui hyvin tyynesti päivitykseen. Niinkuin hyvin näet. Se tykkää ilmeisesti maata tuossa laskulaatikossa. Siinä se on kuitenkin kohtuullisen lähellä ihmisiä, muttei kuitenkaan ole minkäänlaista riskkiä, että häntä esimerkiksi silitettäisiin.
Täytyy myöntää, että ymmärsin asioista suunnilleen yhtäpaljon. Mutta näin se oikeastaan on: käytän tietokoneitä. En tosiaankaan edes kuvittele ymmärtäväni täydellisesti tietokoneita.
Helmi acts really very calmly to that update operation. She really loves that place. That place is too far from every people (especxially me). But very center of everything.
Okay, I must admit, that I understand about that much computer operating systems. But who cares. I use computers. And that's it.
Ökö on tosi innokas ornitologi. Harvat edes amatöörilintujentarkkailijat ovat noinkin fanaattisia.
Ökö is really eager birdwatcher. You can easily see how fanatically she stares birds.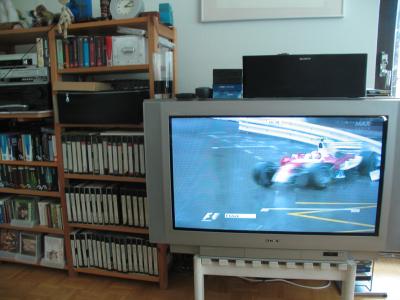 Telkkarista tuli formuloita. Tälläkertaa vuorossa oli Monoco, kerrassaan legendaarinen paikka. Nyt oli vielä oikeastaan aika sateinen sää. Se teki kilpailusta aika yllätyksellisen. Molemmat suomalaiset (niinkuin näkyy, en tosiaankaan pidä Nico Rosbergiä suomalaisena) törttöilivät aika pahasti.
At 5the very same time it was Formula One Grand Prix of Monace. Really very legendary thing. Because that is clearly very top of any other motor sport occasion.
And we had two Finns there: Kimi Räikkönen and Heikki Kovalainen. Both were very unsuccesfull.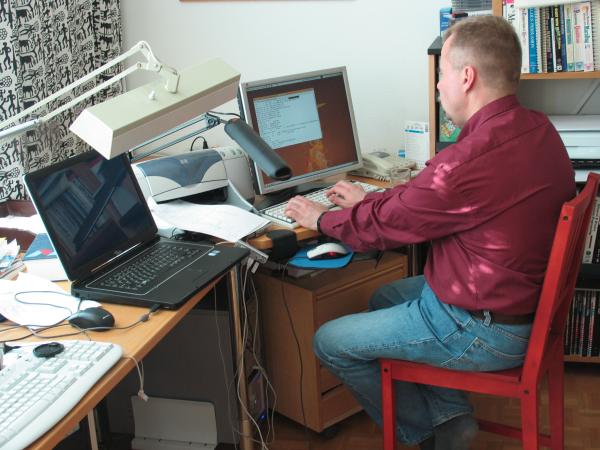 Ari teki taas varsinaisia ihmeitä. Tässä vaiheessa oli ilmeisesti kyseessä webin lämpötilamittauksen jokin tosi hämäräperäinen ihmevimpsautus. Yleisesti ottaen Dallas Semiconductors on erikoistut nimenomaan kummallisiin härveleisiin.
Now Ari is doing some sort of temperature sensing system. The sensor comes from Dallas Semiconductors.

---
Olli Arnberg <oar@arnberg.fi>