Stockalla on oikeastaan paneuduttu Jouluun erittäin perusteellisesti. Ja kyllä asiakkaat palkitsevat sen maksamalla. Mikään ei ole ilmaista!

Department-store Stocmann focuses on Christmas. As everyone else does, too. But one special window. But naturally one has to pay for it. As You know: "there's no free lunch".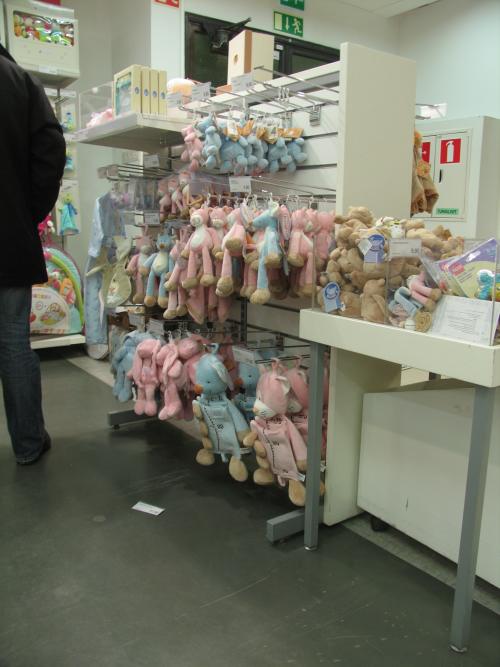 Nyt täällä on "laatukamaa", joilla voi tuottaa "laatuaikaa". Sen ostamisella yritetään jotenkin olla "hyviä".
Se on siis kaunisteltu nimitys nassikoiden laiminlyömiselle.

Those are for really small kids. Parents, who can't attend their children. And then then they say, they give "quality time". Simply they are neglecting children.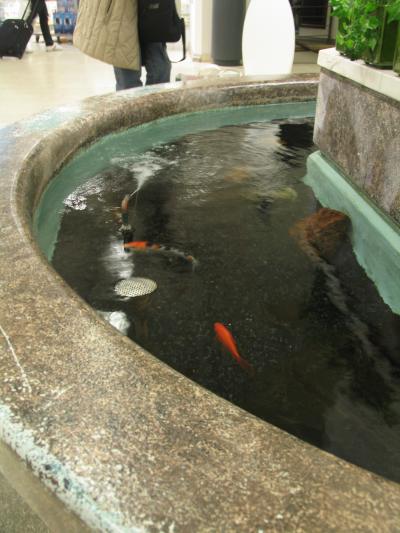 Karpit ovat oikeastaan klassikko. Tosin yksi näytti ihan kohta siirtyvän selkäuintiin. Nimittäin tuollainen avoin pinta houkuttelee nassikoita tiputtelemaan vaikka mitä altaaseen. Osan kalat kyllä syövät mutta ei nyt sentään ihan kaikke.

This is really the classical aquarium. Carp-pond. But these aren't very big. And they certainly can't get much bigger. Because the pond is so small. And because people give them treats!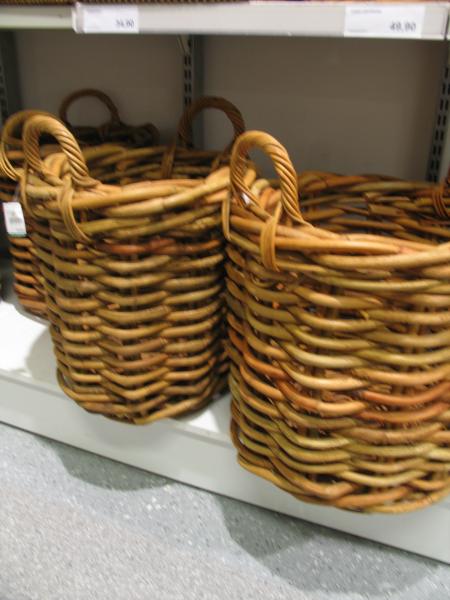 Kivan näköinen kori.
Mutta mitä ihmettä sillä oikeastaan tekee? Tuo on selkeästi kysymys, johon ei mitään järjellistä vastausta Stockmannilla.

This basket looks nice!
But what do do with it? That's a question, which have no answer at that department store.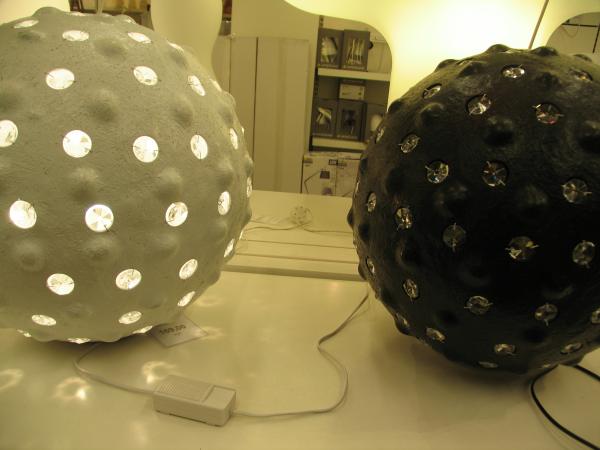 Aivan uskomattomia lamppuja. Minkälaiseen sisustukseen tuollaiset hirvitykset oikeastaan sopivat? Niin oikeastaan en taida haluakaan tietää tai nähdä jotain noinkin kammottavaa.
Mutta tuollaisten suunnittelijalla on selvä paikka Niuvanniemessä. Erittäin pitkäaikainen ja erittäin suljetulla osastolla.

Ouch! This lamp isn't even adequate-looking. Designer should go to some nut-house for very long time.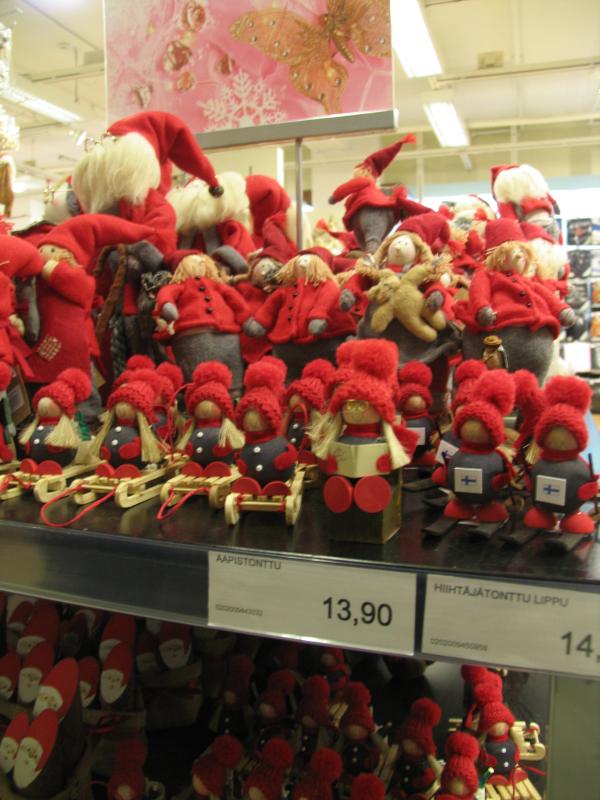 Minä en ymmärrä tällaista joulukolonialismia. Tuo am erikkalainen Coca-Cola -joulupukkki ei todellakaan ole lähelläkään meidän omaamme. Mutta oma kulttuurimme pyritään jyräämään. Ja se ei todellakaan ole mitenkään hyvä juttu!

I really don't like american (and in this case II really intend to use that no-capital-letter-at-all) Christmas-colonialism. I mean, that everywhere is that Coca-Cola-Santa. Not our original. Why? Is our culture so inferior, that we must use that one and only thing?
Thinking other cultures as inferior is colonialism (at least I think so). And losing something isn't good thing. We are losing languages and now cultures. I really don't like that.
Okay, I must admit, that I don't like much our "old" culture. But I hate even more that american commercializing.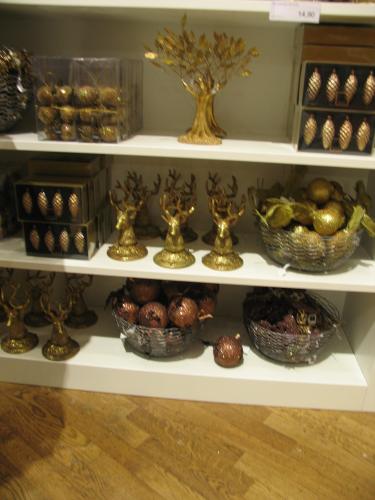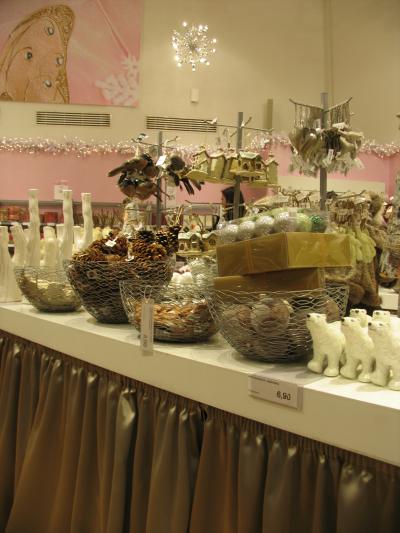 Pronssinen hirvenpää (tai jonkinlainen kauris se on). Miten tuollainen hirvitys oikeastaan liittyy jouluun. No jaa, joku tätsy otti sellaisen ottaessani tätä kuvaa.
Ja sitten on kaikenlaista joulukrääsää.

Bronze elk-head. WHAT that thing has to do with Christmas? Though some elderly ladies (as You see I gallantly say that way and not the truth) bought some.
And then there are even more some small stuff.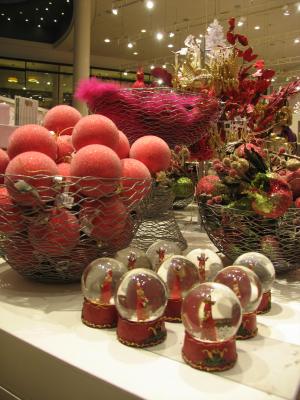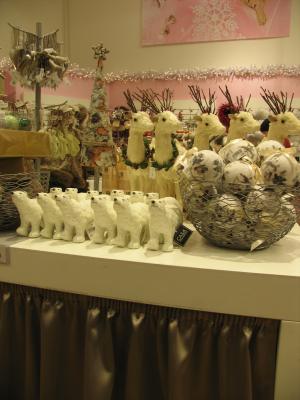 Pallot ovat sentään suunnilleen klassisia. Noissa on päällä jotain omituista mössöä.
Siis ei me sentään olla niin pohjoisessa, että täällä olisi jääkarhuja (paitsi eläintarhassa niitä on). Mutta poroja on. Tosin uskoakseni tuollaisia valkoisia ei ole.

These balls are rather classical decoration.
Our country lies at very far up in north. We have reindeer up there. But no polar bears (except in zoos).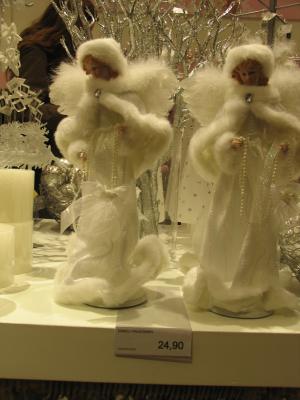 Tällaiset enkelit ovat ehkäpä mahdollisia koristeita. Mutta ei mitenkään tyypillisiä.

Maybe angels like these might be possible Christmas decorations. But not typical. Though that naturally blond hair is typical here (and other Nordic countries, too).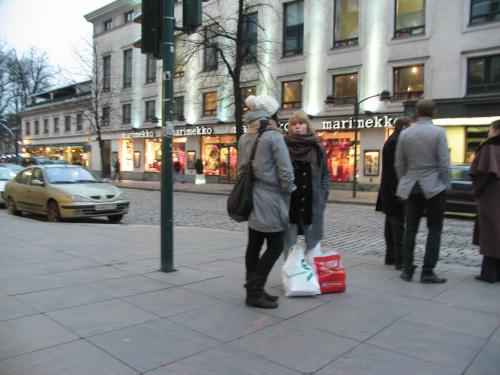 Marimekko on todellakin suomalainen tuotos.

Marimekko is really Finnish company.

---
Olli Arnberg <oar@arnberg.fi>