Tämän paikan ihan "virallinen" nimitys on kompassiaukio. Tuolta vasemmalta mennään metroon (aika paljolti metroa perusteltiin sen hommaamisaikana sillä, että jokaisessa pääkaupungissa pitää (on sitten tarvetta tai ei) olla metro). Muutoi tämä paikka on ihan keskaisimmässä Helsingissä.
This place is called compass square. Because there's a compass-rose. And it's probably very correct, too (because I know, that North is roughly (so, why not exactly, then) in that direction).
The metro (okay, this is rather French word about it, other words are "underground", "subway" or "the tube") is there on the left. Actually quite way down there. Because terrain wasn't very easy here (this city is mostly old seafloor).
Why was this metro made? Actually the greatest reason was simply: "every main city has one". Of course that wasn't directly said. But indirectly...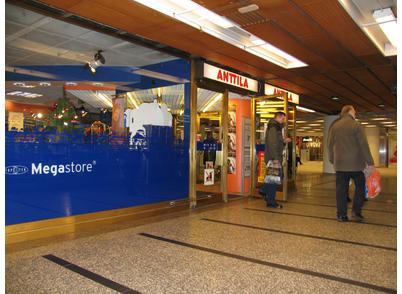 Itseasiassa tämän kaupunkireissun tarkoituksena ei ollut ostaa lahjoja. Mutta myyjien töykeys tuolla oli aivan käsittämätöntä: jos he käyttäyutyvät näin surkeasti pienelle ihmisjoukolle, minkälainen katastrofi tuleekaan sitten kun ihmisiä on enemmän.
This is Anttila, remember. I like to get my DVDs from there. No presents, just some packing material and such.
But I wasn't very happy with their sales assistants: they were actually rude to me!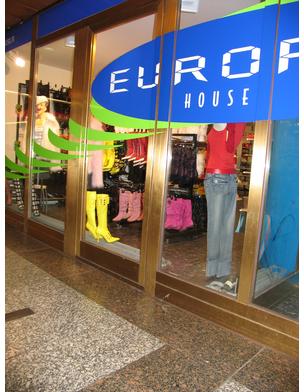 Tuossa kaupassa on kaikenlaista hyödyllistä... Esimerkiksi diskovaloja välkkyvä kaljatuoppi, sinne diskovaloja välkkyvät jääpalat ja kaiken kruunuksi viisisenttinen diskopeilipallo. Kuka vioikaan olla ilman tuollaisia ihanuuksia?
Just opposite of Anttila. And is just the place for gifts for person who has everything. Beer-mug that glimmers disco-lights. Ice-cubes for it. Two inch disco-ball.
If I summarize, that shop contains stuff, I never want!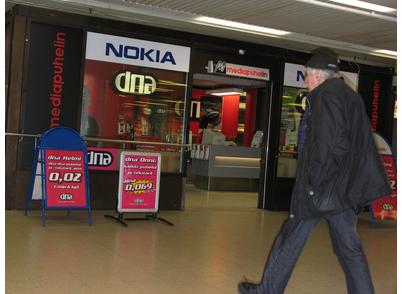 DNA oli mainostanut ihan valtaisasti. Mutta se on matkapuhelinoperaattoreiden elinehto. On joko näyttävä tai kuoltava pois.
Operaattorien mainoskampanjat ovat oikeastaan ihan jatkuvasti kuluttaja-asiamiehen hampaissa. Voi oikeastaan todeta, että mainoskampanja on epäonnistunut, jos uhkasakkoa ei langeteta.
Siksi tämä kompassiaukion laidalla oleva paikka. Sinänsä paikka on aika "erikoinen" ja taattuvarmasti silmiinpistävä. Mutta se tarkoittaa myös sitä, että hukkaneliöitä löytyy paljon. Ja kaikista neliöistä saa maksaa tähtitieellistä vuokraa.
This place is bureau of cellular phone operator DNA. They have really quite of competition of customers (I think word "soul" is very good in this case). This place is extremely expensive and really hard to use wisely.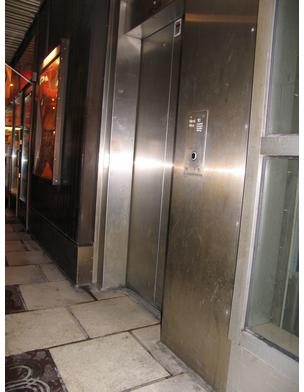 Hissin on tarkoituskin olla hidas! Kuulosataa järjettömältä? Mutta ideana on se, ettei kokaan "normaali" ihminen erehtyisi käyttämään sitä.
Vain invalidit, lastenvaunut ja polkupyörät.
Ja tietenkin pultsarien vessa...
This elevator is just so slow. And it is meant to be like that. Then no-one would ever use it. Unless they really need to.
Okay, I can admit, that I'm quite pessimist. Or maybe word "realism" is better.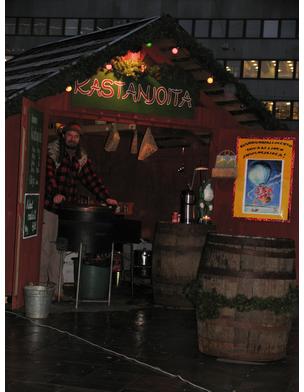 Kastanjat eivät todellakaan ole tyypillinen joulujuttu täällä.
Lähinnä kait Englannissa ja tietenkin Amerikoissa. Mutta tehokas mainostus tuo kaiken mahdollisen tänne. Mistä mitnä en todellakaan pidä!
Chestnuts? That's definitely not a part of Finnish Christmas. Originally that's English (at least I think so). Then it went to America. And now we have this cultural colonialism, they are pushing that tradition here. I oppose!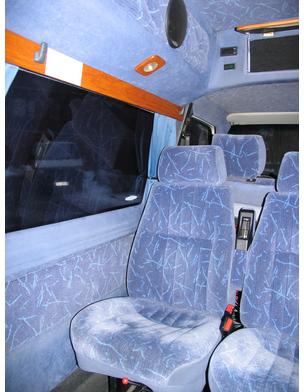 Aika läkähdyttävä reissu on taas takana. Mutta on oikeastaan aika oleellista tehdä näitä reissuja.
Then to home. I must say, that I was quite tired. But that is just quite good thing.I'm supposed of being very tired. But that goes away, when I go home. I can rest there.

---
Olli Arnberg <oar@arnberg.fi>