Oikeastaan aika kaunis ilma. Tällöin päivällä oli oikeastaan aika lämmintä. Tai siis joskus kesällä minä pitäisin tuollaista lämpötilaa kammottavan kylmänä.
Yöllä olikin tosiaan kammottavan kylmää.
Quite nice day? Actually this is rather typical weather during this time of year.
During daytime the temperature is very near freezing-point of water. Actually we consider that as very warm.
Night is cold, very cold. Actually near zero Fahrenheit.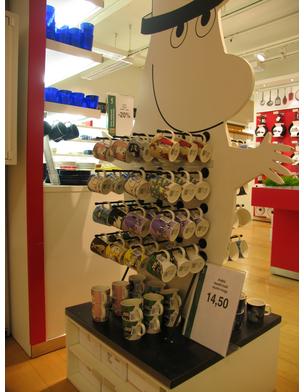 Muumimukeja. Minä en tosiaankaan mene tuonne pyörätuolin takia. On ihan varmaa, että se tuhoaisi kammottavan määrän posliinia.
Mutta kyllä minä Viivi&Wagner-teemukin hommasin.
Moomin tea mugs! Because author of moomins was a Finn (Tove Jansson). She belonged to our Swedish-speaking minority.
But I didn't went there; my wheelchair would make really horrible things to porcelain. And those are really expensive things!
But I really did bought a Viivi&Wagner-tea mug.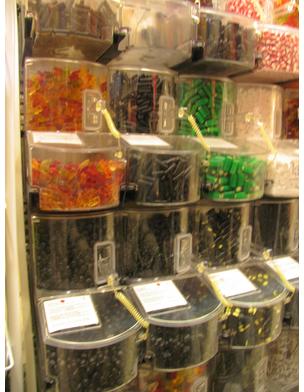 Siellä on sokeritonta lakua. Tietenkin laku aiheuttaa verenpaineen ja -sokerin nousemisen taivaisiin.
That place contains really quite everything! For instance we don't have sugarless licorice in very many places. They have even a version without flour!
Of course my blood sugar and -pressure hits roof. But so what? I like that, licorice is just so delicious!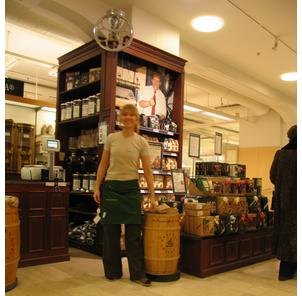 Aina kun käyn Stockmannilla, ostan irtoteetä. Nyt se oli muistaakseni jonkinlaista talviteetä. Lähinnä se oli jonkinlaista yrteillä maustettua perusteetä.
Vanhemmat saavat aina jonkinlaista maustettua kahvia. Ja ihan jauhamattomia papuja, koska olen joskus antanut heille kahvimyllyn.
Every time I visit there, I purchase some tea. Just from this place. And next time some different stuff. Basically that's just quite ordinary tea. But it has been flavored with herbs and all such stuff.
Then I buy flavored coffee-beans for my parents. I don't drink coffee, no way!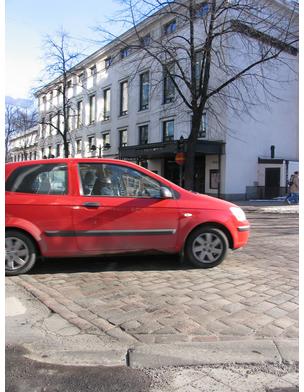 Invataksi oli Stockmannin uuden puolen edessä.
Oikeastaan isä huomasi kuljettajan käyttävän matkapuhelinta. Ja sehän on kiellettyä. Hyi, hyi!!
After I went out from Stockmann, I took some photos of cars. My father noticed, that this driver used cellular phone while driving. In this country of cellular phones, that's illegal!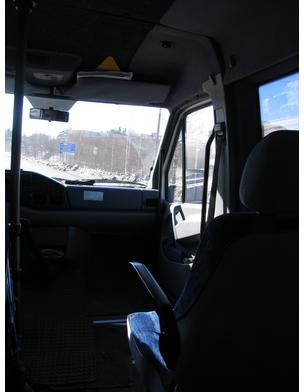 Sitten Stockmannilta Sestoon. En ollut nimittäin ehtinyt hommaamaan kaikkea tarvittavaa.
Siis patonkia ja homejuustoja (brie (se sopii tosiaankin hyvin patongin kanssa) ja Blå Castello).
That cab came too early! Though I was really extremely tired. But I have to get something to eat next: baguette and cheeses. I don't smoke, but sometimes I really like to eat those unhealthy things.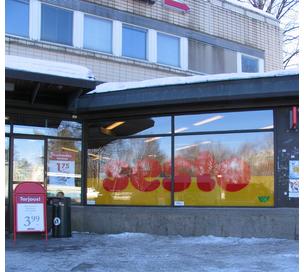 Sestokauppaan sitten.
Itseasiassa tämä oli ihan lähellä (ehkäpä parisataa metriä) jumppapaikkaani.
Then to grocery-store "Sesto". This is actually very near (I think, it's the very nearest grocery) to my gym! Nice place, because I know the locations of everything.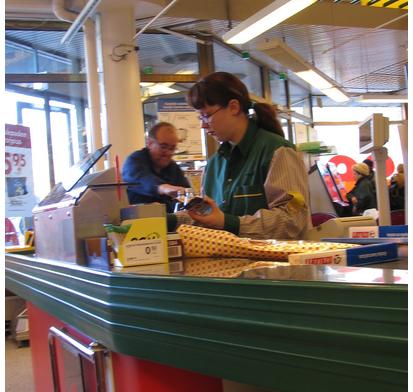 Sitten Seston kassalla. Patonkia ja täältäkin namuja. Taustalla näkyy muuten taksinkuljettajani pakkaamassa ostoksiani.
Very quick trip there. By the way, my cab-driver is packing.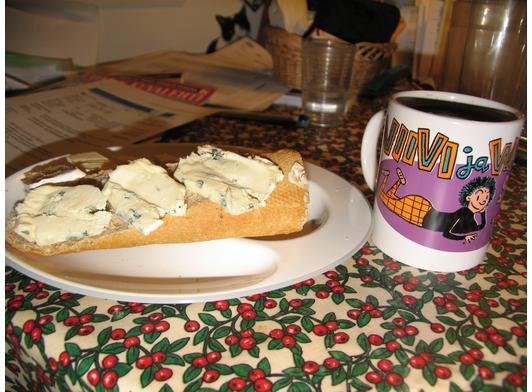 Tällaisen mukin hommasin. Ja patongit sitten Sestosta.
This is the tea-mug. Comics is called "Viivi and Wagner". Really hugely popular here. "Viivi" is quite normal woman who is living with a pig. And that pig is "Wagner". Quite typical situation really.
And naturally baguette from Sesto. Now You can see unhealthy amount of cheese...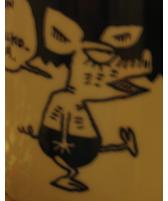 Vanhemman mukin olin ostanut pikkuisen aiemmin. Siinä Viivi sanoo juhlistaneensa mukia värihuuhtelulla. Ja Wagner pitää asiaa aika turhana mustavalkomukissa.
My older tea-mug has this very nice picture of Wagner. He is a bit anarchist. But especially he is extremely egoistic.
That comics-strip contains Viivi, who has colored her hair. And Wagner, who simply says, that there isn't much use for that in a b/w mug...

---
Olli Arnberg <oar@arnberg.fi>