Ökö otti kaiken irti aamusta. Se ryntäili heti aamulla hulluna paikasta toiseen. Suurinta hupia tuntui tuottavan leipäpussista otettu kiinnitys: se oli aivan upea lelu! Mutta sitten alkoi ryntäily jo väsyttää: nyt Olli saisi rapsuttaa massusta.
Ökö was really quite mad in the morning: rush to one place. Then dash to another. With hurry, bogeyman is just behind! But then one gets tired. Now is the time for Olli to rub belly. The one and only useful thing for him.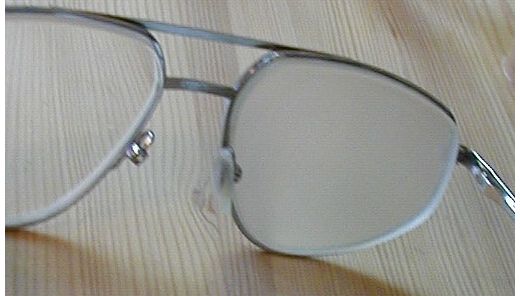 Silmälaseissani oli ongelma: nenää vasten nojaava muovinen osa (ilmeisesti sitä sanotaan satulaksi) oli rikki. Tai oikeastaan sitä kiinnipitävä ruuvi. Tosi mikromaalinen.
There was a problem in my glasses. The thing (I don't really know, what that thing is called) that sits on my nose.
Ja tässä se sitten on. Löytyi lattialta.
And here's the missing part!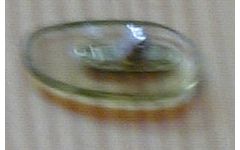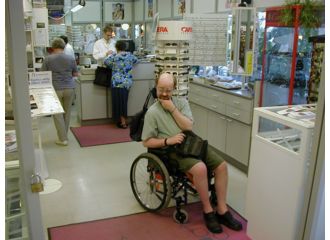 Elikkä ihan ensimmäiseksi optikolle. Siinä korjauksessa ei nokka kauaakaan tuhissut!
First of all: fixing my glasses. And they were really extremely fast.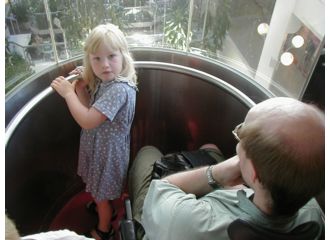 Ja sitten hissillä alas. Optikko kun on toisessa kerroksessa ja haluaisimme käydä ensimmäisen kerroksen kaupoissa.
Then down!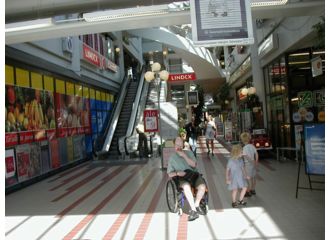 Tässä olemme keskellä Galleriaa. Liike (Leppälintu) on tuossa vasemmalla.
Here are we at the middle of the mall. This mall isn't so enormously big, but anyway. The shop (Leppälintu) is there at left.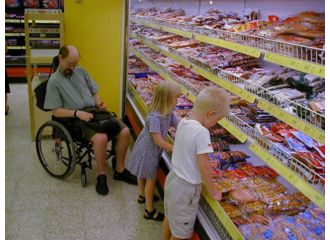 Grillimakkaroita! Nykyään tenavilla tuntuu olevan taipumuksena kirkua kaupassa niin pitkään kunnes haluttu tavara tulee. Onneksi Pauli ja Tuuli on opetettu, että se ei tosiaankaan toimi. Mutta kyllä minä kirkuisin, jos joutuisin kovin usein kokemaan tuollaisen kauppareissun.
During summer we eat quite awful amounts of grilled sausages. Barbecue, You know.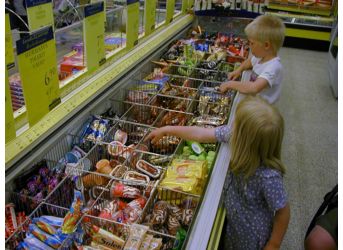 Tenavien piti tietenkin saada jätskiä. Ja siinä olikin ongelma. Niitä oli nimittäin valtaisa määrä (ei tosin ollenkaan sokerittomia) erilaisia. Pauli valitsi jonkin ihmeellisen mehujään. Vihdoin ja viimein Tuuli valitsi tofu-jätskin. Sekä isäni että minä ilmoitimme, ettei se ollut oikein järkevä valinta. Mikä tosiaankin varmisti valinnan...
Ice cream! Zillions of different types (not sugarless, though). Kids had to choose something. Pauli took some odd thing: frozen juice. Tuuli chose tofu-ice cream. Both my father and me said, that wasn't very wise. That made it really secure!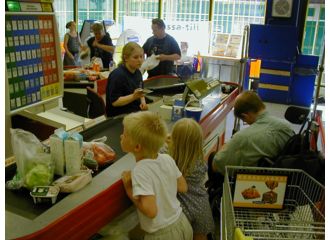 Sitten vihdoin ja viimein kassalla.
Typical way to pay here in Finland is ATM-cards. Not credit cards.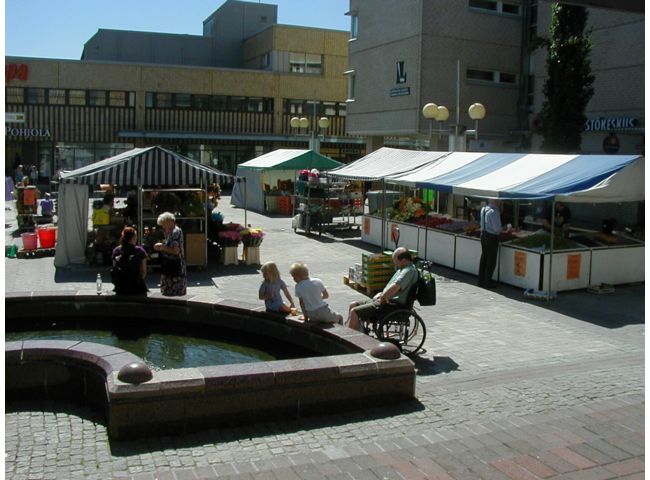 Jätskit syötiin sitten ulkona, jossa oli pikkuinen tori. Lähinnä heillä näytti olevan myynnissä mansikoita. Mutta niinhän se on.
There was a small market-place. Good place to eat ice-creams.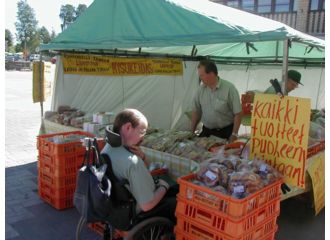 Tuo oli kerrassaan erinomaista: leipää ja muitakin leipomotuotteita. Esimerkiksi sokerittomia wienereitä. Miksihän minulla oli sokerit pielessä ilalla...
There was one really excellent booth. Normally they sold strawberries and such (cherries, peas, mushrooms). But this place sold bread and such things. Really excellent.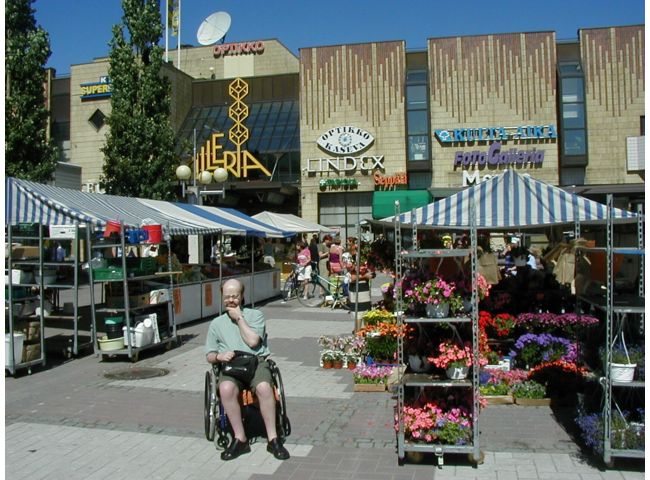 Eipä se tori ollut mitenkään valtavan suuri.
This is the marketplace there. So, You can see, that it isn't very big one. But who cares?
---
Olli Arnberg <oar@arnberg.fi>