Tänävuonna oli kasa juhlia peräkkäin: pääsiäinen, Wappu ja äitienpäivä. Nyt olimme Klaukkalassa viettämässä äitienpäivää.

We had three quite big things in three consecutive weekends: Easter, Wappu, and Mothers' day. Now we were at Klaukkala.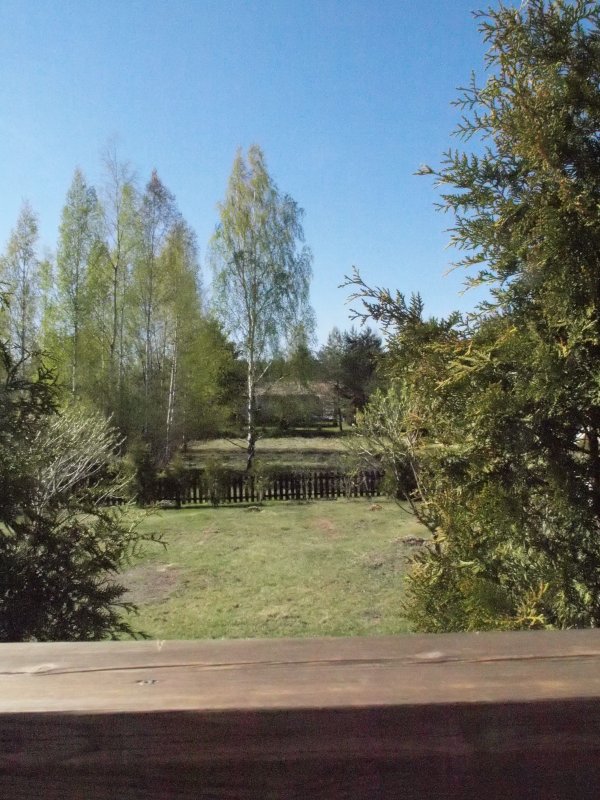 Piha on oikeastaan aika epätyypillisen iso.

Their garden was very big. Actually untypical so...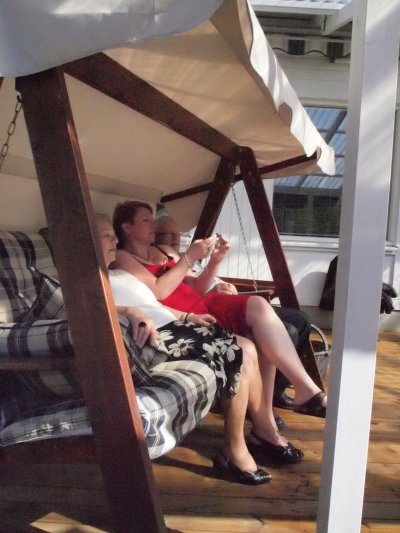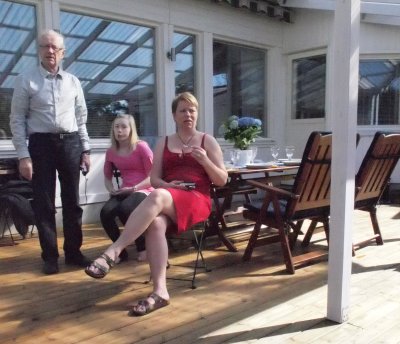 Terassilla oli myös riippukeinu. Sen voi helposti panna talven ajaksi lumelta suojaan.

On the patio is a swing. That's really great thing, because one can very easily be put to shelter.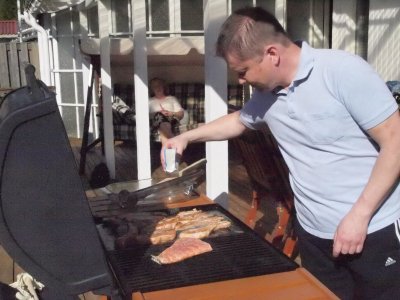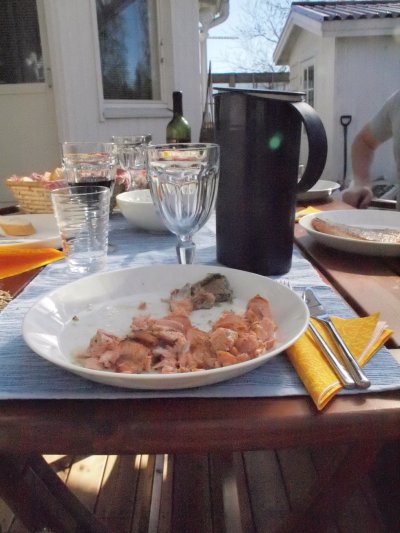 Mika grillasi lohimedaljonkeja murkinaksamme. Hän on oikeastaan aika innostunut grillaamisesta.
Siinä sellainen on minua varten pienittynä. Se ei olisi ollut oikeastaan tarpeen, koska kirjolohi on niin pehmeää, että sitä voi helposti leikata haarukalla.

Mika grilled salmon for us. That's really delicious. Maybe a but unhealthy, but just that makes it delicious.
That is cut into very small pieces. Actually that isn't very necessary, because I can cut that easily with my fork.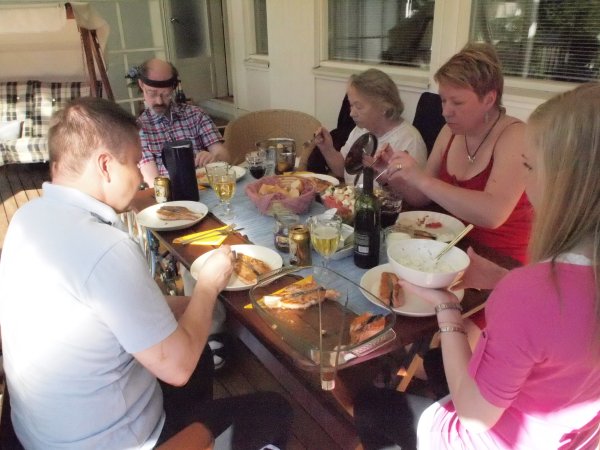 Olimme kaikki pöydässä.

Then we all were by the table.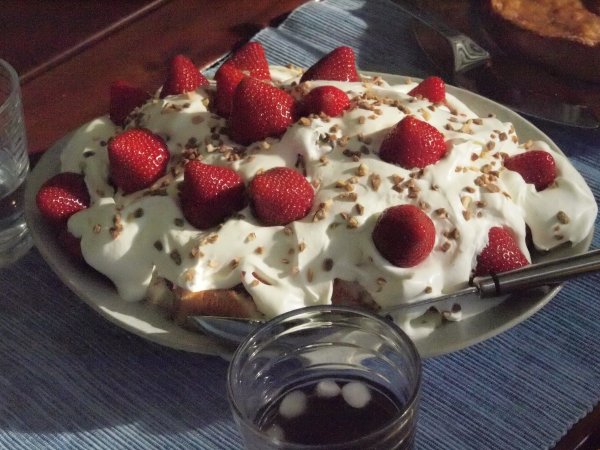 Anna oli tehnyt omanlaisensa kakun. Lähinnä tuo pohjautui jäätelöön. Päällä oli vispikermaa ja mansikolita. Ilmeisesti pähkinärouhetta. Erityisen herkullista.
Minulle oli oma versioni.

My sister Anna made this cake. There's some ice-cram inside. Then some whipped cream. That works as insulator (and it's quite delicious). Then some strawberries, and maybe hazelnuts.
I had my own diet-version.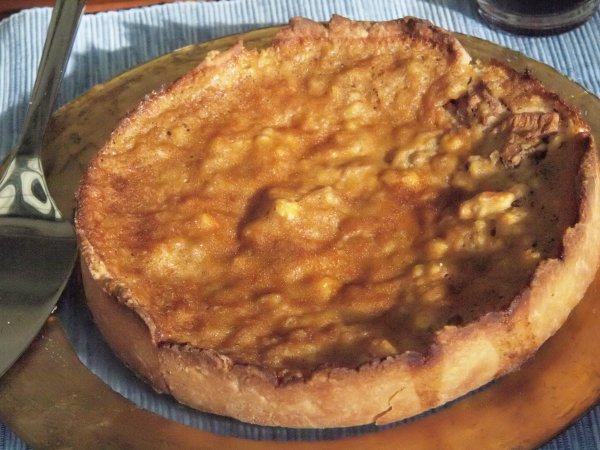 Mamma laittoi raparpeeripiirakan. Vaikkakin se maistui enemmän omenalta. Se oli ilmeisesti kerrassaan monimutkainen juttu.

My mother made this rhubarb pie. The bizarre thing is that it tasted like apple pie.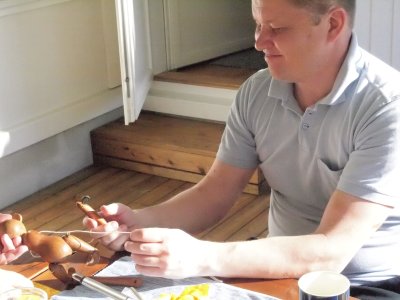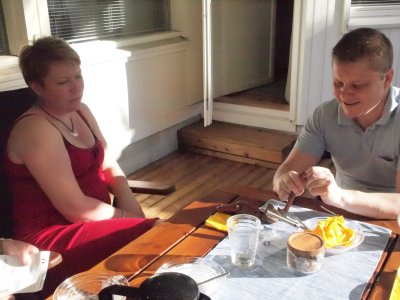 Mika korjasi tanskalaista apinaa. Sen korjaaminen oli erityisen hankala juttu.

Anna and Mika fixed this Danish ape-statue. It wasn't any easy thing.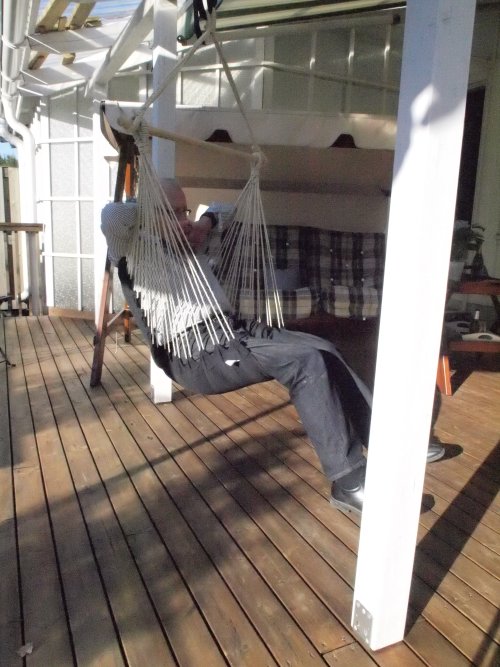 Anna oli saanut Mikalta riippuistuimen.

Anna got this "swing-chair" from Mika.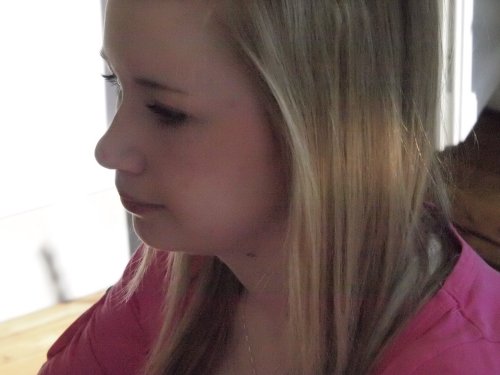 Tuuli oli myös mukana.

The daughter Tuuli was there, too. But son Pauli wasn't.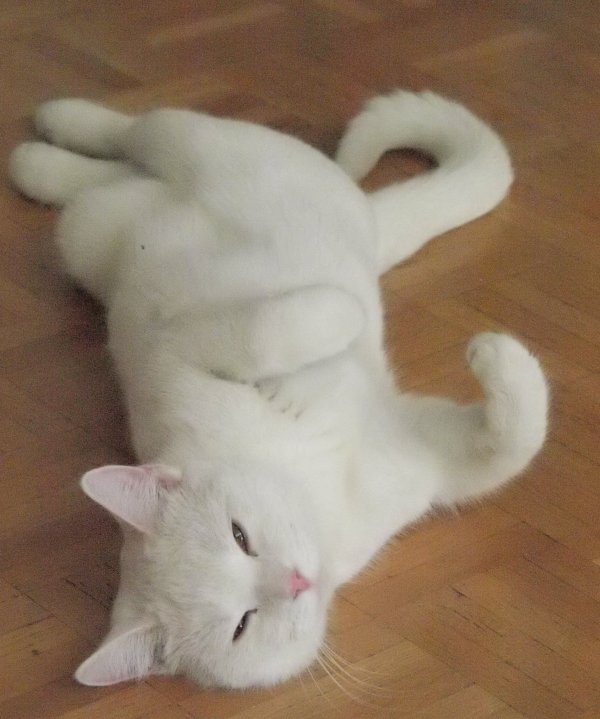 Nyt oli aika inhottavan kuumaa. Näkyy aika selvästi, että jopa Lumi oli ihan veltto. Ihan samoin kuin lekijonalauma röhöttää.

It was quite awful weather. Much too hot. Even Snow was feeling awful lazy. Just like lions at day. During coldness of night, he is much more active.

---
Olli Arnberg <oar@arnberg.fi>