Uutenavuonna olemme aina Turtiaisilla. Pikkuveli (ei tosisesti erikoisen pikkuinen) Esa istuu ja isoveli (juu, iso se todellakin on) Pasi seisoo.
We have been in Turtiainen place for New Year party for twenty years. Here are the brothers: little (not much that) brother Esa is sitting and big (he really is that) brother Pasi is standing.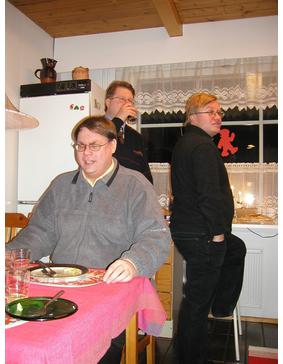 Pippaloissa porukka kokoontuu aina keittiöön.
At a party, everyone goes to kitchen. I don't really know the reason for that. but anyway it happens.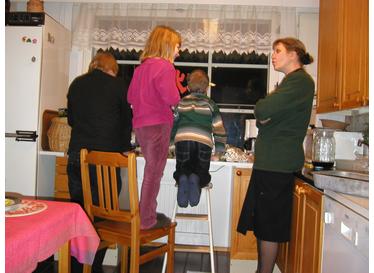 Ulkona oli aivan kammottavan kylmää! Tenavathin ymmärsivät, että ulkona ei välttämättä ole erikoisen kivaa.
There was really cold outside. Kids understood well, that outside is not very good to go.
Some kind of weather pattern made this unbelievable weather.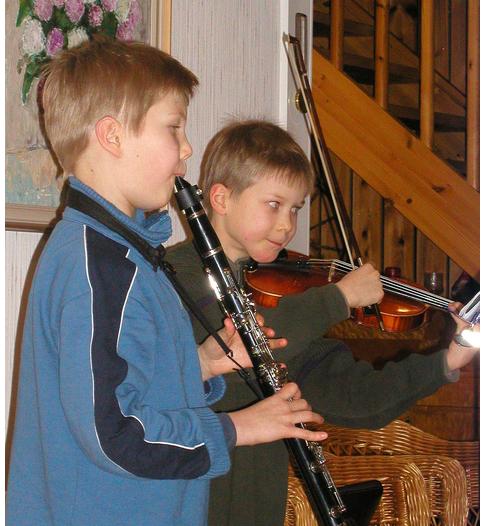 Loukon Antin natiaiset soittivat joitain joululauluja. Mutta sitten kun soittevaksi tuli tähtien sodan teema tai Darth Vaderin teema. Hiphei!
Kids of Antti, Louko and Helena Hakola-Louko played some Christmas carols. Okay, people were not very amused.
But then came some themes from Star Wars. Wow!!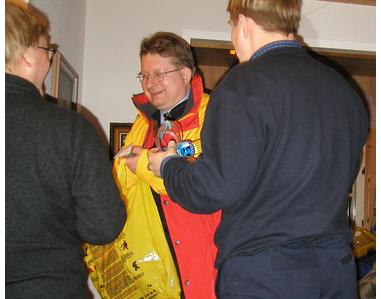 Ilotulitteiden sun muiden pommien hinta on tullut voimakkaasti alas. Kaikki tässäolevat muistavat kyllä oikein ernomaisesti, kuinka lapsena ostettiin yksi matto papaatteja, joka sitten purettiin. Mutta kyllä niitten räjähdysvoimakin on laskenut ihan surkeaksi: vanha kiinalainen vastaa ehkä nykyistä tykinlaukausta.
They all can remember how the price of fireworks was really unbelievably high. Now they are really quite cheap. But the main problem was their effects: not very good. So, more...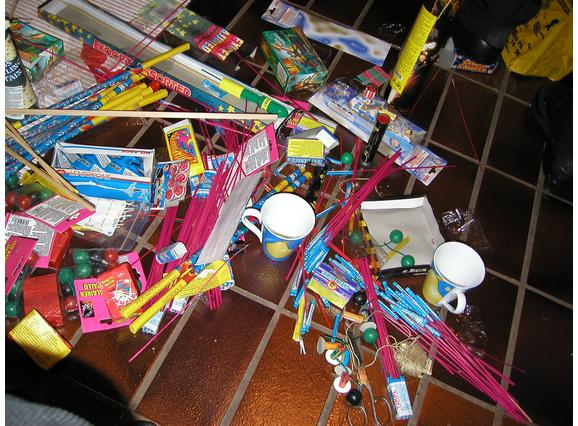 Tässä on sellaista sekalaista pikkusälää. Isommat paukut on jo viety pois...
Here are all kind of small stuff.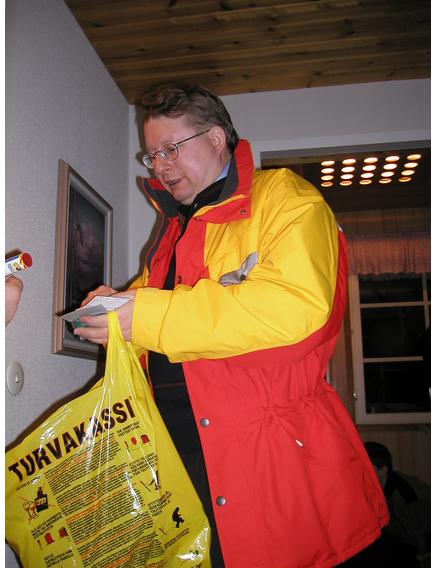 Tietenkin on kerettiläistä kysyä, miksi ihan tavalliseen muovikassiin painettu sana "Turvakassi" tekee siitä yhtään turvallisemman. Kyllä joku sytytetty tulitikku tekee ihan samaa tuhoa...
The text "turvakassi" means secure bag. What? Why? Just normal plastic bag with a lots of texts. Who reads them? Surely no-one!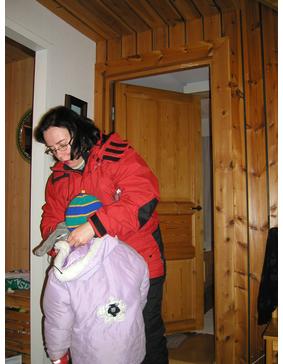 Sitten keskiyöllä oli natiaisten päästävä ulos. No, kyllähän se onnistuu, jos päällä on suunnilleen naparetkellä tarvittava vaatemäärä.
At midnight kids really want out. Okay, no problem. One has to put really awful amount of clothes on.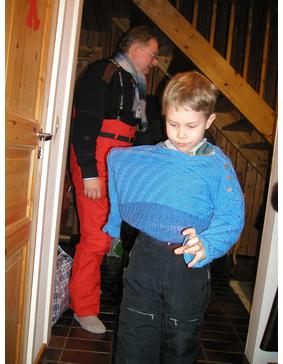 Pikkuisen isommat osaavat sentään pukea itse.
A bit bigger ones can put enough clothes on themselves.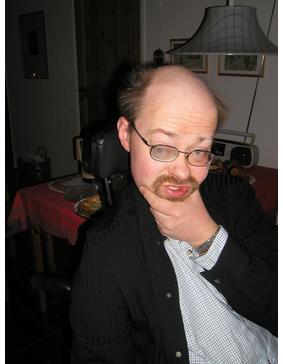 Minä itse tölläsin lämopimästa ja mukavasta keittiöstä.
I watched fireworks from kitchen. Okay, there isn't actually smoke or anything like that. But there's warm...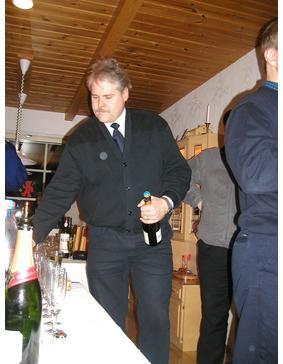 Paukuttelun jälkeen oli vuorossa Turtiaisen Pasin tarjoamaa shampanjaa.
Then Pasi gave us some champagne.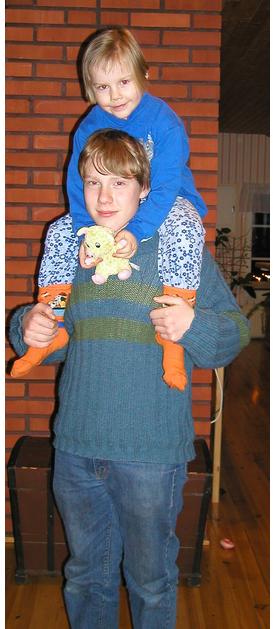 Ilmeisesti kantajana on Pasin vanhin (ööh, ennen kastetta työnimenä käytettiin "jetteri"). Kannettavana on sitten Esan nuorin (ja mikähän se nimi oli; ehkäpä "Veera").
Now I'm not sure about their identity. I think, the boy is the oldest son of the big brother (Pasi). And the girl is youngest daughter of the younger brother (and that was Esa).

---
Olli Arnberg <oar@arnberg.fi>