Olimme taas tänävuonna Klaukkalassa siskoni kotona.
Eikä kumpikaan kissa päässyt mukaan 8-( Toisaalta sen kyllä ymmästää: utelias kissa on myös erittäin tuhoisa!
We were at my sister's place. Just like last year.
But cats weren't there 8-( Okay, I can understand that: nosy cat is extremely destructive.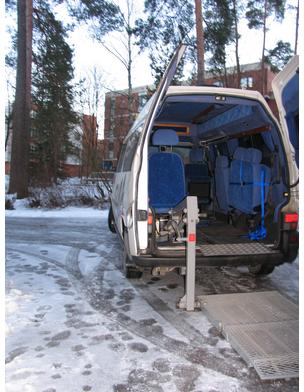 Invataksi oli kerrassaan erinomainen tapa mennä sinne. Tosin se on tilattaa erittäin kauan etukäteen (samoin se, joka vie pois). Elikkä mitään valtavan suurta spontaaniutta ei ole!
My handicab-equipped cab was really easy way to get there. Of course I have to order trips well beforehand.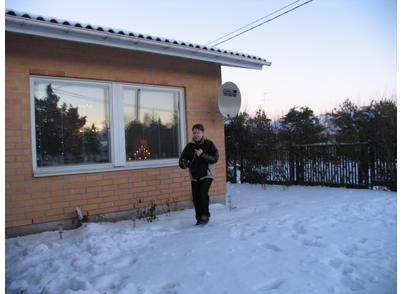 Mika napsii kuvia. Tässä on käytössä oikein varsinainen höyrykamera: sellainen, joka käyttää filmiä. Tosi historiallinen.
Mika (Anna's husband) took pictures. With various cameras. One of them was really ancient relic, which used film!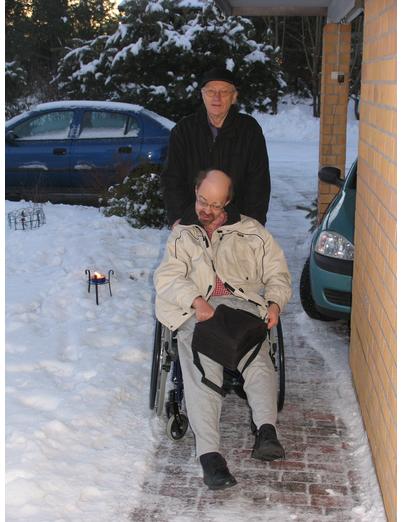 Minä olen todellakin hillittömän ruma! Asialle ei taida kuitenkaan voida yhtään mitään.
Isäni työntää pyörätuoliani. Upean hieno juttu!
Ouch! I'm really extremely ugly! That guy, that pushes me, is my father.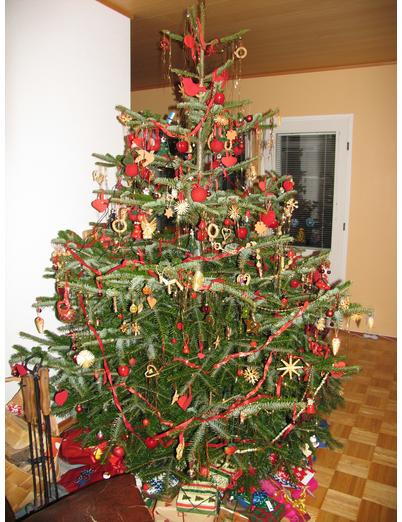 Siellä odotti tällainen joulukuusi.
Kuulemma se on kotoisim Tanskasta. Mutta eihän siellä ole metsiä? Ei ole, tämä onkin viljelty.
Here's their Christmas-tree. Really much stuff everywhere. Originally Anna liked very plain things. But not anymore!
This tree comes from Denmark (just like ham). This is not that very typical spruce. No! It's something with bigger needles. And probably less resin.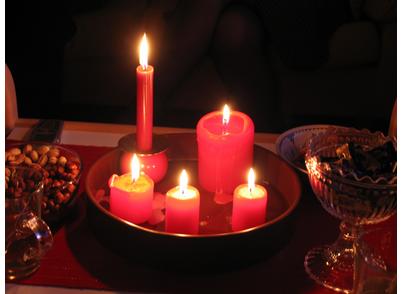 Valaistus oli pääasiassa kynttilöillä. Ottamani kuvat ovat erittäin vaaleita, sen tekee kamerani salama.
Valaistus on erittäin hämärä. Minä en silloin tosiaankaan näe kunnolla.
The light were rather dim. But flash in camera solved that problem for it. But not foe me: I see rather poorly in light like this.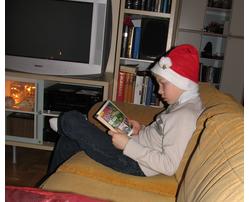 Ja Akkarien lukeminen on vauhdissa. Oikeastaan se on aika huolestuttavaa. Ilmeisesti hänen aineensa on aku-ankka-kieltä.
Pauli reads much comics like this. And I should be worried, because it affects to his essays!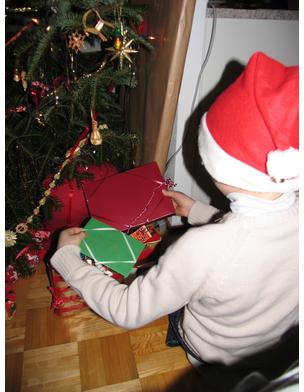 Mikäs tämä lahja on? Ja ennenkaikkea kenelle! Tenavilla oli ihan tarkkaan tiedossa, mitkä lahjat heille tulevat.
What's this present? And who will get it? Quite soon kids knew every present by heart.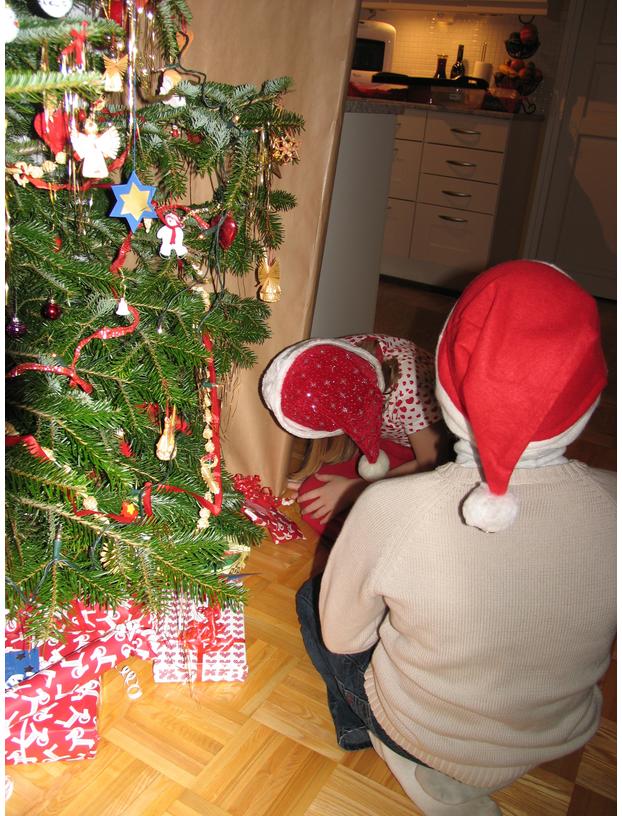 Molemmat nassikat olivat ihan innostuneita tuosta isosta pahetista. Kun siinä ei ollut minkäänlaista lappus tai muuta tietoa. Loppujenlopuksi se meni Tuulille. Liitutaulu.
But what is this? Really huge packet, with just information. Who will get it? In the end of evening it was finally revealed: Tuuli got it. It was a big chalk-board.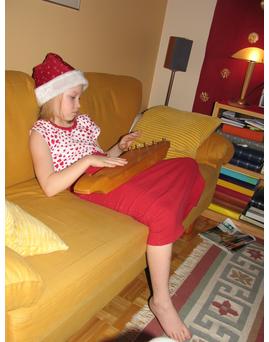 Tässä kanteleessa on vain viisi kieltä. Ilmeisesti sellaisessa täyskokoisessa hirviössä on 40 kieltä. Tai jotain ihan yhtä kammottavaa. Mutta tässäpä on tämän soitantoa (4 638 384 tavua).
This is our very national instrument 'kannel' or 'kantele' (some kind of harp, I would say). This one has just five strings. Concert ones might have 40! Here she plays this (4 638 384 bytes).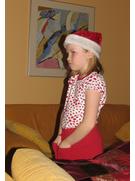 Jos vaikka jotain ihan pientä? Nassikat olivat todellakin valtaisan kärsimättömiä.
Kids were stressed. Naturally so! So here Tuuli ask , if they can have one? Just very small one!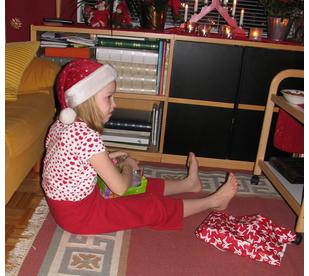 Onnistuihan se ruikutus. Eli Anna antoi kummallekin yhden lahjan. Sillä sai nassikat kohtuullisen hiljaiseksi.
Pauli sai taas uuden Aku Ankka -kirjan. Tuulille tuli jotain Bratz-kamaa. Muistaakseni Jari Tervo on sanonut niistä: "niihin verrattuna Barbeilla on sielu".
And they got. Pauli got a new Mickey Mouse. Tuuli had some Bratz-Barbie (or something like that). Anyway, kids were rather quiet now...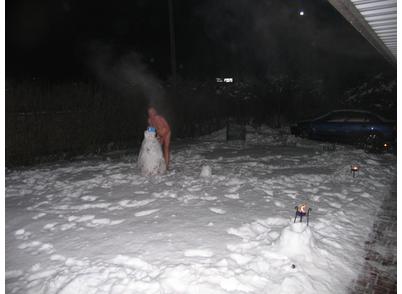 Ennen syömistä on sauna.
Aamupäivällä oli lämpötila ollut reilus nollan yläpuolella. Lisäksi silloin satoi vieläpä vettä! Mutta niinkuin näet, lumi jäi. Jouluaaton ja -päivän välisenä yönä oli tosi kylmää.
We have sauna always before dinner.
Looks like night? But it isn't! Clock is about 4PM. During winter (and especially this time), darkness comes awfully early.
But we have snow. That's very nice thing. But we had quite warm temperature in the morning. Well above freezing-point (in this time of year, that's considered very warm). But managed to stay. Next night will be quite cold, I know...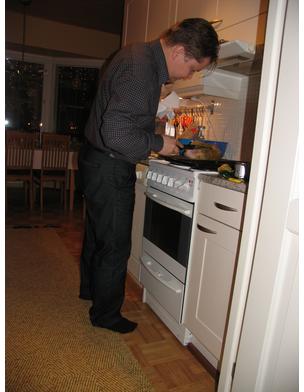 Kinkkua pitäöä viritellä.
Sen päällä on rasvaa (ihan niinkuin ihmiselläkin). Joka veistellään pois. Loppuosa lihasta on oikeastaan aika vähärasvaista.
Sitten päälle pannaan kuorrutus. Sinappia, jonka päälle ripsitään korppujauhoa. Ja sitten koristellaan vielä mausteneikoilla.
Pikku hetkeksi uuniin ja niinähän on!
Now handling the ham.
Actually pig is very much like human. Anatomically, I mean. Fat is gathered (there might be quite much of it) just under the skin. Goodbye for that! In the roasting it has worked as some kind of protection.
Then encrusting. Mustard on that ham. Maybe that's like Dijon one. But naturally from Finland. Then some breadcrumbs over it. Finally some cloves (one can be very artistic with them).
Oven. Very hot, but only short time: ten minutes or so. Because the ham is ready already (it has been baked last night, rather low temperature , but very long time). The crusting is the only thing to bake now.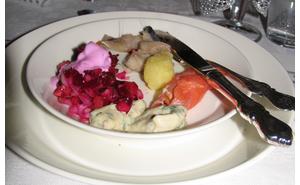 Nämä alkupalat ovat lähinnä kalaa. Niin tietenkin rosollia ja puikulapottuja.
These appetizers are mostly fish.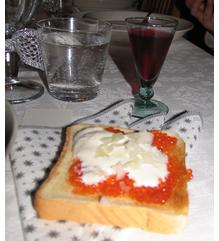 Mätileipää olenkin jo ylistänyt. Eipä se siitä muutu miksikään.
Mutta seurana oli ryyppy. Kesällä oli koottu pikkumäärä (pullollinen) mustaherukoita. Niitten päälle oli kaadettu viinaa. Anna arveli, että lopputuloksessa parasta olisi väri. Mutta ei oikeastaan. Viinana oli käytetty Viru valgeata. Se on venälaistyyppinen viina ja sopi asiaan kerrassaan erinomaisesti!
That roe sandwich. As I have told, it's really the very best thing.
But that red thing. It's really very hard booze! And Anna made it! One collects black currants. Then some booze on them. And that booze was "Viru Valge" from Estonia. That's Russian-type vodka. It suits really well to this thing!

Keittiön pöydällä on pääruoat.
On tosin niin, ettei tämä oikeastaan kannaltani mitenkään eroa "tavallisesta" ateriasta!
Joskus pula-aikana jouluateria on ollut ihmeelliunen asia. Tai joskus silloin ammoisina maatalousaikoina, jolloin pula-aika on ollut suunnilleen pysyvä juttu.
Here are some of the stuff, we had...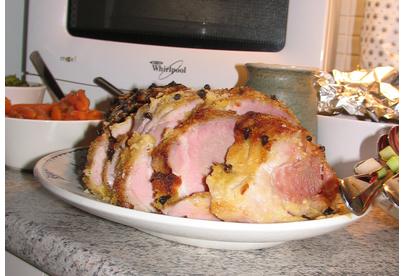 Pääasiana on kinkku. Ja niitähän on vaikka minkälaisia versioita. Lähinnä kait isoin ero on teurastuksessa kinkkuun jätettyjen luiden määrä.
Here seems to be quite many pictures of ham. We have quite many versions of it. Mainly they differ of the amount of bones left into that ham.
And then there are hams from pigs that are fed with grain.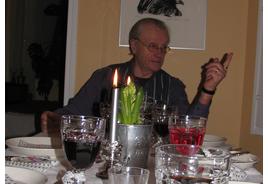 Ja selityksiä riittää. Koska aikaakin vierähti. Olin itsekin pöydän päässä (toisessa päässä tietenkin), koska pyörätuoli meni sinne kauniisti.
This is my father. And I'm at the other end of the table. Because my wheelchair move nicely.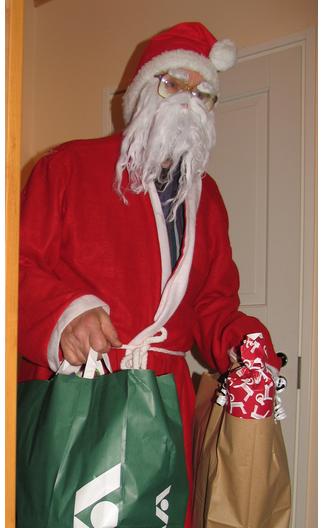 Pukki tulee. Mikä on tietenkin nassikoiden mielestä oikeastaan koko joulun pääasia (tai siis lahjat).
Ja taas valitan tätä Coca-Cola Companyn tunnusväreihin pukeutunutta pukkia.
Santa comes! In our country that happens that way. And that makes SSSC (Security Service of Santa Claus) working much better.
And that dress! Made by public relation office of the Coca-Cola company (as You surely know "official" colors of Coke are red and white). Really excellent work from them.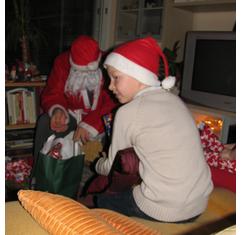 Ja sitten pukki jakelee lahjoja. Tai siis homma sujui niin, että nassikat hakivat kuusen alta jotain, jonka pukki sitten jakeli. Tosin valaistus oli niin heikko, että tenavat saivat myös lukea laput!
As I've said, the lighting was really very dim. So, Santa didn't see very well cards on those cards. But kids saw quite well! So, they read receivers. And give them.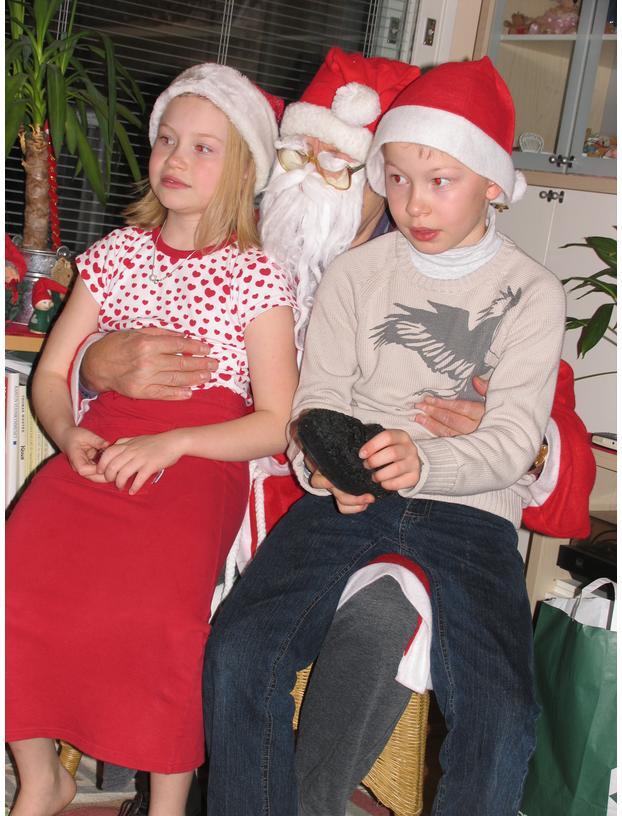 Lopuksi nassikat pantiin pukin syliin. Pauli itseasiassa ymmärsi asian oikein hyvin: muutoin ei lahjoja tule.
Then kids at lap of Santa.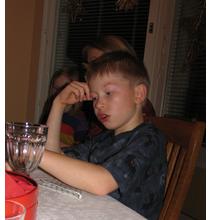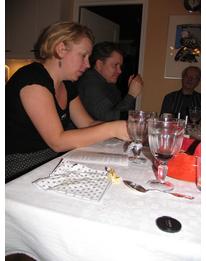 Sanojen selityspeli. Muistaakseni sen nimi oli: "Alias". Ja Pauli oli oikeastaan sisäistänyt pelin ihan hyvin: selitykset eivät olleet ihan välttämättä kovin osuvia, mutta niitä tuli kuin konekivääristä.
Then there were game 'Alias'. There one explain some word and another of pair guesses it. Pauli was really good in it.Explanation weren't very good, but he gave then like some kindof human machine-gun.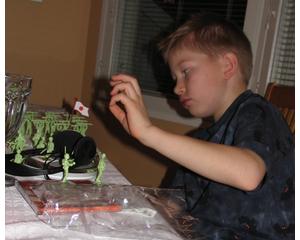 Sitten leikkimista!
Kuulemma laatikollinen tuollaisia lelusotilaita on ihan varma valinta.
Playing is over now.

---
Olli Arnberg <oar@arnberg.fi>