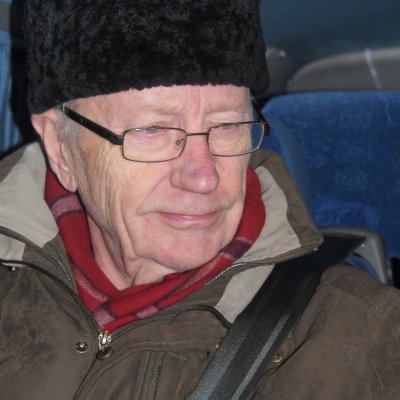 Ja taas tänävuonna olimme sisareni luona Klaukkalassa. Hän oli tosin muuttanut, mutta vain parisataa metriä, jolloin se on aika merkityksetöntä. Ruffe on ollut ihan aina mukanamme siellä.

This year we were at my sister's place (she has moved a little bit there) in Klaukkala. Actually Ruffe has been there.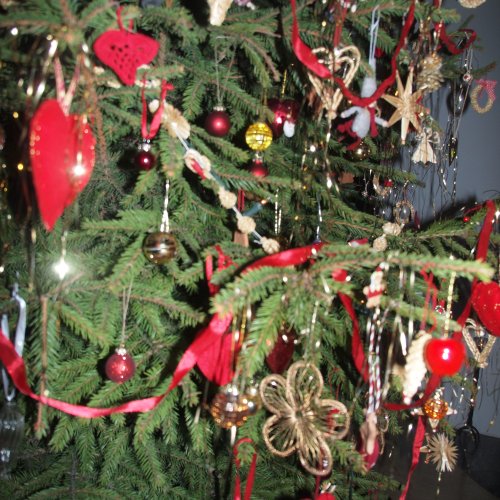 Joulukuusi oli taustalla ihan pimeässä. Siis niin pimeässä, että kameran automaattitarkennuksella oli huomattavia vaikeuksia.

Christmas tree was there. But it was in very shadowy place.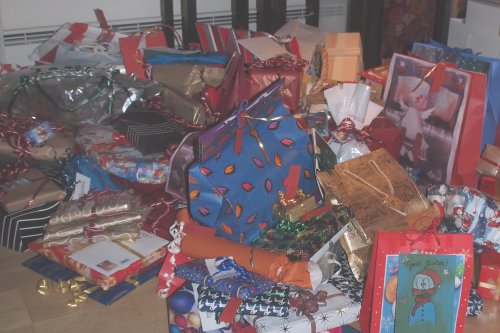 Lahjoja oli kerrassaan hillitön määrä.

Presents! There were really many.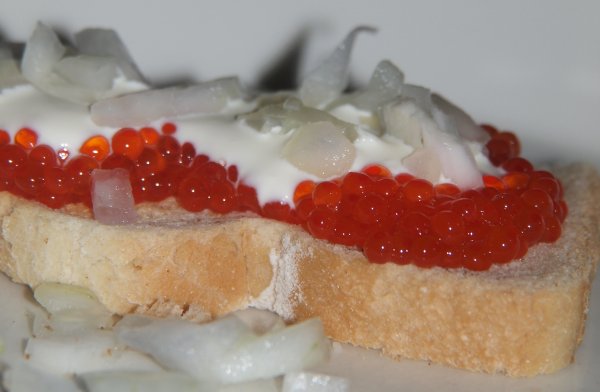 Mäti on oikeastaan meillä ihan ensimmäinen juttu.

First we had caviar. That orange is caviar of rainbow trout (that's better than "real" stuff). On it is sour-cream and very thinly cut sweet onions.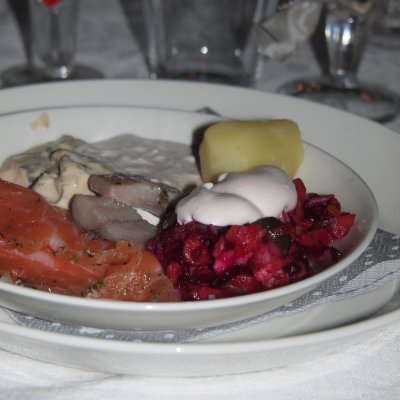 Ensinnä tietenkin kalalautanen. Graavia lohta. Sinappisilakoita. Lasimestarin silliä. Rosollia.

Then fish. There are (at least):

Raw salmon, which has been ripened with salt (salmon gravée)
Baltic herring with mustard sauce
Herring with vinegar and spices

Rosolli-salad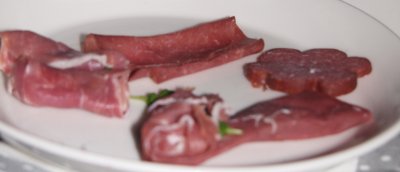 Onnettoman epäterävä kuva lihaleikkeistä. Siinä on:

Parmankinkku
Poro
Häränpaisti
Konjakkimetwursti
Pictures of various escallops:
Reindeer (yes, we eat Rudolph)
Ox
Ham of Parma

Sausages with cognac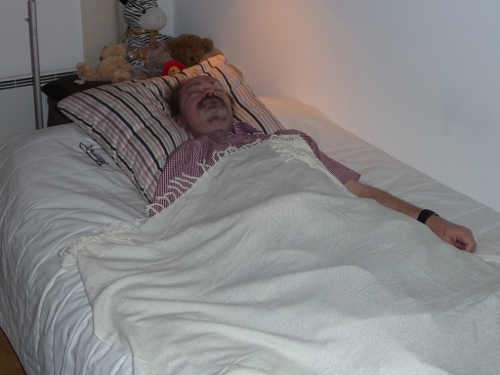 Alkupalojen jälkeen on vuorossa sauna. Minä en ihmeemmin saunasta välitä: lämpö on minusta erittäin inhottava asia. Tietenkin kaikkein iljettävintä on ulkoilman lämpö, mutta kyllä saunassakin päästään epämiellyttävyyteen.

Then some of us went to sauna. But I don't: I hate heat. This way I can get rest, I need.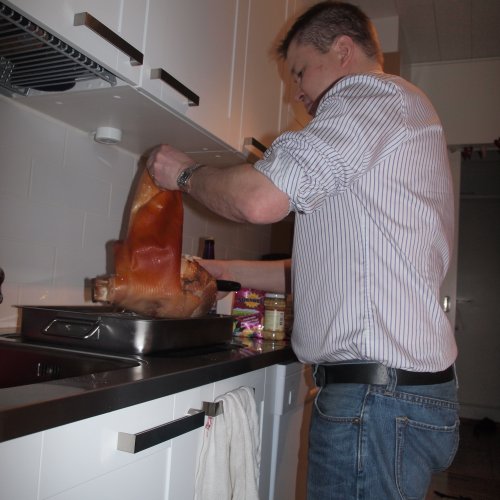 Kinkusta otetaan pois nahka (kamaraksihan sitä sanotaan). Sitten päälle pannaan sinappia ja korppujauhoja. Ja jos kärsivällisyyttä riittää, mausteneilikoita pintaan. Sitten vain nopea kuorrutus kuumassa uunissa.

Mika takes away the skin of pig. Then some mustard and breadcrumbs. Quick bake with high heat (before very long time with low heat) and everything is ready.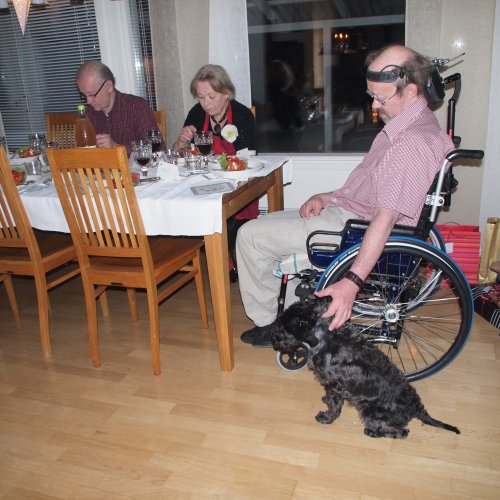 Ruffen mielestä minulle sopivin käyttötarkoitus on hänen rapsuttamisensa.

Ruffe thinks, I am suitable for petting him.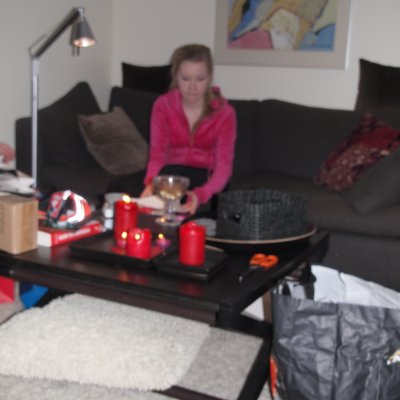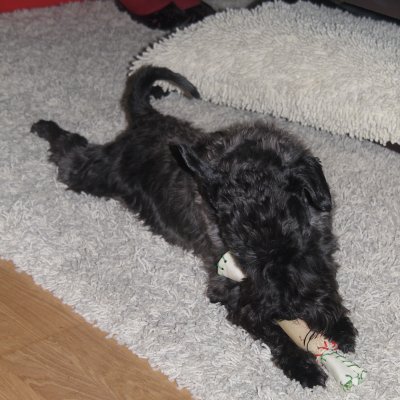 Ruffe sai jonkinlaisen luunmuotoisen namupalan. Ja se oli mitä ilmeisimmin kerrassan herkullinen: takajalatkin ovat ojentuneet.
Tuulikin tahtoo!

Ruffe got some nice treat to eat. Obviously he really loves that. He really wants to eat it very immediately.
Tuuli wants some, too.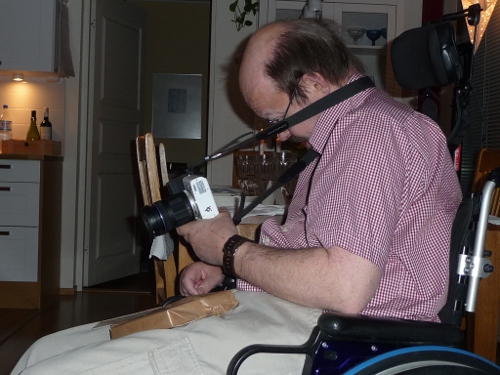 Kuvien ottaminen on minulle äärimmäisen tärkeä juttu. Siksi salaman varauksen loppuminen sai minut oikeaastaan aika epätoivoiselle mielelle.

Taking photos and making WWW-pages like this, is really important thing for me. But my camera (actually it's flash) had very bad problems. Must say, that I didn't like the situation.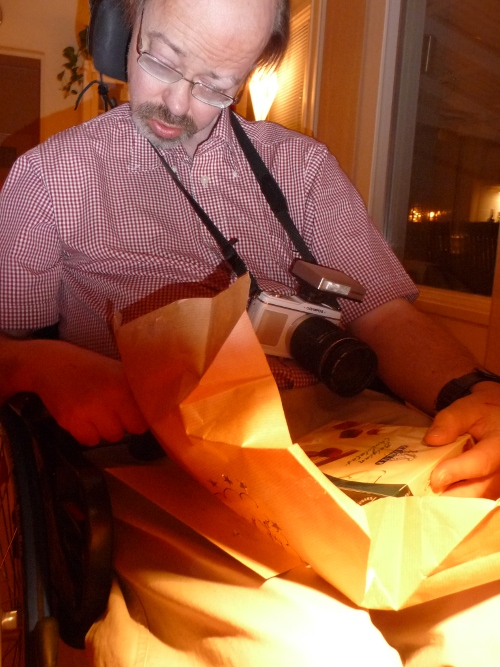 Kasvoillani on todellakin erittäin älyllinen ilme avatessani lahjoja.

I look like real genius in this picture.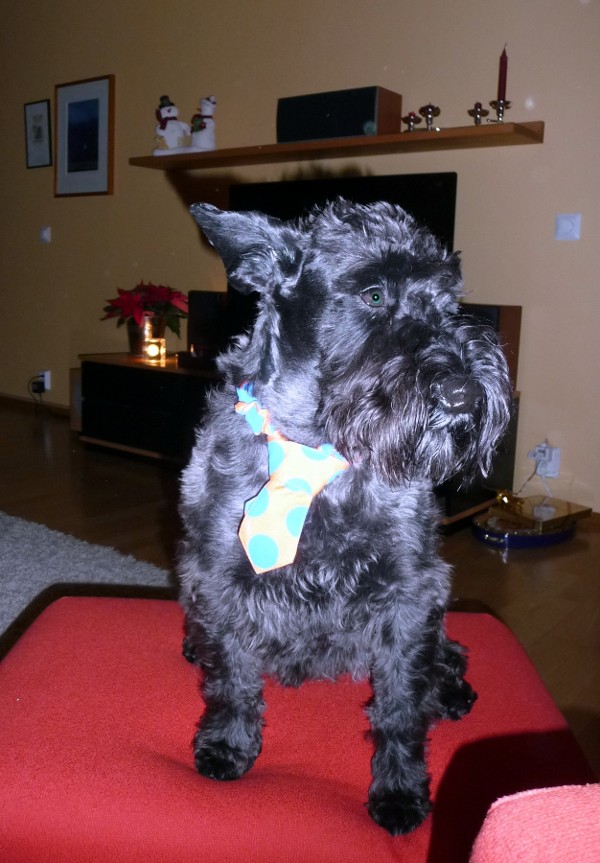 Ruffe sai Lumi-kissalta tämän kravatin.

Ruffe got this tie from Snow the cat.

---

Olli Arnberg <oar@arnberg.fi>
Takaisin pääsivulle.