Sisareni Anna oli yhdessä miehensä Mikan kanssa ostaneet uuden asunnon.
Sinä kuvassa näkyy sää tällöin. Sade alkoi suunnilleen puolenpäivän aikoihin. se loppui sitten joskus iltaseitsemältä, -kahdeksalta. Lämpötila oli silloin aika alhainen. Mutta minä nimenomaan pidän viileästä ilmasta.

My sister And her husband Mika had moved (and naturally their kids, too). But very small distance.The weather was really louse there. Rain started at noon and stopped at 7PM or 8PM.
The temperature was quite low. But I like that.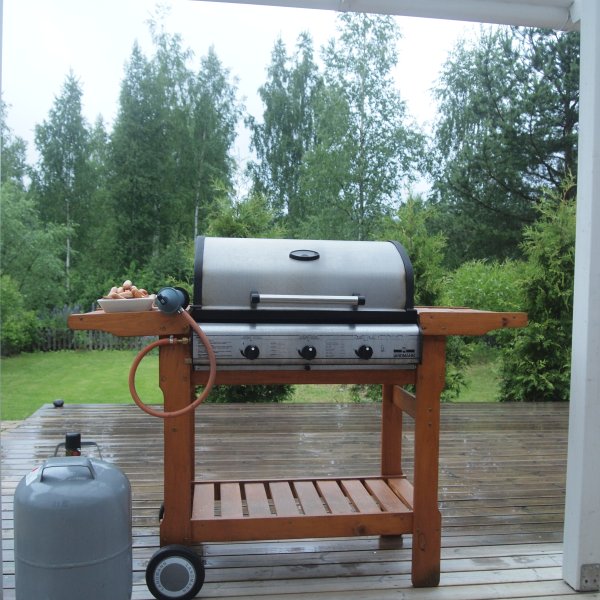 Grilli oli tuotu "vanhasta" asunnosta.

This grill comes from their "old" place.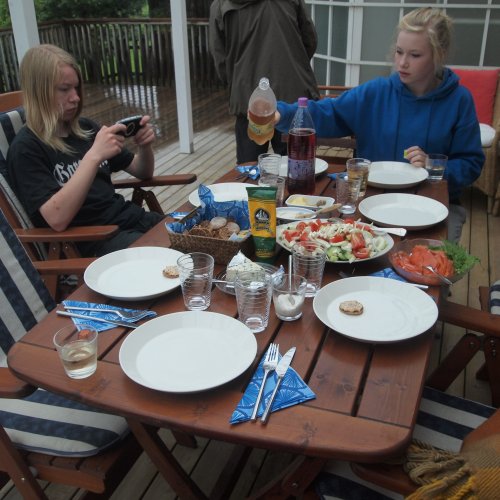 tghisNassikat aloittivat jakelun. Tai siis oikeastaan vain Tuuli, koska Pauli on kiinnostunut vain konsolistaan.

Kids started (or actually Tuuli did, Pauli played this) distributing stuff...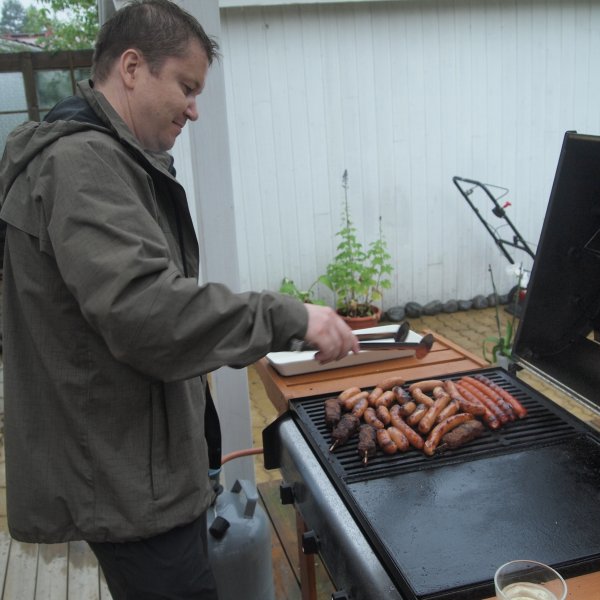 Mitä ilmeisimmin Mika tykkää grillauksesta. Makkarat olivat oikeastaan aika tyypillinen juttu näin Juhannuksena. Tuossa näkyy olevan paria makkaratyyppia ja parisen jauhelihavarrasta.

Mika likes barbecuing.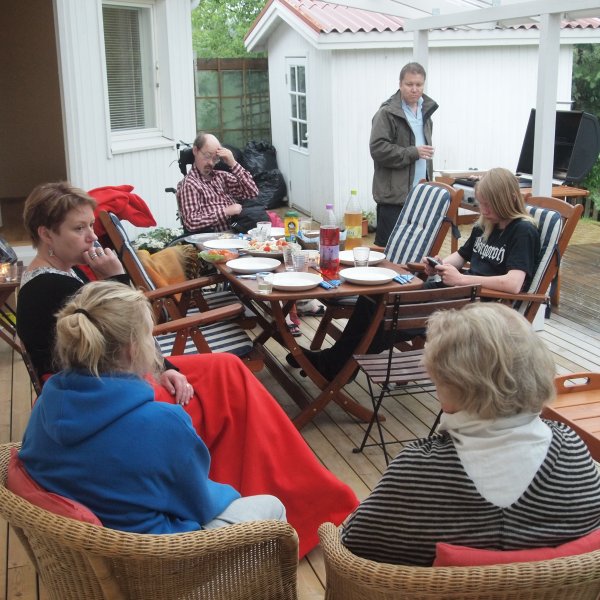 Niinkuin hyvin näkyy, terassi on aivan valtava. Senlisäksi päällä oli aika valtaisa katos.

As You can see, this terrace is huge. And there's a roof on it. So, rain causes no problems.

Tunsin olevani varsinainen kyborgi. Minulle oli nimittäin kudosnesteen (veri olisi oikeampi paikka, mutta siinä on ongelmia) sokeria tarkkaileva anturi.

I've became a cyborg! Because I have a small sensor implanted. It measures my sugar level. Not directly from blood, because that has very bad problems.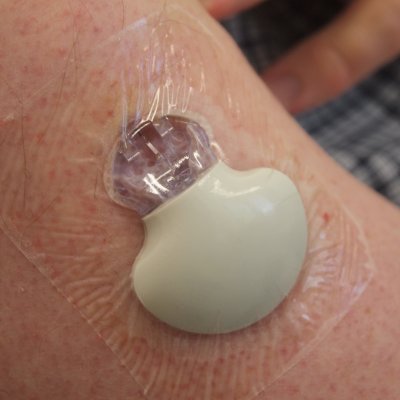 Ja tässä se anturi on. Kuva on seuraavalta maanantailta, jolloin anturi otettiin pois. Eipä sitä kudosnestettä ole kovin paljon tullut. Mutta paikkaa kutittaa seuraavana iltana, jolloin kirjoitan tämän. Tosin en ala kutittamaan.
Tieto siirretään ilmeisesti sinihammas-tekniikalla. Ja ilmeisesti tietoa on aika valtaisasti. Tanskan ja Norjan alun kuninkaallisilla oli muutoinkin aika hupaisia lisänimiä: "Kaunotukka", "Verikirves", "Hyvä", "Harmaaturkki", "Pyhä", "Ankara", "Paljassääri", "Jerusaleminkävijä", "Sokea", "Koukkuselkä", "Harteikas", "Lainparantaja", "Vanha", "Haaraparta" ja tietenkin tämä kyseenalaisen suuhygienian mestari "Sinihammas".

Here's picture of the sensor. It was taken next Monday, when it was taken out.. Looks rather clean.
The data connection has been done by Bluetooth. Moving all took quite much time. Obviously quite much data.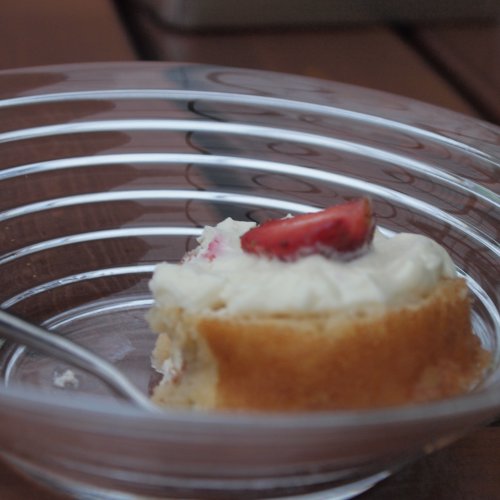 Tuollainen "pikaleivos" on ihan näppärä juttu.

This is quite easy and quite delicious. And if one has some kind dietary regulations (like me: no sugar).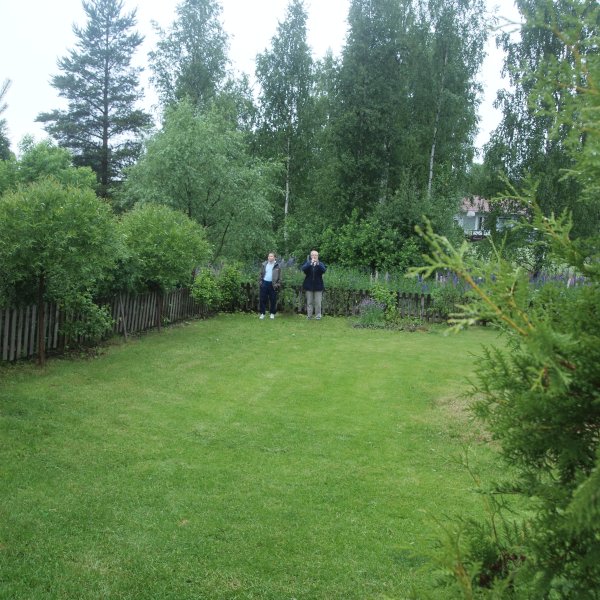 Tontilla on aikamoinen plantaasi. Laajakulmainen objektiivi parantaa vielä asiaa.

New placed has very big garden, too. And wide angle lens in my camera makes things even better...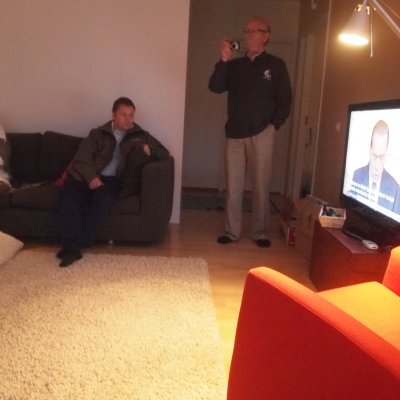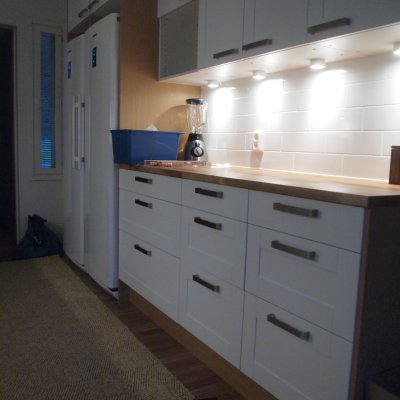 Tässä on parisen kuvaa uudesta asunnosta. Tuossa keittiökuvassa olen käyttänyt hehkulamppuden värilämpötilaa.

This is their place. Extremely big!
I tried color balance designed for bulbs at the picture of kitchen. Very excellent results.

---
Olli Arnberg <oar@arnberg.fi>