Laskiaista vietetään sunnuntaina. Tai tiistaina - silloinhan se oikeastaan olisi. Tai oikeastaan aika usein noina molempina päivinä.
Sisareni oli perheineen (mies ja kaksi nassikkaa) ollut Lapissa laskettelemassa Ylläksellä. Viimeviikolla oli Etelä-Suomen hiihtoloma. Levillä he olivat, koska siellä on ihan varmasti lunta. Kyllähän lunta oli täälläkin. Mutta parina viimevuonna lunta ei täällä ollut.
Tuulilla oli nimipäivät. Ei ehkä juuri tänään, mutta lähiaikoina.

Shrovetide was this Sunday. Actually Tuesday is the "correct" day. Most people celebrate (by eating special buns) it at both days.
My sister and her family were skiing at Ylläs in Lapland. There one has very certainly a lot of snow. This year we have plenty of it in here. Now is the sporting holiday of Southern Finland.
Today (or maybe a day near this) is the name-day of Tuuli.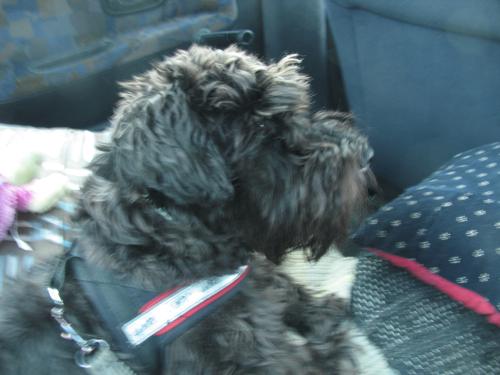 Ruffe pääsi mukaamme autoon.
Ökö olisi halunnut mukaan. Huuto toi lähinnä mieleen Vesa-Matti Loirin Pojat-elokuvan loppukohtauksessa.

Ruffe could get there with us. And, as You can easily see, he is really thrilled. Ökö wanted too. But no 8-(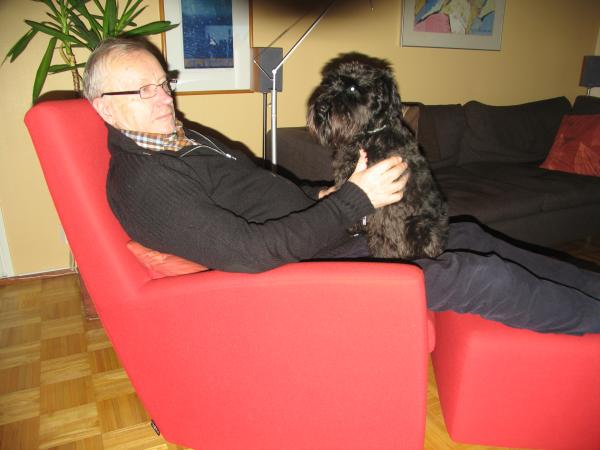 Papalla oli aika ikävää hammaskipua. Ilmeisesti jokin puhkeamaton viisaudenhammas on tulehtunut tosi inhottavasti.
Täällä hän sitten päätti soittaa johonkin päivystykseen. Ihan onnettoman väärin! Nimittäin päivystys toimii vain parisen tuntia aamupäivällä. Muulloin pitää vain purra hammasta ja syödä särkylääkkeitä.

My father had really bad tooth-ache. It was caused by some unsurfaced wisdom-teeth. At his age! But now is weekend. And nothing happens.
He called the hospital and they just said, he should eat a lot of painkillers. And wait for Monday.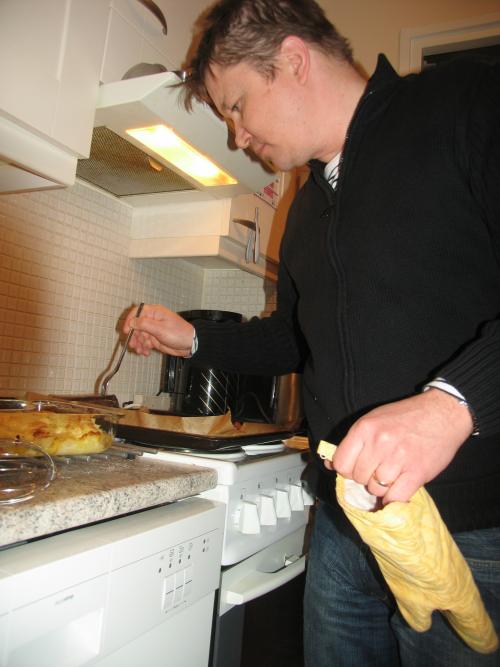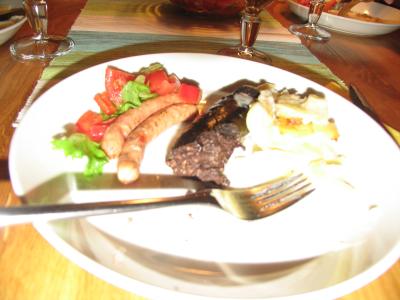 Pappa oli ostanut viimekerralla Tallinnassakäydessään tuoremakkaroita. Siis se tarkoittaa käsittääkseni makkaraa, jota ei etukäteen ole kypsytetty ollenkaan.
Makkaralautaseni oli tuossa. Tuoremakkarat olivat nuo pienet ja onnettomannäköiset. Mutta ne paljastuivat erinomaisen herkullisiksi. Sitten mukaan pantiin tuollainen pökäle mustaa makkaraa.

Last time my father was in Tallinn, he bought sausages, that were not already cooked. One does that by oneself. And they were actually very delicious.
They were these small gray ones. Big black one is "mustamakkara" from Tampere area. It tastes not as awful as it looks...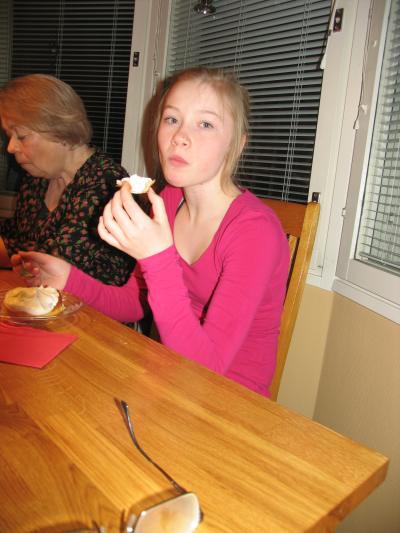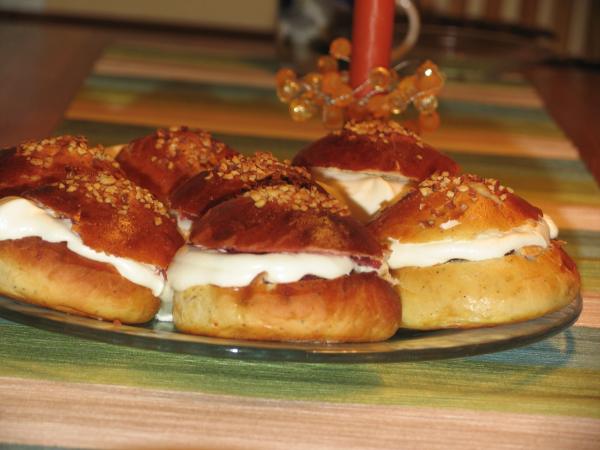 Tuossa niitä kuuluisia pullia on.
Kuka ihme osaa syödä laskiaispullaa siististi?

There are those famous buns. And they are made naturally as diet versions.
Who can eat them cleanly without making awful mess? Obviously Tuuli can do that!

Yöllä sunnuntain ja maanantain välillä oli vuorossa Oscar-gaala. Selostajat ovat ihan käsittämättömän omahyväisiä! Mutta tämän saa oikein mukavasti kirjoitettua sen.

The Oscar gala was very late at night. I can write this WWW-page during it.
---
Olli Arnberg <oar@arnberg.fi>