Ökö with infection in urinary tracts
Ökö marked everywhere. By urinating.Especially to my TV-chair. So, I had to cover it every evening. If I forgot it...
Something must be done.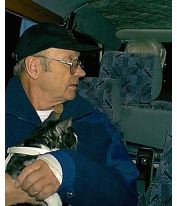 To the vet. I took an handicapped equipped cab. Because my father has broke his wrist. Driving a car would be really hard thing for him.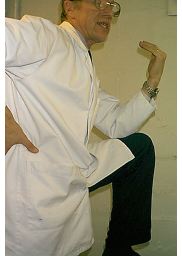 The vet was Aimo T Niskanen (really lousy picture of him). He had so theories about the thing:
infection in urinary tracts
the cat was protesting something
We all thought the reason being the later one. But actually it wasn't!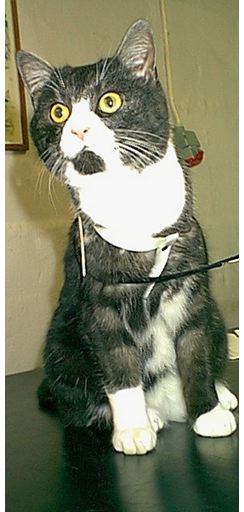 If one wants to do any studies to cat, it must be given an anesthesia. But there were big problems. Ökö didn't want to sleep. No way! This is much too interesting place. Ökö has been anesthetized three times during that femur thing and once during neutering. She had anti-things towards that.
She got suitable dose. Small cat, about three kilograms. Nothing happened. Some more. And... Actually, she had dose for a 20-kilogram dog- But she won't sleep.
I had to leave then. The cab-driver has to go to his next customer. I went to cab. There I was informed, that finally a success has been there. Antidote has been the magic thing!!
Next night, she had a hangover. Really colossal one...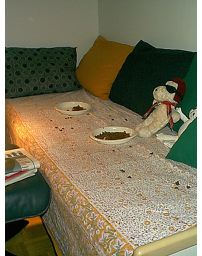 Nisklanen said, that one thing might work with that protesting thing. Cats don't urinate near of feeding place. So food to the bad places.
Sounds idiotic? But it works!!

---
Olli Arnberg <oar@arnberg.fi>