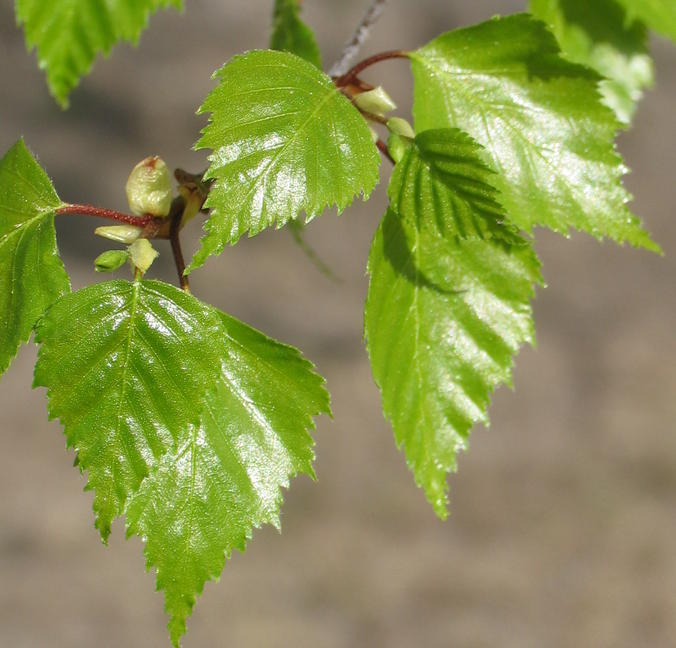 Hiirenkorviksihan noita pikkuisia leshtiä kutsutaan. Kolme päivää sitten niitä ei ollut. Mutta nyt ne ovat jo isoja.
Geneettisesti olisi varmaankin edullista kukkia ensin ja hommata lehdet sitten. Tuulipölytteisen siitepöly leviää taatusti huomattavasti paremmin ja laajemmalle alueelle, jos lehtiä ei ole. Lehtien aikainen tuottaminen on kuitenkin etu yksittäiselle kasville. Etu lajille, mutta haitta yksittäiselle kasville. Ja toisinpäin. Miten ihmeessä tuollainen ratkaistaan!
We call these small leaves "hiirenkorvat (="ear of a mouse"). Quite romantic name: that small creature has certainly really tiny ears. Three days ago, there were none.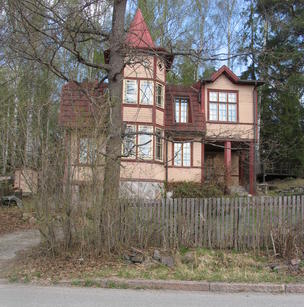 Olen aiemminkin ottanut kuvia tästä piparkakkutalosta. Elikka tässä taas yksi lisää.
I had pictures of this "gingerbread house". Now, too. This house easier to see, when there are no leaves. Or they are very small.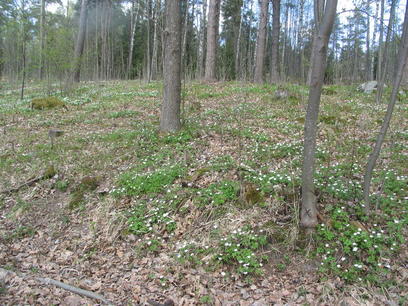 Jo valkovuokkoja (Anemone nemorosa)! Useimmiten nämä ovat parhaimmillaan äitienpäivän tienoilla.
These are quite many wood anemones (Anemone nemorosa). This is really the first flower that is really quite numerous. In Southern Finland,m that is.
Another one, hepatica (Hepatica triloba), is earlier but much rarer, too.

Yleensä nassikat keräävät niitä äitienpäirvänä. No, nyt viikkoa ennen, keräilyä tekevät äidit.
Kids give wood anemones to mother on mothers day. In Southern Finland, that is. These collectors are mothers. But this is a week before actual day.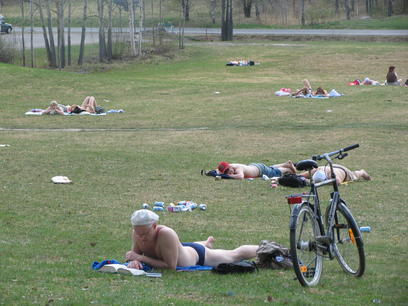 Auringonottajia riitti. Itseasiassa jo tästä kuvasta voi nähdä meillöe suomalaisille tyypillisiä asioita:
Aurinkoon runnätään heti kun se on edes suunnilleen mahdollista.
Ihmioset pyrkivät eristäytymään toisistaan. Me oikeastaan arvostamme omaa yksityisyyttämme.
Quite many sunbathers! Here one can easily see typical Finnish things:
We love to have sun (but not me, I like more cold weather)! When we do trips to South, we immediately go swimming. Local people think, we are idiots. But our summer is like that.
These Finns are lonely on in very small groups. Quite so, because we really like solitude. No problems in that, because there are really quite few of us.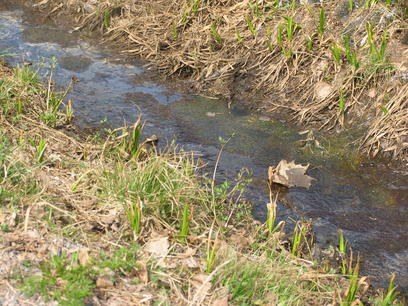 Ojassa oli upeasti sammakonkutua. Toisella puolella kävelytietä oli syvä oja, joka opn varmaankin erittäin ihanteellinen sammakontoukille. Tämä oja näytti pahalta kuivumisen kannalta.
There are really quite much frog spawn.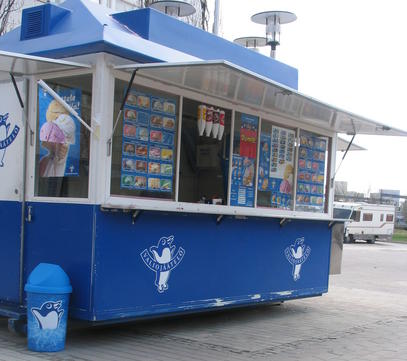 Lopuksi sitten jätskiä! Oli mansikkaa, jossa oli vieläpä mansikkahilloa. Kyllä minä sokerittomuutta korostin moneen otteeseen, että kyllä se ilmeisesti oli.
In the end I had ice-cream. It was strawberry one. Actually it had some strawberry jam: really delicious!

---
Olli Arnberg <oar@arnberg.fi>