Tuuli 8
Tässä on päivänsankari. Tai oikeastaan varsinainen oikea päivä oli perjantai. Mutta se ei ihmeemmin häirinnyt asiaa:
Perjantaina oli tenaville järjestetyt juhlallisuudet.
Lauantaina oli jonkun muun vastaavat.
Sunnmuntaina oli sitten tämä.
Tänään paikalla oli oikeastaan Tuulin pikkuserkkuja. Siis sellaisia, jotka asuivat pääkaupunkiseudulla.
Tuuli was eight. Not now, last Friday. But there had been some kind of party from last Friday to this Sunday. Now there were mostly cousins of Anna and me. And their kids.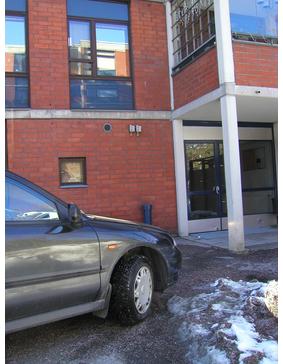 Meneminen onnistuu oikein erinomaisesti vanhempieni autolla.
Siirtryminen talviajasta kesäaikaan tapahtui oikeastaan viimeyönä. Täytyy todellakin sanoa, että valonmäärä lisääntyi todellakin rajusti. Näihin aikoihin nimittäin päivä pitenee rajusi muutenkin.
That was at Anna's place in Klaukkala. I went there by car of my parents. And that causes just no problems.
We had moved from Winter-time to Summer-time last night (from GMT+2 to GMT+3). It affects the amount of light. Quite strongly now. But our natural lengthening of day is very strong now. It would handle whole thing in week or two.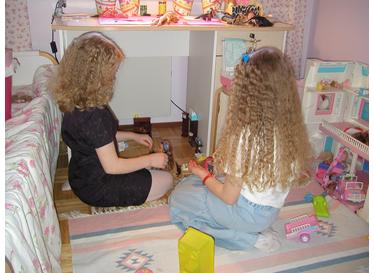 Varsinainen permanenttimainos!
Tuo vaaleampipukuinen on ilmeisesti Petrin tenava. Ja voit olla ihan varma vakuuttunut siitä, etten muista nimeä.
Ilmeisesti he leikkivät Bratzeilla. Joista Jari Tervo on osuvasti sanonut: "niihin verrattuna barbeilla on sielu".
This is not some barber-ad!
By the way, this kid with lighter color, is Petri's.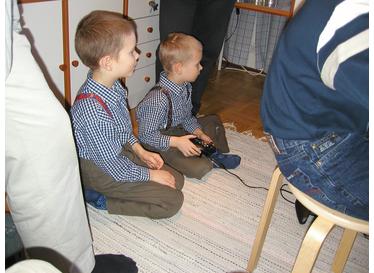 Paulin X-Box oli kerrassaan Heikin natiaisia innostava.
Ilmeisesti joissain X-Box-lehdissä on mukana demoja sisältävä DVD. Kotona on kuulemma valtaisaa ihastusta herättänyt Hugo-peli.
X-BOX of Pauli was in full use. Kids of my cousin Heikki played it all the time. Because they had such at their home: familiar thing. Then Pauli had different games. Mostly they had played game about Hugo-the-troll.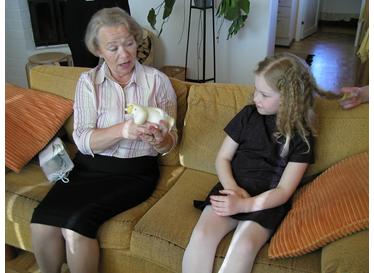 Tuulin isovanhemmat antoivat kaikenlaista.
Grandparents of Tuuli gave all kinds of things. Like this piggy toy bank full of coins. But it wasn't actually piggy; it was Snork-maiden.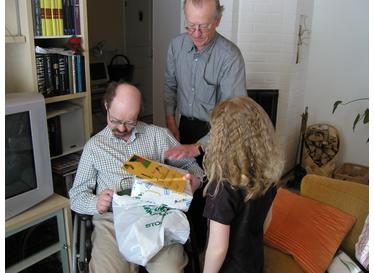 Kyllä minultakin tuli...
Se oli jonkinlainen peli. Olin pelannut sitä aikanaan Synapsiassa ja havaitsin sen ihan hyväksi.
Then something from me. I had played this game in Synapsia. And even adults can be interested in it. It gives really great possibilities in geometrical thinking. And as every game: evilness!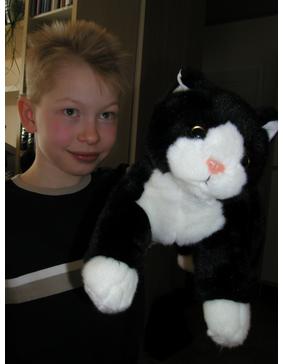 Kyllä Paulillekin piti antaa lohdutuslahja. Tämä lelu-Ökö oli itseasiassa peräisin Stockan näyttelystä. Mielestäni olen aiemmin hommannut juuri tuollaisen Tuulille.
Pauli should get something, too. Something quite little. But I found this from Stockmann. Just like Ökö!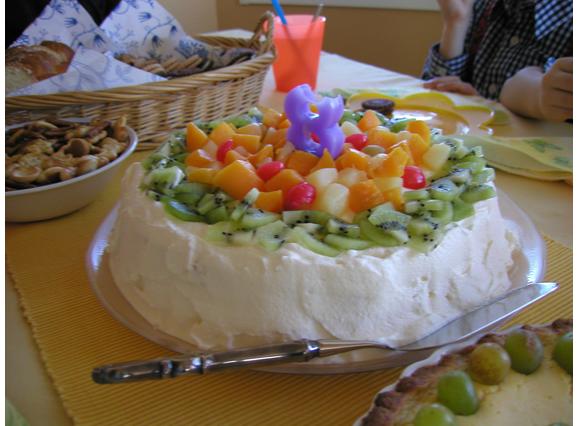 Kahdeksan, niinkuin osittain palaneesta kynttelistä näkyy. Anna oli leiponut tämän sokerittomana. Tai oikeastaan käyttäen hedelmäsokeria, joka onkin oikein tosi luonnollinen. Ja erittäin sopiva diabeetikolle.
That poor candle shows the age. My sister Anna had baked this. So she had used fructose. Just same sugar, every fruit has. That's really very suitable for me and every other diabetic person.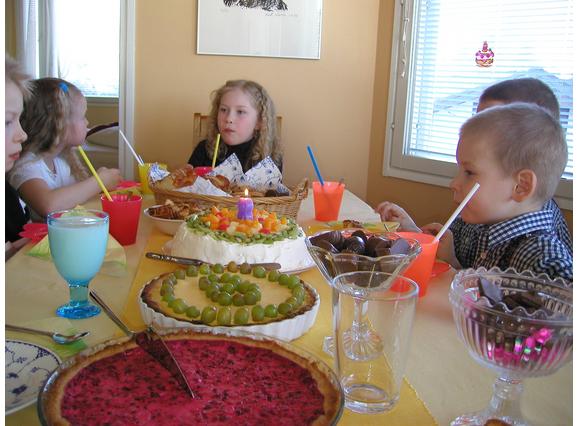 Nassikoita riittää... Itseasiassa tuo suunnilleen keskellä kuvaa oleva sitruunapiiras oli paras. Pidän juuri sellaisesta pikkuisen hapokkaasta mausta.
Actually I liked most that lemon-pie in the middle. It had some kind of very nice sourness, too.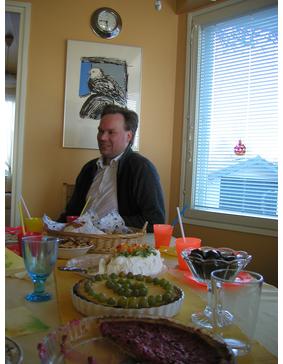 Petri Aaltonen on Mikan koukaveri. Koulun jälkeen hän on mennyt videoijan oppiin ja se sujuu nyt todellakin hyvin. Hän kuvasi esimerkiksi videofilmin Annan ja Mikan häistä.
Niin, olihan hän vaimoineen myös Tuulin kummi...
This is Petri Aaltonen. Ha had known Mika from school-times. Maybe even before that. Today he deals video-things in our broadcasting company (at least I think so). Actually he made the video of wedding of Anna and Mika.
And then he in godparent of Tuuli...

Niitten pippaloiden jälkeen olin tosiaankin väsynyt! Onneksi Mika ajoi minut näppärästi kotiin.
I was really tired after this. Okay, in the beginning I figured, that my blood-sugar was extremely high. Because there had been so many different varieties.. But no, that wasn't the real reason: I was just so tired.
---
Olli Arnberg <oar@arnberg.fi>