Isänpäivä 2000
Fathers' day 2000
Jotain tähänkin! Sunnuntaina 12.11-2000 olin Uuamäessä. Silloin oli Isänpäivä... Puutarhasta napattiin kuva silloin. Normaalisti tenavilla ei ole tonttulakkeja, mutta nyt oli otettu kuva joulukorttiin.
Sunday, November 12th, 2000, I was in Uusmäki. Fathers' day was then. Then a picture of the garden was taken. Normally, kids don't wear such Xmas hats. But pictures for Xmas card were taken.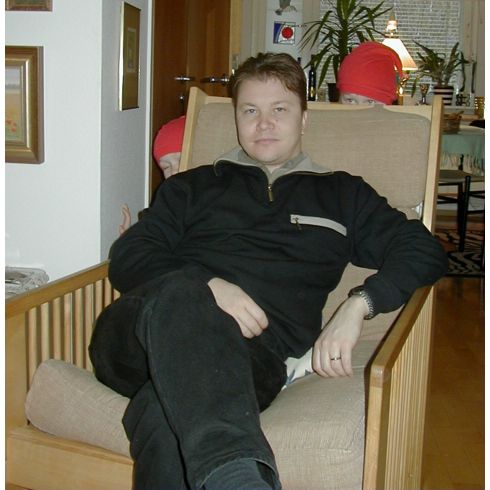 Mika oli isä myös!
Mika was a father, too.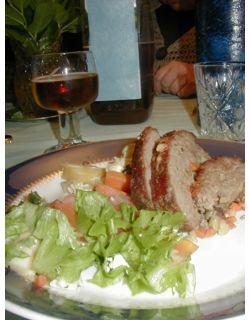 Pääruoaksi oli färssiä ja valkosipuliperunoita.
As main dish we had this pudding made of minced meat (I don't know the exact translation for word '¨färssi'). With vegetables in it. Original recipe suggested cheese in it. That would be really heavy stuff! Then potatoes in lots of cream and garlic. Delicious!!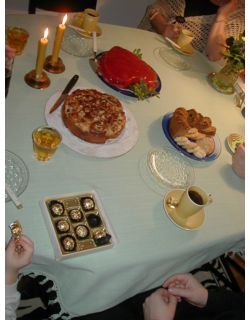 Tässä on jälkiruokia vaikka kuinka & paljon. Niin voisin oikeastaan antaa tuon punaisen kakun reseptin. Siis, jos pyydät sitä!
Here are all desserts we had. Actually much too many: my blood-sugar was really high after that. But I want to taste everything!
The red cake. Do You want recipe for it?
Under is is 'Boston cake'. Quite special bun.
Then there are biscuits and special cake.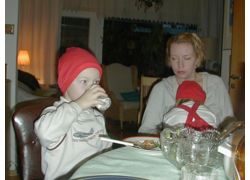 Pauli temppuili tuolillaan ja luonnollisesti kaatui. Kyllä siinä oli Tuulikin mukana. Ensin Pauli tietenkin parkui. Sitten Tuuli.
Pauli played with his chair. And naturally fell down. Maybe Tuuli helped with it, maybe not. Naturally Pauli did cry. Then Tuuli.
Suklaa auttaa kaikkiin mahdollisiin vaivoihin.
Chocolate helps always.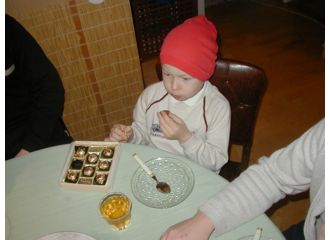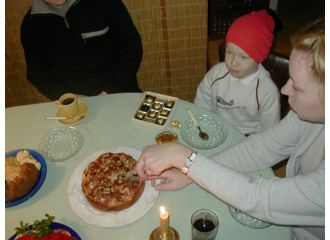 Anna leikkaa bostonkakusta palasia kaikille.
My sister Anna cuts pieces from the 'Boston cake'.

---
Olli Arnberg <oar@arnberg.fi>