Bathroom
This is my bathroom. Quite small, but that's really quite excellent thing: I can take grip easily. And that grip (You can see that in left) is nearly the only modification in my flat.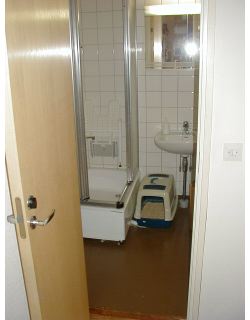 One can see the litter-box of my cats. Actually, I've got two!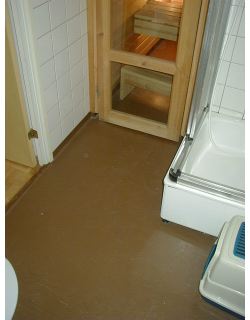 My sauna is below..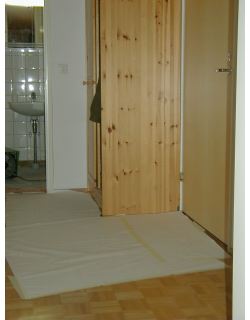 There's some paper cover on floor. Floor is parquetry. It doesn't like everything. Much easier (and really much cheaper) to do some covering.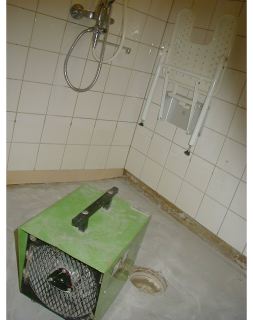 My renovation started at Monday. Then the plastic carpet was removed. The Guru for measuring dampness would arrive Wednesday. No harms doing some drying anyway!
We live in extremely northern place. When the oil crisis hit our country, we had to do something with heating our buildings. We made them extra-insulated. That reduces the need for oil. But the problem is mold then. Big problem.
It's formed when water stays in some time!
And then one gets allergy and such things...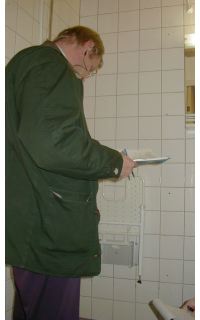 Here's the moisture-measuring-guru. He does measuring through holes. My humidity was greater in sauna than in my bathroom. Odd!
This man does quite much of the actual work. Here he takes down measurements.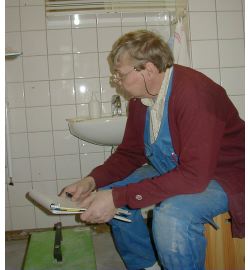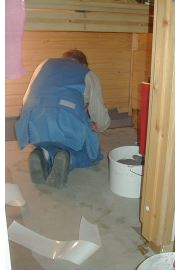 First some sort of "adhesive stuff" . that takes really strong grip to the second stuff (You can see it in the next picture).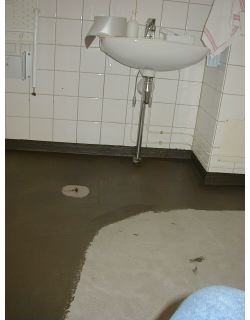 This is actually the magical thing. It stops water. Completely!
With this one last place with normal concrete, I could stay here one night more. But not more than that.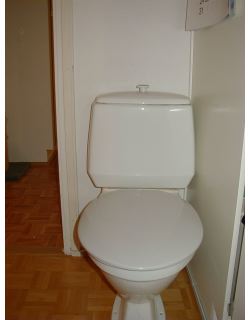 At Thursday, I had to go. Because I had to use loo a time to time. And here it is. But using it would cause a major catastrophe.

At Thursday night the sauna was nearly ready.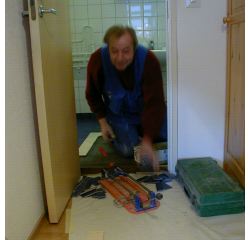 Here the worker cuts tiles into pieces. He has some special tool for it.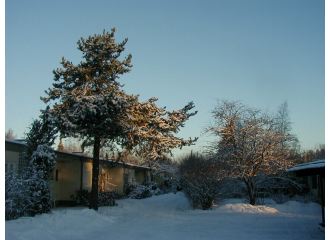 I live with my parents in Uusmäki. Quite near to my place, something like 2 miles (spelling-checker would gladly accept word 'mules') or so.
I went to Helsinki city on Friday. It was quite cold then: -12.8C (=8.9F). And it had snowed yesterday.
Zillion radio-reporters said, how big surprise that was. Why? When it rains during winter, that tends to be snow! No surprise.

Saturday? Nothing happens.
Sunday? Nothing except Name Day of Pauli.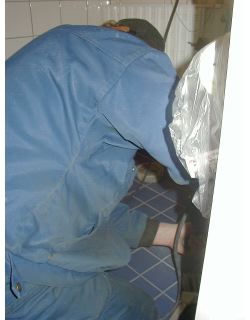 But Monday was really something! I could actually move there. I thought, that Tuesday would be it. But no, Monday gets it!
Worker looks, how another works!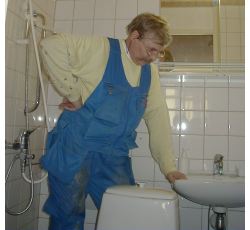 Then we have some pictures. Of sauna and of toilet.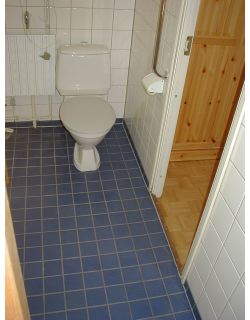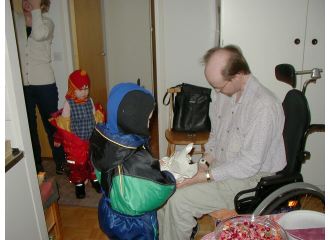 On Sunday January 30th, 2000 my my bathroom was taken in use. Hey, that isn't very real thing. Nut any reason or pseudo-reason to have cake.
Here Pauli gives some platters made by Arabia.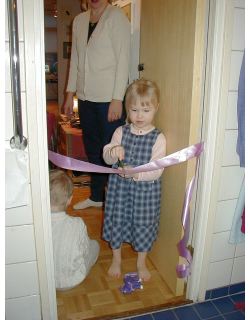 Tuuli opened the bathroom by clipping band across the door. Which made Pauli to cry...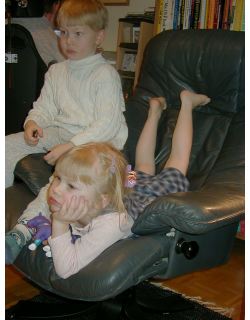 I've got a DVD-version of "Bugs Life". And kids seemed to love it.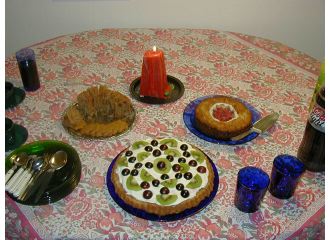 Here are cakes. Normally one. But this time three!

---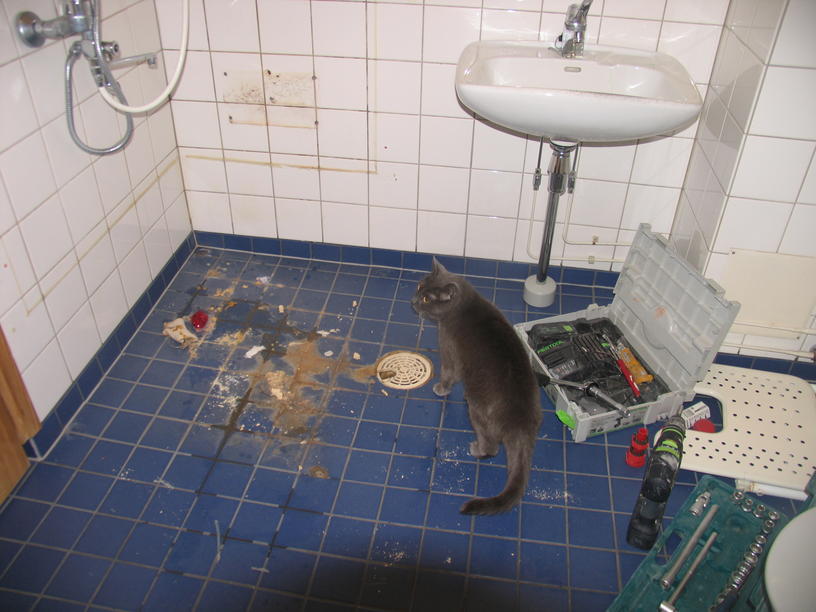 My bathroom has became quite old. There's some sort of "tub". But that's way too high for me. And dangerous, too.
At Summer 2007 everuthing shoud be changed! Everything starts by taking old one away. There's really awful amount of rubbish. By the way, that gray one isn't rubbish, it's Helmi!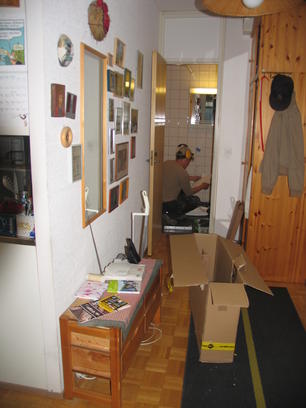 But the new one makes rubbish, too. Because quite everything comes in a box. Not very ecological.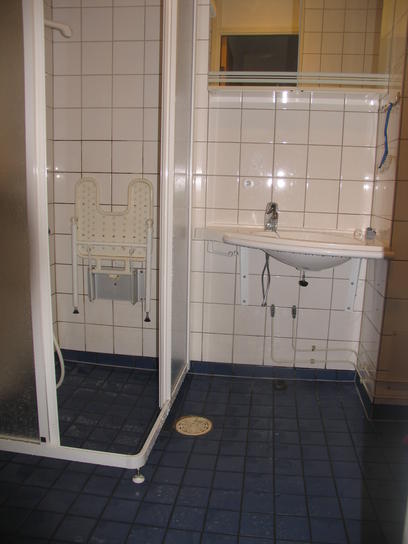 Now here it is! Now it should rest for next night. Then all glue goes to very hard stuff.

---
Olli Arnberg <oar@arnberg.fi>