Tallinna kesäkuussa 2000
Tallinn in June 2000
Ihan varoituksen sana: tämä ei ole varsinaisesti ihan pieni (492 kB)! Eli, jos olet heikon Internet-yhteyden päässä, keskeytys saattaa kannattaa...
Ja linkki edelliseen kertaan siellä. Seuraava kerta.
Tälläkertaa mukana oli (isäni lisäksi) Mujusen Ari. Odottelemme passintarkastuksen jälkeen pääsemistä laivaan. Ihan heti se ei onnistunut, koska laiva ei vielä ollut siellä! Sitä aikaa on pyritty pienentämään mahdollisimman paljon (eihän laiva tuota yhtikäs mitään satamassa): puolisen tuntia riittää nyt oikein hyvin.
This going to be rather long; so if You have a weak Internet connection, stopping this might be just a good thing. This is 492 kB.
Link to my previous visit there. Next time.
Ready for Tallinn-trip 2000! Along with Ari Mujunen and (naturally) my father. After passport control we are waiting for embarking to begin. It wasn't possible for a while: the ship hadn't arrived yet from its previous trip! They have tried to minimize the harbour time (the ship obviously doesn't generate any revenue while in harbour) and they have succeeded: half an hour seems to be sufficient enough.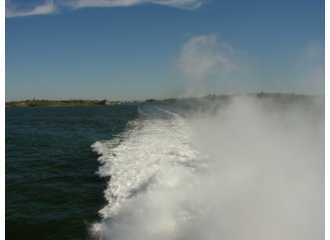 Katamaraanissa on kaksi päämoottoria (Caterpillar 3618 (7200kW/1050rpm). Ilmeisesti ne ovat jonkinlaisia muokattuja suihkumoottoreita tai jotain. Matkanopus on jokatapauksessa 36 solmua. Se on laivalle ihan valtaisan suuri nopeus. Matka Tallinnaan kestää kylläkin vain suunnilleen puolitoista tuntia. Mutta löpöä palaa taatusti aika kunnioitettava määrä.
There were two motors (Caterpillar 3618 (7200kW/1050rpm). Apparently those are modified jet-engines or something. Their cruising speed is however a tremendous 36 knots! For a ship that's really respectable. The trip from Helsinki to Tallinn takes only about 90 minutes. And an awesome amount of fuel gets burned, for sure.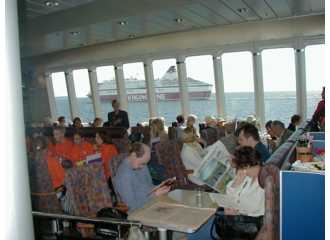 Siinä vanhemmat laivat jäävät kuin seisomaan.
"Old" ships looked like solid objects. Like islands or something like that.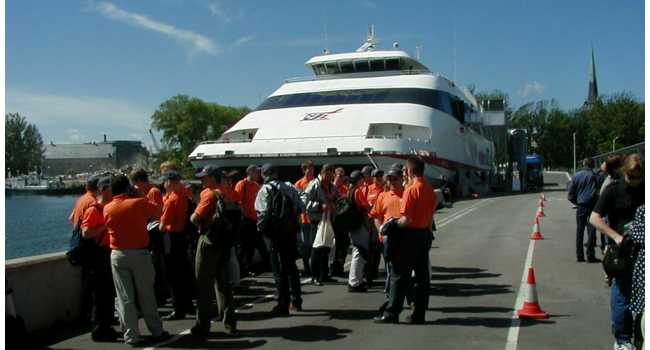 Taustalla näkyy laivamme. Ja edessä jonkin firman hengennostatusreissu.
Our ship is back there. And employees of some "dot.com" company in front, having a great "spirits high"employee motivation and team strengthening tour.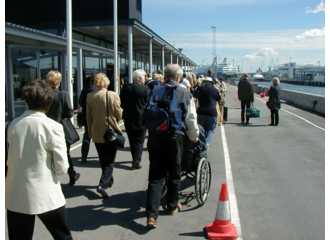 Passintarkastus. Näki oikein hyvin, missä virkailijat olivat aikanaan saaneet koulutuksensa. Kun yleensä länsimaissa ehkä avataan passi (Italiassa sekin tuottaa passintarkastajille hämmennystä).
Passport control. It was easy to see where the officials had been educated originally... Awful!! As in the western countries the usual procedure is to possibly open the passport and in Italy even that will cause great confusion to the passport controllers.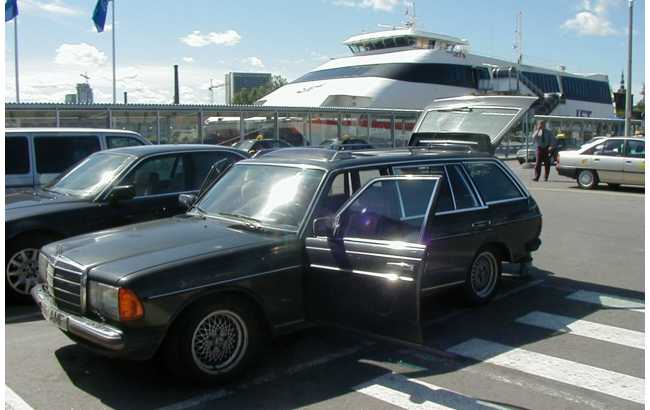 Sittenpä taksimme. Joka onkin (yllätys, yllätys) laiton sellainen. Mutta mitä väliä sillä on?
Our cab! Which is (surprise, surprise) not-so-official one. But who cares?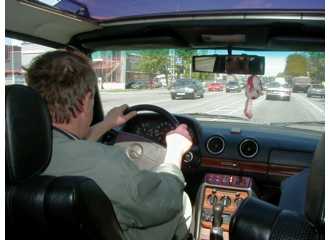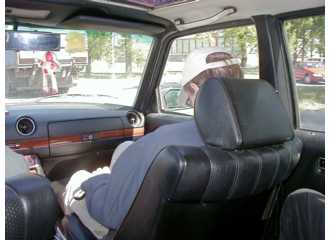 Vaikka kaupunki on niin pikkuisen etelämpänä, kuitenkin se on niin eteläisen tuntuinen.
Tallinn is really quite near to us, just about 80 kilometers. But it feels like so much more southern!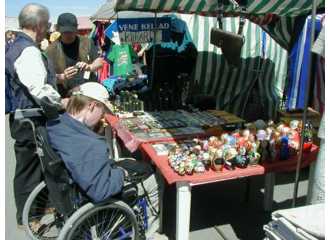 Ihan ensimmäinä menimme tietenkin Mustamäen torille. Jos olisi ollut ranta-rolexin tarvetta, niin homma olisi hoitunut...
Marketplace of Mustamäki. Very classical place. And full of criminals, too! Should one need a fake Rolex or fake anything else it would have been easy...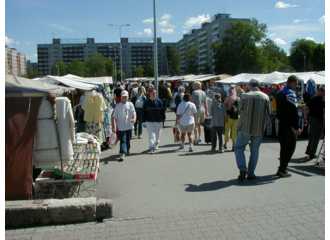 Näin kauniilla ilmalla ulkoalue tuntuu ihan mukavalta.
With gorgeous weather, the outside area looks just excellent.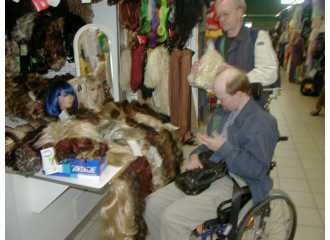 Mutta rumalla säällä sisätilat ovat poikaa! Ja yleensähän täällä on kerrassaan surkea sää.
Ei muuten pidä mennä etsimään mitään tiettyä juttua sieltä: ihan varmaa on surkea epäonnistuminen. Etsimme minulle kesälippistä. Kun olimme unohtaneet ottaa sellaisen mukaan. Mutta sieltä ei tahtonut millään löytyä sellaista. Peruukkeja kyllä (sellainen olisi ollut tukahduttavan kuuma).
But during ugly weather indoors is best! And usually the weather sucks in this area.
If you attempt so search for just a particular item at Mustamäki market you are almost certainly doomed to a miserable failure.We were searching for a summer cap for me, as we had forgotten to take one with us. But it was impossible to find anything applicable there. In stead, we found a wig-shop! A wig won't do in the place of a cap, it's suffocatingly hot.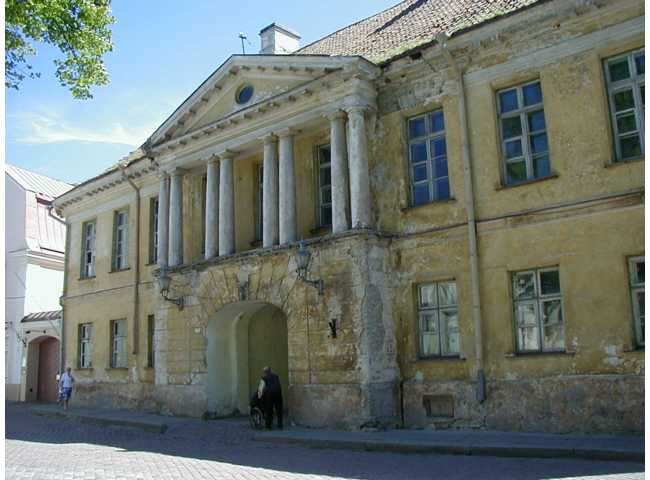 Tämä on suunnilleen pakollinen paikka käynnilläni Tallinnassa: Tiesenhauseneitten talo. Tämä oli Toompeanmäellä. Ja, ikävä kyllä. esi-isäni eivät olleet juuri näitä Tiesenhauseneita. Voi olla ihan hyvä juttu: talo oli nimittäin kerrassaan törkeän huonossa kunnossa.
This is nearly an obligatory place during my Tallinn visits: House of Tiesenhofven's. It is located on the hill of Toompea. One of my forefathers was a Tiesenhofven but okay, not just precisly these Tiesenhofvens... That may not be that bad, after alL: the house was namely in an obscenely indecent condition.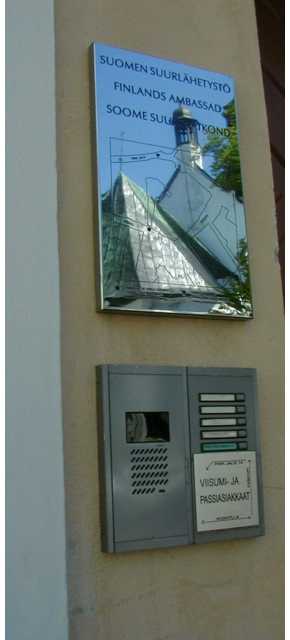 Sen talon vieressä oli Suomen suurlähetystö. Jonka kyltistä heijastuu luterilainen kirkko kauniisti.
The nameplate of the Finnish embassy. And Lutheran church as a reflection.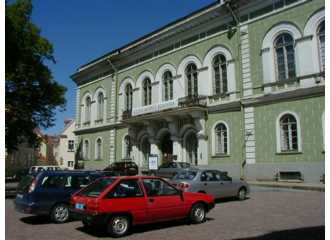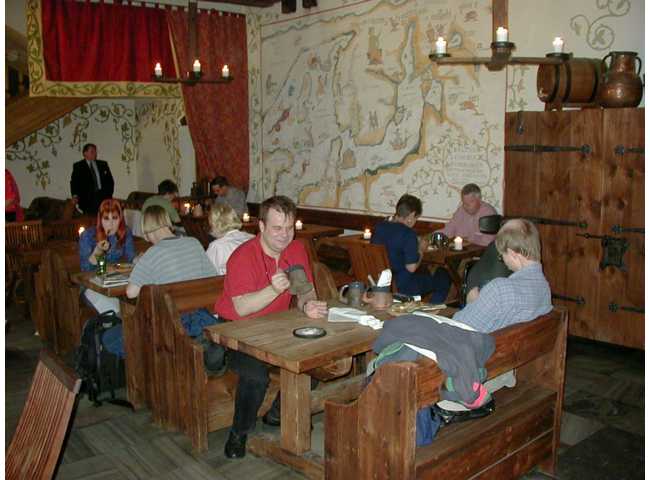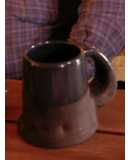 Ja sittenpä syömään! "Olde Hansa" -niminen ravinteli oli erikoistunut keskiaikaiseen murkinaan. Tuoppi yrttiolutta ja sitten miettimään.
Then one has to eat! This restaurant is "Olde Hansa". And it's specialized in middle-age! A pint of herb flavored beer and then to select something on the menu.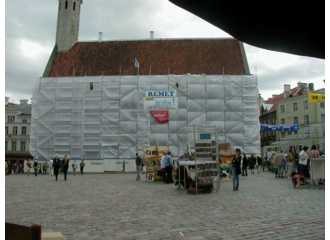 Raatihuoneentori. Jota tosin korjataan. Tämä ei siis ole mikään taiteellinen juttu. Tai jos niin haluat, niin senkus!
Town hall market place. They are repairing the town hall. So the artistic value of this picture is not ery high. Or if you think it is, feel free!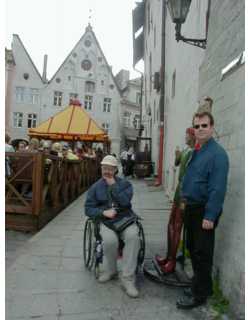 Keskiaikaista keskustaa.
Center of medieval city.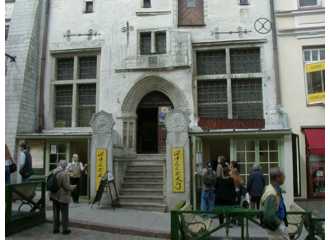 Tuossa taidekaupassa olin aiemmilla kerroilla.
Art-shop! I've visited this shop during my previous visits.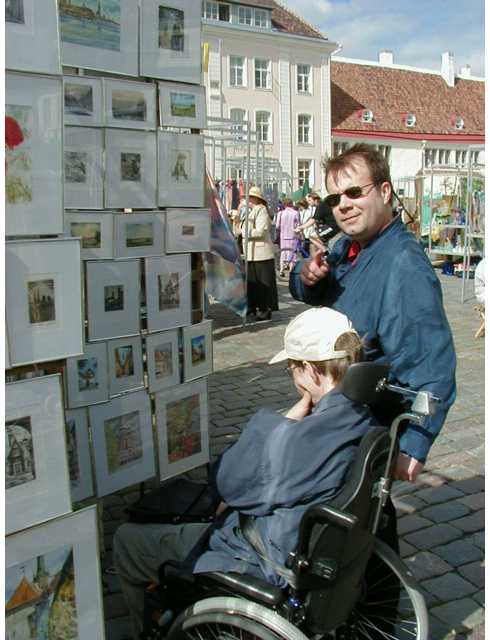 Toritaide oli ihan riittävää. Varsinkin kun minä olin jo niin äärimmäisen väsynyt,
This simple market place art is good enough this time. Especially, when I was really dead-tired.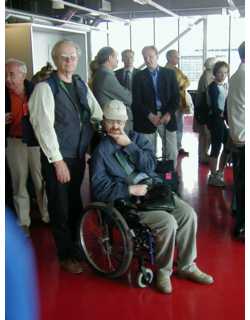 Eestiläiset olivat tekemässä jonkinlaista piraattituotteiden estoa. Täysin kuolleenasyntynyt ajatus. Juuri tuona tiistaipäivänä olisi kuulemma uutisten mukaan pitänyt pystyttää tullialueille hurjat varoituskyltit piraattituotteiden maastaviennistä koituvista rangaistuksista. Eipä näkynyt yhtäkään...
Going from Estonia! Precisely on the day of our trip there was a headline in local newspapers that the Estonians are going to enforce their ban on exporting pirated goods. What an idea, completely dead-born! According to the news, new billboards should have appeared in customs areas warning about the severe punishments for people trying to export pirated goods. We were unable to spot even a single one...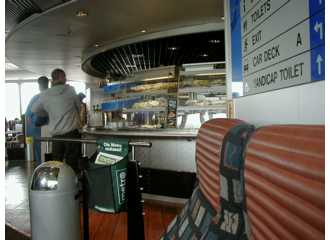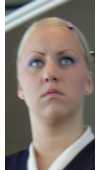 Olin kiinnittänyt huomiota tähän tarjoilijattareen jo menomatkalla. Ja hän oli paluumatkallakin. Oliko kyseessä sama laiva? Vai oliko kloonaaminen vihdoinkin onnistunut?
This waitress was in our both boat-trips.Was it the same ship both times? Or had they finally been able to clone people?

---
Olli Arnberg <oar@arnberg.fi>