Ihan aikaisin aamulla minulla oli labrakokeet. Tämä kuva on otettu iltapäivällä. Valoisa aika täällä on nyt kerrassaan onnettoman lyhyt.



I had some lab tests. I had to go extremely early (or that isn't so awfully early, because I live that way). I took this this picture a bit later in that day, because then there was totally dark.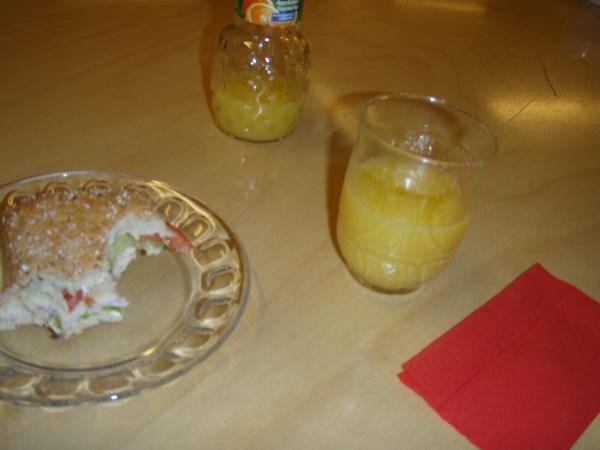 Niihin piti paastota. Se on diabeetikolle tietenkin aika onnettoman hankalaa. Niiden kokeiden jälkeen söin suunnilleen välittömästi nuo. Vastaa oikeastaan aikamoisen hyvin sitä, mitä syön normaalistikin.



I had to fast for the tests. That's not an easy task for diabetic person, especially who uses insulin.




But immediately I had some breakfast, when it was possible. Basically this contains same amount of carbohydrates as I normally eat.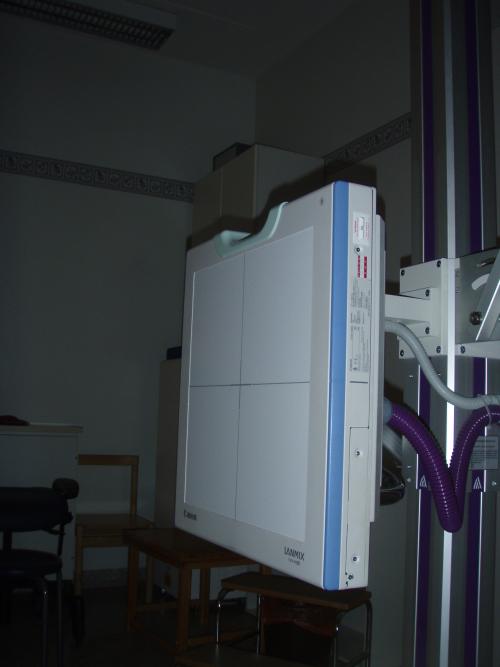 Sitten vielä röntgenkuva. Minä en tosiaankaan ymmärrä, mitä ihmettä siitä oikeastaan näkee. Mutta ilmeisesti jotain...
Kuvauksessa käytetään nykyään jo digitaalista systeemiä. vanha, hopeaan pohjautuva, järjelmä voidaan siis hylätä. Kuvaaminen on nopeampaa ja edullisempaa (no, joo, tuskinpa).



Then a X-ray picture. They are using digital imaging for that. So, old silver-based imaging is history now.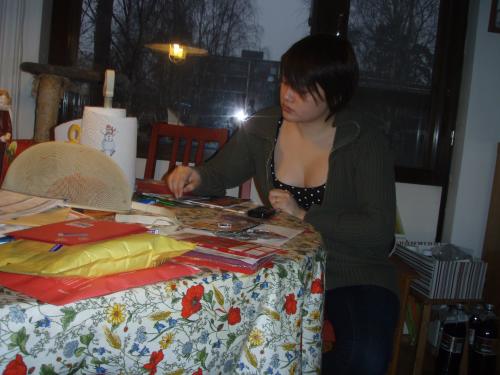 Sain vihdoinkin sumplittua joulukortit.Krista auttoi siinä, minä kun en pysty juurikaan kirjoittamaan.



Now Christmas cards are ready. Krista helped me, because I cannot write myself.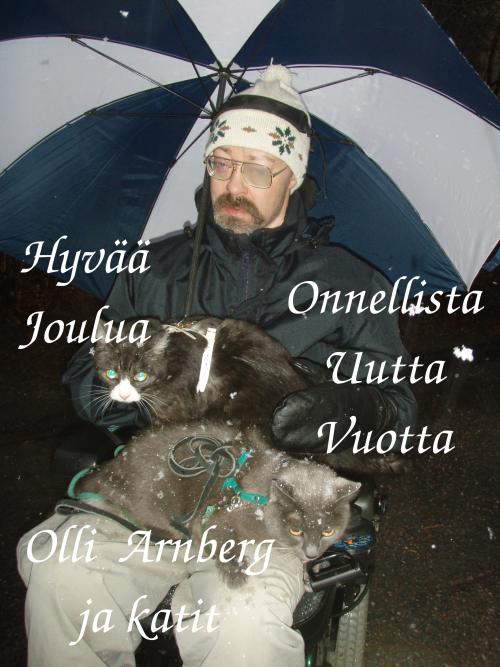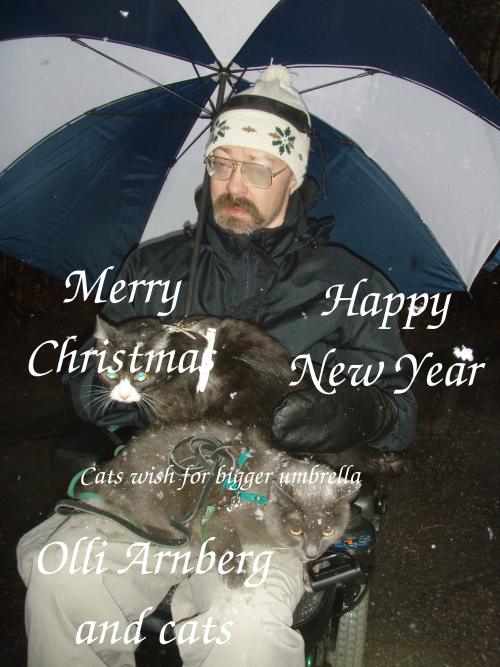 Nuo ne ovat! Otin kuvan muutama päivä sitten. Silloin sää oli kerrassaan kammottava. Niinkuin erittäin hyvin näet.
No, tässä kuvassa ei tilanne näy sentään ihan niin hirveältä kun se on.
Kissat ovat ilmeisesti alistuneet kohtaloonsa: tällä ilmalla voi vain kuolla!



Here are the Christmas cards. I

took this picture

a few days ago. The weather was really horrible then.




Cats had decided clearly, that they are clearly doomed.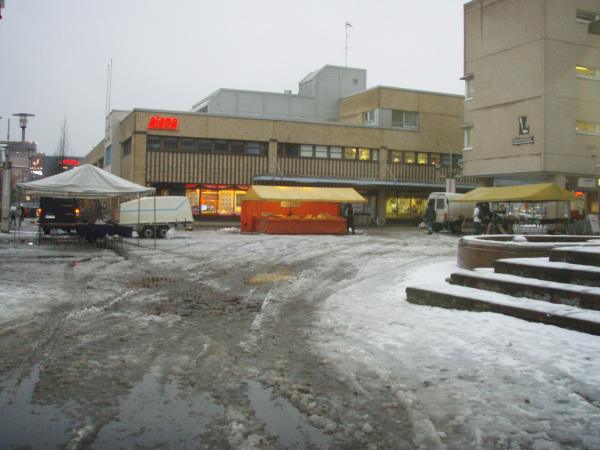 Menimme postiin viemään ne. Läkkitorilla oli Kartanon Leipä. En ollut syönyt pasteijoita tosi pitkään aikaan. Eli nyt hommasin niitä.
Ja sitten lounasta varten jonkunlainen kinkkua ja aurajuustoa siksältävä piirakka. Se oli yllättävänkin herkullista!



We were going to post mailing cards.




There is "Kartanon Leipa". That orange tent with yellow roof. In bought some special pastries.




Then I have to get something for lunch. That was a pie, that contained ham and our local version (Aura) of Gorgonzola-cheese.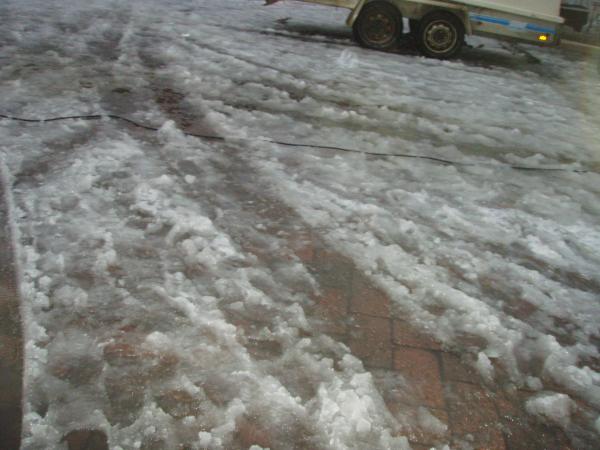 Oli satanut loskaa. Tuo kun jäätyy (ja ensiviikonloppuna niin tapahtuukin), niin siinä on hilpeyttä vaikka kuinka.



We had slush that day. You can easily see, that this is really quite horrible.




But even worse comes! Meteorological gurus had predicted temperatures

below freezing-point of water. Horrible, if this stuff freezes up.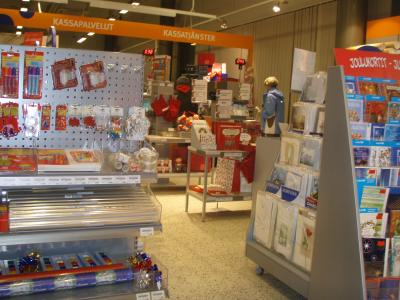 Yhteen jnoulukorttiin piti saada lisää merkkejä, aika paljonkin lisää. Muut hoituivat ihan kauniisti.



This is our local post. One letter needed quite much extra postage. Every other were just OK.




---
Vieraskirjani