Ensialkuun Ökö ei tosiaankaan tykännyt Lumesta. Tietenkin tällaisen pikkuperkeleen ilmestyminen on melkoinen järkytys!
Mutta toisaalta Ökö oli Helmille ihan vastaava mieliharmi. Ja niin edelleen.



In the very beginning Ökö didn't like the situation. Naturally this is very hard to understand.




But Ökö was just similar nuisance to Helmi. Now she has such...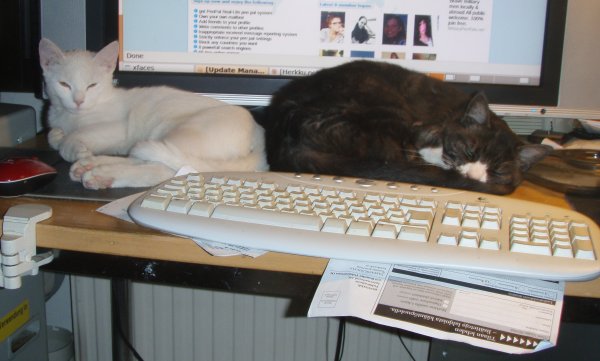 Mutta sitten on vain hyväksyttävä vain tapahtunut hirveys. Kissat ilmeisesti ilmaisevat tämän nukkumalla vierekkäin.
Mutta jos Lumi intoutuu liikaa, Ökö sähähtää. Tämä on ilmeisesti erittäin toimiva merkki. Nittäin Lumi tottelee tällaista komentoa ihan välittömästi.



But Ökö just simply must accept it. And sleeping close to each other is just that.




Then they play with each other. Sometimes Ökö hisses to Snow. He understands immediately that and stops.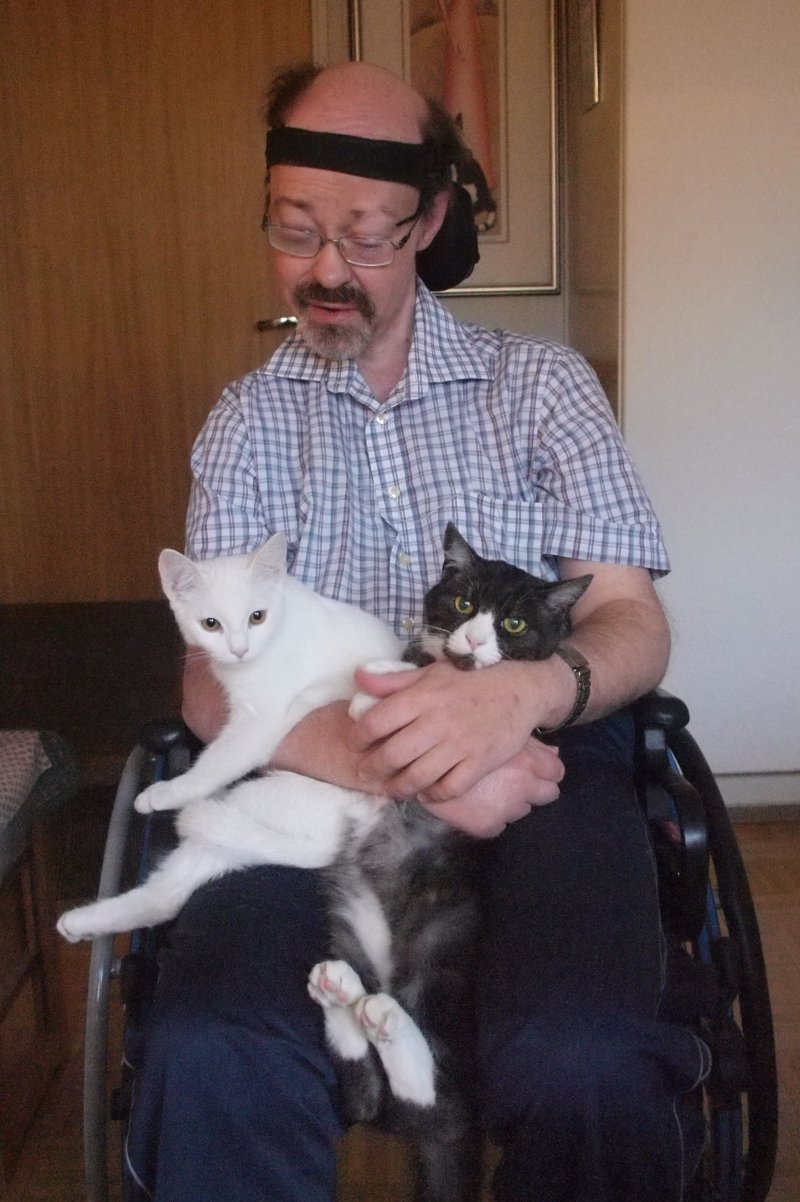 Näyttää kerrassaan idylliseltä. Mutta molempien saaminen syliini yhtäaikaa ei ole ihan helppo juttu. Saati sitten niiden pitely.
Ököllä on aika alistunut ilme, mutta Lumi on selvsti ihan täynnä halua lähteä riehumaan.



This looks just so idyllic. But actually it was rather hard getting them and then keeping in my lap.




Ökö wants obviously some more sleep. But Snow is clearly ready for next riot.



---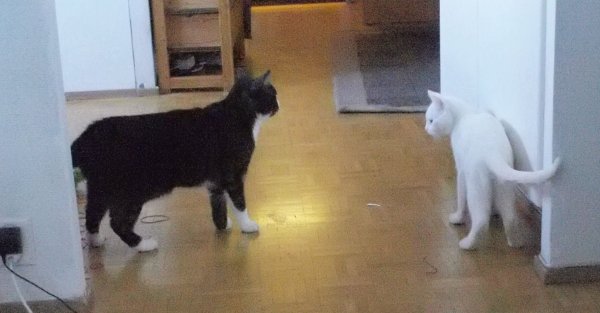 Tässä on meneillään jonkinlaisten sosiaalisten kontaktien vaihto. Kissat harrastavat eräänlaista nyrkkeilyä. Mutta Ökö on ihan selkeästi kevyt kärpässarjalainen. Lumesta tulee raskassarjalainen, ehkäpä jopa enemman.



Cats do some kind of boxing. That's way to do social contacts. Ökö should though understand, that she is in light flyweight. Snow will be in heavyweight class in year or two.




---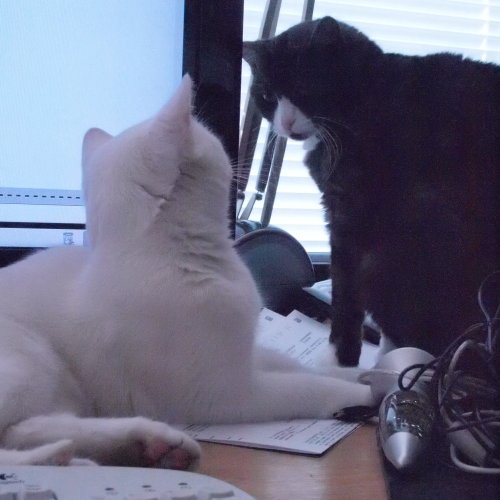 Ja mielipiteiden vaihtol jatkuu.Kissathan lyövät avokämmellä, kaikki kynnet esillä. Mutta sehän ei tunnu karvan peittämällä iholla yhtään miltään. Karvattomalla ihmisellä se tuntuu kyllä.
Ökö oli nyt harmistunut, kun Lumi oli mennyt hänen lempilöhöämispaikkaan.



Cats exchanged opinions again. They do actually some kind of boxing. But fists are "open". That way nails are well exposed. But those cause absolutely no harm, if the opponent has fur. But if not, then we'll have serious problems...




Ökö is rather pissed, when is lying in her very favorite place...





---
Olli Arnberg <oar@arnberg.fi>