Helle
Hot weather
Täällä oli näin elokuun alussa ihan kammottavan kuumaa. Ja kieltämättä on kuumaa, jos jopa Ökö on noin voipunut. Pöydän alla on siinä mielessä hyvä maata, että pelottavasta pyörätuolista ei tarvitse välittää. Elikkä siellä voi huoletta plösöttää.
I thought, that this year would be without unbearable heat. But in the beginning of August! One can easily see, that the heat is really bad, when even Ökö just lies under table. Then there's no problems of the mean wheelchair.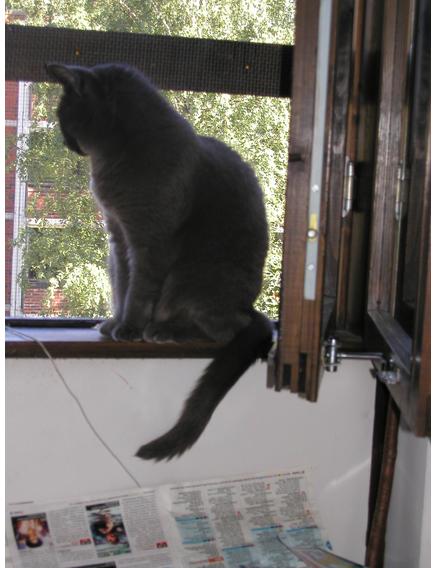 Helmi tykkää istuksella ikkunassa. Sieltä tulee ihastuttavan raikas ilmanhenkäys.
Helmi seems to be quite smart. This window gives very nice breeze.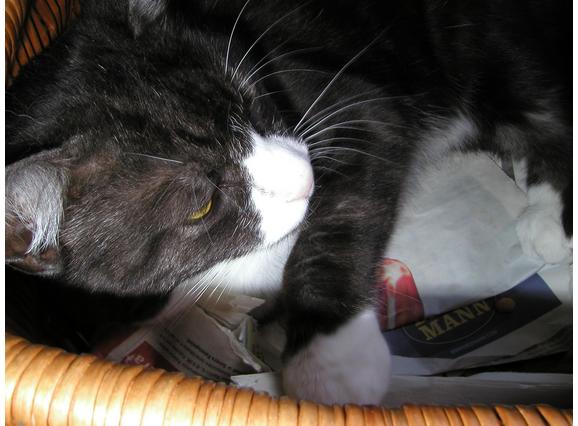 Korissa on oikeastaan oikein rentouttavaa maata. Eikä Ökö pane ollenkaan pahakseen sitä, että joku rapsuttaa massusta.
Basket! That's very nice place. No problems with that mean wheelchair. And someone could even rub her belly.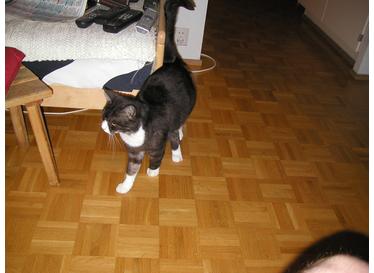 Yöllä energiaa riittää huomattavasti paremmin. Ei silloin tosiaankaan ole mitenkään viileää. Ehkä pikkuisen, muttei erikoisen paljoa.
Night! That's nice time. Okay, not so much cooler. But anyway a little bit!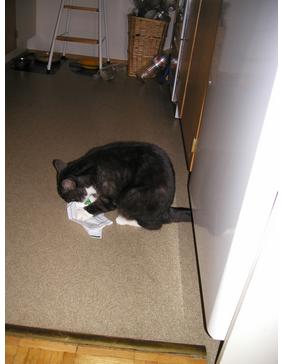 Ökö tykkää nuolla muovipusseja. Siis kuulostaa aika uskomattomalta, mutta näin vain on!
Ökö has own very bizarre perversion: plastic bags. She really loves to lick them. Obviously, some tasteful chemical is released.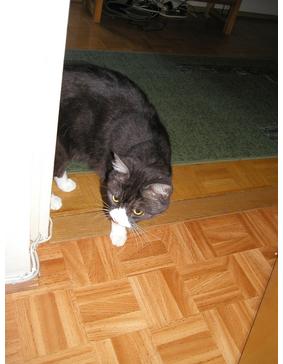 Aamulla Ökö edellyttää aamuheräämistä. Ilmeisesti se osaa tunnistaa herätyskellon äänen jatulla silloin passiin.
Äänenkäytössäkin on omat niksinsä. Vienosta naukumisesta Olli on lähinnä huvittunut. Mutta kovaääninen mouruaminen saa hänet vain vihaiseksi. Ei siis sitä.
My bed-room is no-cats-zone. Which makes it very interesting. Ökö has learned the sound of my alarm-clock. After that sounds, Olli comes usually out.
Then one can talk to Olli, too. He is in very good mood with shy "meoaws". But with louder ones he's very angry!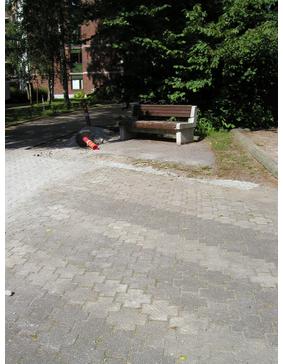 HTVn kaapelinvetoyritelmät eivät ole ihan onnistuneet. Elikkä tämä on aika rumannäköinen. Tilanne on se, että tämän saavuttamiseen meni puolitoista kuukautta.
Kaiken huippu oli se, että kaapeli oli vedetty väärään taloon!
I'm not very happy with the cable-company. Getting their destroyment fixed, took about one and half months.
And finally they attached the cable to wrong building!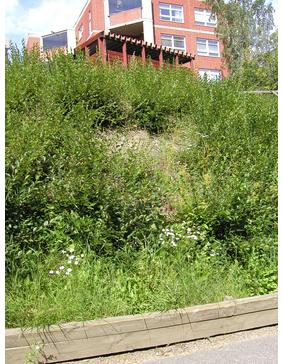 Nyt tämä penkka on aika vihreä. Ihan tästä samasta paikasta olin ottanut kuvan keväällä. Silloin ainoa vihreys tuli karkkipapereista.
Why picture of this place? Simple because I took a picture of it in the spring. Then there was just no greenness (maybe some candy-wraps or so).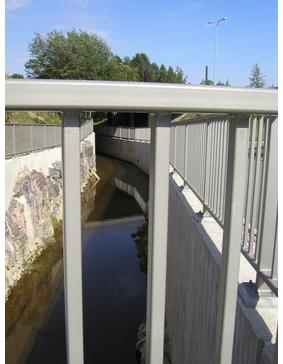 Aikamoisen hyvin aidattu joki (tai ojaksi tuota voisi nimittää). Siis tuo on oikeastaan liiankin hyvin aidattu: kun joku tenava tippuu hän ei pääse mitenkään pois.
Looks like extremely safe. One really cannot fall to that place. But if one falls, how to get up? For instance when the temperature is near freezing-point. Then one has to get up from there really quickly!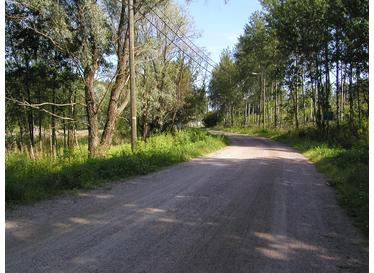 Ennen moottoritien alitusta on näin komea hiekkatie. Oikeastaan hiekkatie on sähkärilleni karmein mahdollinen jutrtu.
This is just before going under highway. Looks rather romantic? But for electric wheelchair, this is really very near to worst possible terrain.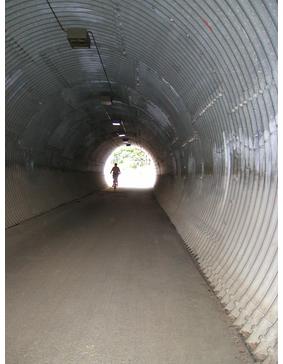 Tämä tunneli menee moottoritien ali. Ja koska kaikki liikenne on huomattavan kevyttä (jalankulkijoita ja polkupyöräilijöitä), niin tie pysyy hyvässä kunnossa.
This tunnel goes under the highway. It stays in very excellent shape because all traffic is very light (pedestrians and bicycles). Very probably I'm nearly the heaviest user!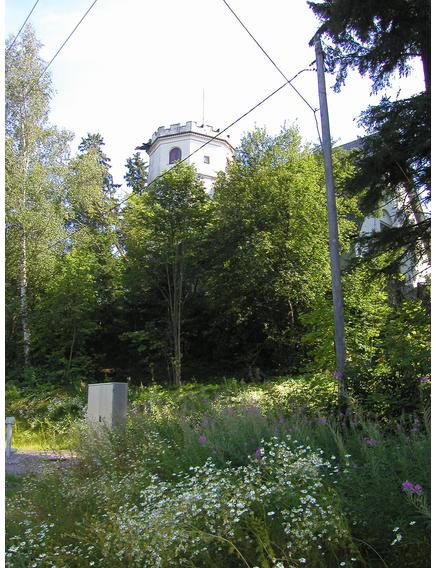 Tässä on sitten varsinainen Tarvaspää.
This is the Tarvaspää.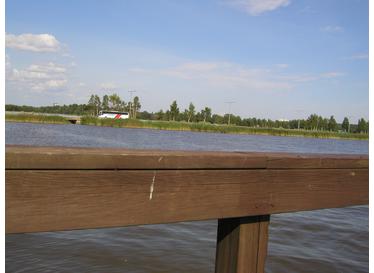 Tuolla takana on oikeastaan ensimmäinen kaatopaikka. Tuossa lahdessa on taattuvarmasti pulleita ja hyvinsyöneitä kaloja. Mutta kalastaminen siellä ei kuitenkaan ole mitenkään hirvittävän viisas idea: kaatopaikalle on tungettu nimenomaan kaikkea mahdollista. Tulee vain mieleen Tsernobylin dynamon kolmimetriset ja kuusikätiset koriksenpelaajat...
Back there is the city main dump - but not anymore. Maybe 20 years ago. But heaven knows, what there is!
But it has very advanced measurings, collecting of methane and so on.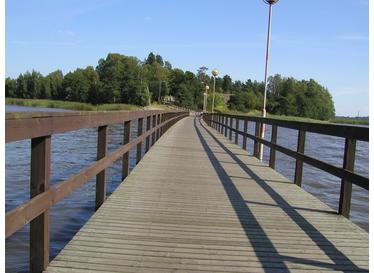 Tuolla näkyy "seuraava" saari.
There's the "next" island. But I turned back from here. I had two rather excellent reasons:
I had to go back eating.
This wheelchair has really heavy lead batteries. And I'm securely attached to wheelchair. Do I enough trust my steering?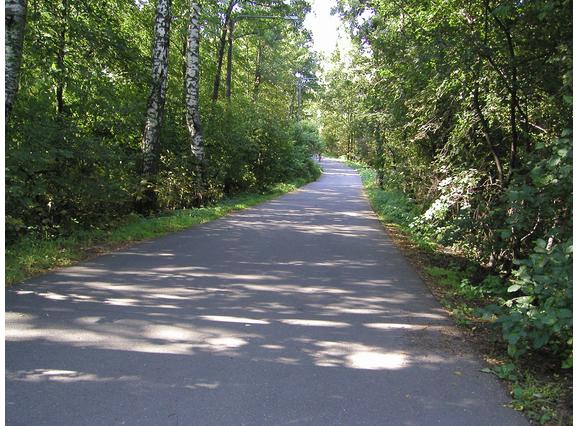 Sitten sillalla käännyin takaisinpäin. En oikein tunne oloani erikoisen turvalliseksi, kun sähkärini painaa 85kg ja minä olen tiukasti kiinni siinä.
This road is mostly used by bicyclists (so, there's no danger of cars). Asphalt is in excellent shape. Highest possible speed!
---
Seuraavana päivänä, sunnuntaina 8.8.2004, oli ihan yhtä inottavaa.
Next day, August 8th, was just as disgusting. Extremely warm, I mean.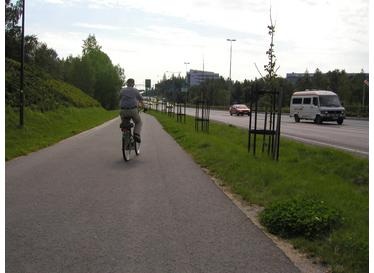 Kehä I:sen vieressä on upea kevyen liikenteen väylä. Upea, ihan tasainen asfaltti. Sähkäristä vain isoin vaihde ja huis...
These huge circle-roads go round Helsinki. First was done III, then I. II is done only partly.
But the way for light traffic is really very excellent.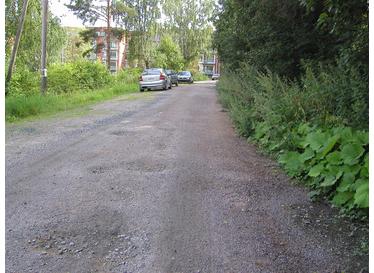 Tässä on tie, jonka pyhät lehmät (eli autot) ovat tuhonneet. Siis siinä mielessä että oikeastaan mitään kunnollista huoltoa ei voi tehdä.
Jo tästä kuvasta voi nähdä, että tie on täynnä kammottavia kuoppia. Eivät ne iskunvaimentimellisia juurikaan häiritse. Mutta sähkärissäni ei sellaisia ole...
These cars make it nearly impossible to maintain this road. Just look it. My wheelchair act like bronco in these places.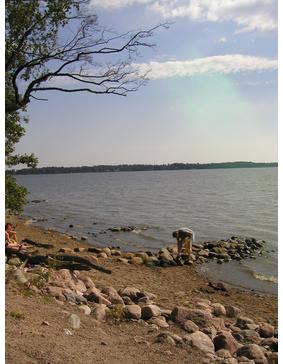 Siellä oli myös "epävirallinen" uimaranta.
Tai oikeastaan täällä ei taida sinänsä olla minkäänlaisia virallisia uimarantoja. Luulen (en todellakaan tiedä), että uiminen on sallittua ihan kaikkialla. Luonnollisesti ellei sitä ole erikoisesti kielletty.
Kunnollisilla uimarannoilla on tietenkin säännöllistä veden laadun tarkkailua. Niin, pukukoppeja, suihkuja ja kaikkea muutakin sellaista. Ja tietenkin jätskinmyyntiä...
There were small "unofficial" beaches, too. Actually (I think) we can swim nearly wherever we want. And Finns typically like solitude. Okay, not in harbors and such places (but who wants to swim in a place like that).
Of course, beaches has all kinds of extra stuff: quality of water is monitored, lifeguards (but typically we can swim well), showers, and so on. And naturally ice-cream for kids.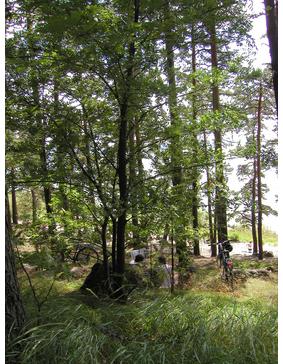 Ihan kuin harjumaisemaa!! Sinänsähän tämä ei tosiaankaan ole harjua, mutta hongat ja jyrkkä rinne tuovat sen mieleen.
This looks just like one type of nature. Very steep and long hill. The soil is mostly sand and gravel. Of plants, there are mostly huge (Finnish scale) pines. That hill was made by ice in ice-age.
But it isn't that.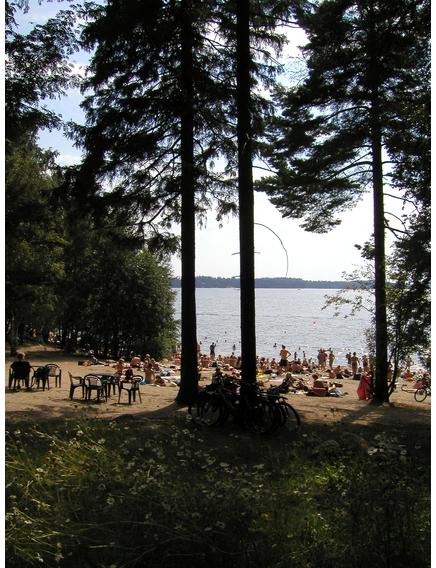 Uimaranta. Siis Munkkiniemen. Oikeastaan kaikkia muita uimarantoja vaivaavat melkoiset sinileväongelmat. Mutta eipä tätä. Koska tämä on niin "syvällä". Edessä on moninkertainen rivi saaria. Mutta toisaalta, jos sinilevät saastuttavat tämän rannan, kestää puhdistuminen kauan.
Here's the beach. Most of them have problems with blue-green algae. But not this one!And here's a lot of people because of that.
It is located behind a lot of islands. So, it's rather hard place to be polluted. But if that happens, cleaning takes much time.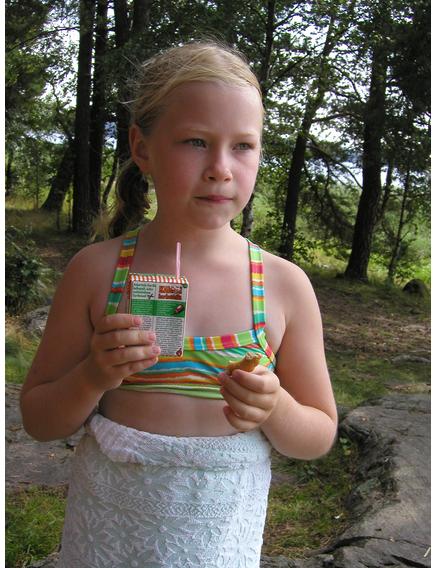 Ja uimisen jälkeen on saatava murkinaa.
Mukana oli sokerillisia keksejä (joista Tuuli tykkäsi) ja sitten sokerittomia (minulle, tietenkin).
Ja sitten jokaiselle tuollainen mehu. Se kävi siis minullekin oikein hyvin.
After swimming one needs energy. Biscuits in this case. Tuuli had sugaric one and I without it!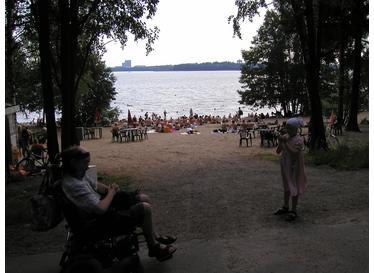 Tuuli oli onnistunut tiputtamaan jäätelötötteröstänsä jäätelöpallon. Nyt hänellä oli puikkomallinen jäätelö, jota ei tosiaankaan voi tiputtaa.
Damn the lousy quality of this picture! But Tuuli had ice-cream. Just simple ball of it on cone. And naturally it dropped. Now she is having one, where such nasty thing can't happen.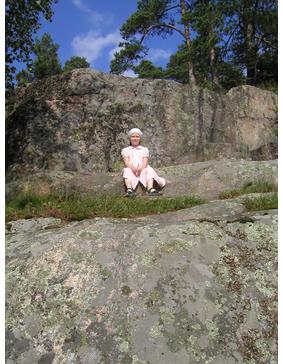 Kivat kalliot meren äärellä.
Nice rocks by the sea. Ideal for climbing.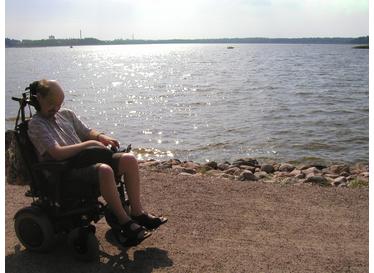 Kyllä meri olikin koreassa kunnossa, kun palasimme.
Ja täytyy todellakin myölntää, että onnistuin polttamaan itseni melkoisen pahasti.
Really nice sea! Though I burned (really sun did it) my scalp really severely.

---
Olli Arnberg <oar@arnberg.fi>