Sähkärilläni oli aika paha ongelma: se ei suostunut ottamaan vastaan varausta. Se on oikeastaan aika oleellinen ongelma.
Kaikkien pääkaupunkiseudun sähköpyörätuolien hankinta ja ylläpito on yhdistetty yhteen paikkaan. Ilmeisesti näin saadaan huomattavat määräalennukset. Ja huoltajien kokemus pysyy hyvänä.



My electric wheelchair had very bad problems. It doesn't take any charge. That makes it really unusable.




Counties have some kind of co-operation. These electric wheelchairs. Then one can have some kind of price deduction. And then the installers have some kind of experience.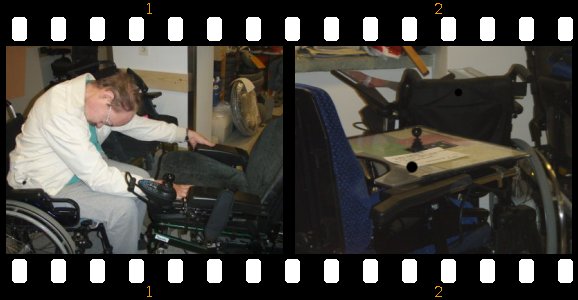 Korjauksen ajaksi siirryin manuaalipyörätuoliini. Jotta pyörätuolin konentoihinn pääsee käsiksi, on minun siirrytgtävä tieltä pois.
Siellä on kasapäin kaikenlaisia ihmepyörätuoleja. Tässä on afaatikoille tarkoitettu pyörätuoli. Siinä tuolla isolla laudalla on erilaisia kohtuullisen yksinkertaisia symboleja. Sitten vain "tavanomainen" ohjailuun tarkoitettu riemutikku.



In order to fix my wheelchair I had to move to another wheelchair. And that was my manual wheelchair.




There were all sorts of wheelchairs. This was meant for persons, who had very serious aphasia. That big board contains symbols different things. Then the very "normal" joystick.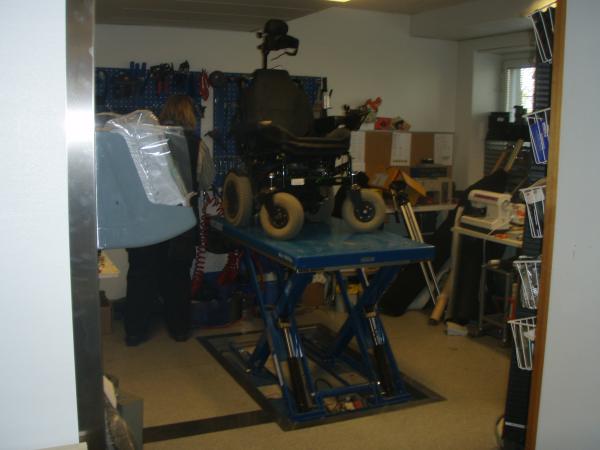 Tosi näppärä lava huoltoon. Kuulemma siinä on voimaa nostaa vaikka minut. Mutta mitä ihmeen hyötyä siitä on? Kun huoltoa varten minun on nimenomaan oltava poissa.
Yhtenä aika isona ongelmana oli se, että renkaissa oli tosi surkean vähän ilmaa. Minun on todellakin myönnettävä, että ollen ollut ollut onnettoman huolimaton.



This thing makes service operations quite easy. It's very strong: it could list me, too. Theoretically yes. But no idea doing so.




One very major problem was, that I had way too little air in my tires.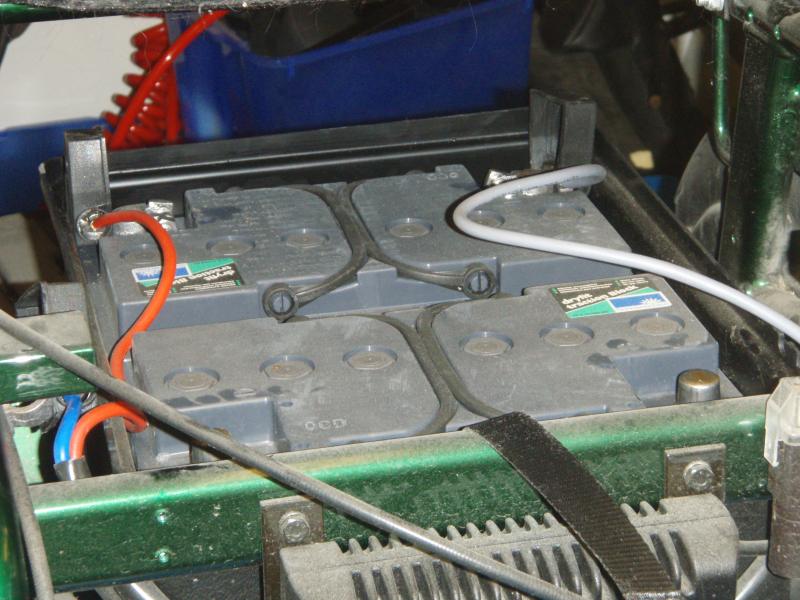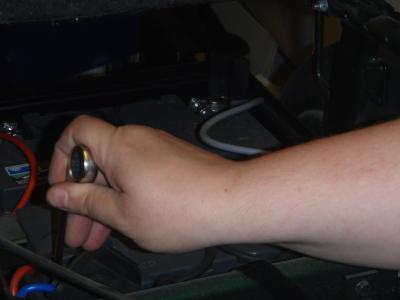 Akkujännitteen mittaus kertoi, että ne olivat aika kuolleita. Tai eipä napajänniitteen mittauksessa ole mitään iloa, kun akkulaturi ei lataa.



Measuring the voltage from the batteries. The voltage was really quite poor. But the problem was in battery charger.

Kaksi niitä akkuja näytti olivan. Akkujen (en tosiaan ole mikään asiantuntija) ikä on jo viitisen vuotta. Eli kyllä nyt oli jo aika vaihtoon

There were two very big batteries. And those need just no service, very nice! But I have used them for four years, maybe now is good time. But I'm no expert.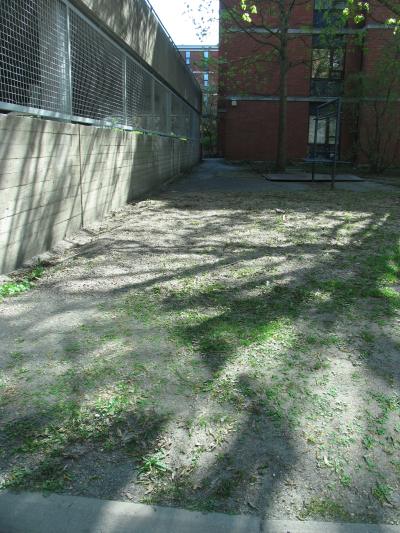 Lumikasan mittatikkua (Helmi) ei tarvitse, kun lumikasaa ei ole. Siitä on jo parisen kuvaa: 3.4 ja 24.4.



Snow pile would be here. But now it had melted completely. So, no need for measuring rod (Helmi). Earlier I took pictures

April 3rd

and

April 24th

.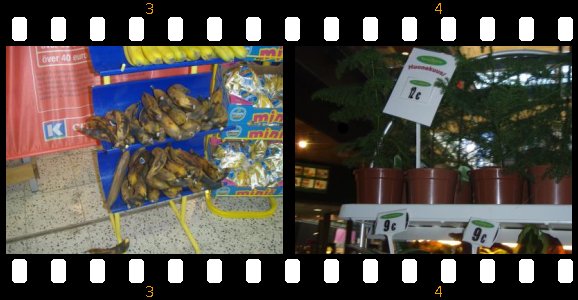 Ilmeisesti nuo olivat jonkinlaisia keitettäviä banaaneja. Siis ne ovat kerrassaan surkean näköisiä. Hedelmäosaston hoitajat ottaisivat pois ihan surkeat yksilöt. Ja kun he eivät ole tehneet sitä, nämä ovat "kelvollisia".
Tuolla kukkakaupassa oli aika söpön näköisiä kuusia tai mitälie.



These bananas look very awful! But maybe the race is such, they are supposed to look like that. I don't really know. I think, one cooks them.




This looks like spruce. Or something like that.



---

Nyt vasta tuli jalkalautojeni korjausta. Toinen ihmeteltävä asia on taustapeili. On nimittäin niin, ettei niskani juurikaan käänny.

This time it was time to fix my leg supports. But not yet mirror. I would need such, because my neck doesn't turn very easily.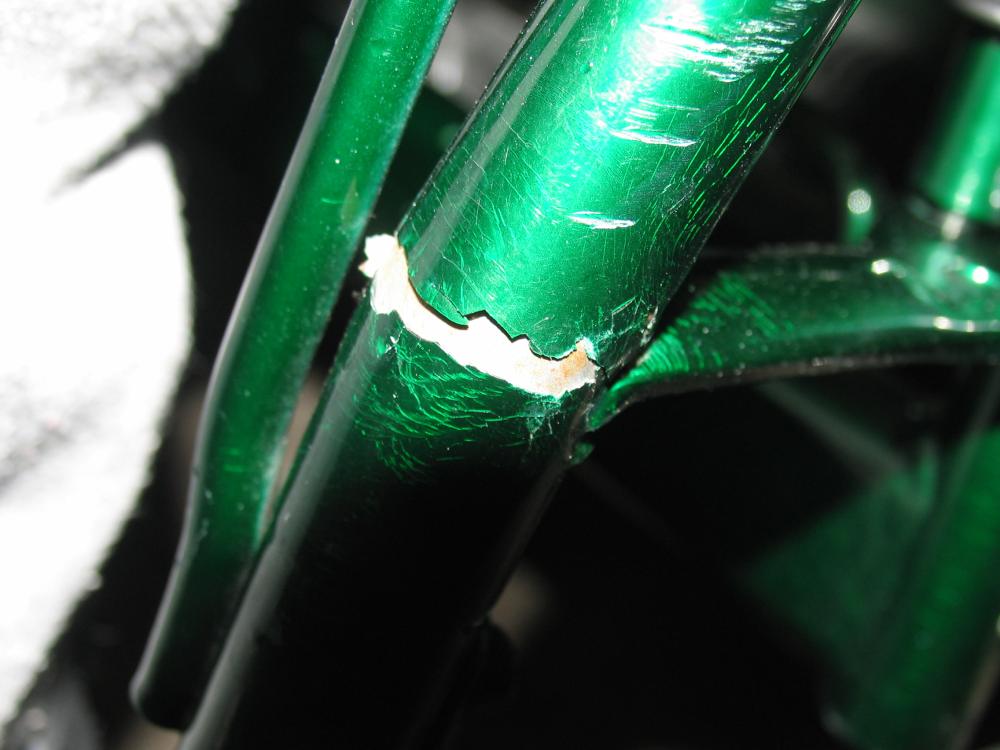 Kumpaankin jalkalautaan oli tullut tällainen rasitusmurtuma. Ihan samaan paikkaan ja muutenkin samanlainen. Jos tuollainen murtuma olisi lentokoneessa, se tarkoittaisi koko tyypin käyttökieltoa.
Se on aiheutunut siitä, että olen toistuvasti törmännyt sillä seinään. Tyypillisesti hissin takaseinään.

Ei

omaan hissiini, koska otan ne sitäennen pois (muutoin se ei menisi sisään).



My leg-support had these stress-breaks. Those are caused be repetitive hits from front. That's quite clear thing.




But that kind of breaks (or actually it's just start breaking) aren't any good thing. In aeroplanes such would cause grounding whole type. But this is no aeroplane...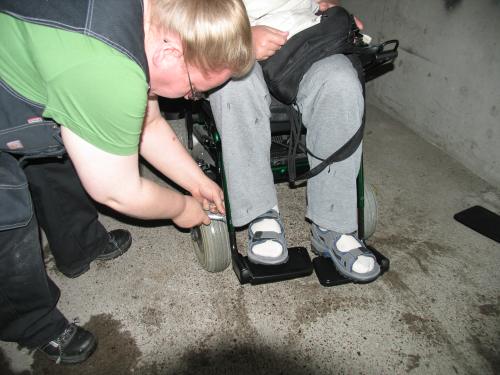 Kummankiin jalkalaudan pituuden voi säätää erikseen. Siis jos jalat olisivat vaikka erimittaisia. Minulla ei kylläkään ole. Pyrin asettamaan ne mahdollisimman pitkiksi, koska koipeni eivät ole ihan lyhyimmästä päästä.



Then adjusting the length. One can do that individually. But no need for me, for both of my feet have the same length.But only problem is that they are rather long.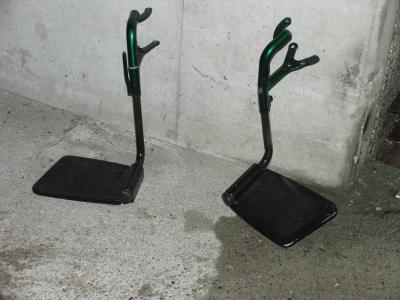 Ja tässä ovat sitten vanhat raukat. Nyt ne ovat täysin roskaa. Tai oikeastaan romua, koska siellä taatusti kierrätetään suunnilleen kaikki mahdollinen. esimerkiksi sieltä tulee vuosittain aika valtaisa määrä lyijyromua. Sähköpyörätuolit kun toimivat valtaisilla lyijyakuilla.



Here are the old ones. They look actually quite sad!




That place has obviously quite much lead from batteries used in electric wheelchairs. And clearly they do some kind of recycling. And that's ecologically very nice thing.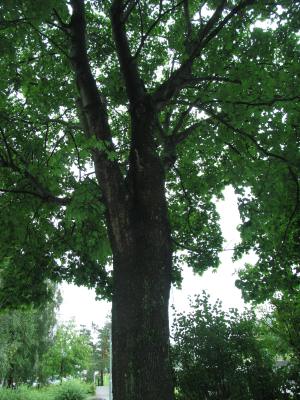 Apuvälinekeskuksen edustalla on tällainen aika valtaisa vaahtera. Puun hyvät ja huonot puolet ilmenevät syksyllä. Lehdet ovat silloin upean värikkäitä. Huonot puolet tulevat heti sen jälkeen. Nimittäin puu tiputtaa sitten isot lehtensä. Ja niitä on

valtaisan

palojon. Erityisen harmillista on se, että automaattioven avausmekanismi reagoi lehtiin.



There's really huge maple-tree just outside the center. Worker there told us, that it makes very mixed feelings. In Autumn it has really glorious colors. But then those leaves come down. From this huge tree, there are really awful amount of big leaves. Most disturbing thing is that the automatic door reacts to them




---
Vieraskirjani