Tälläkertaa Juhannuksena oli aika kylmä. Lisäksi ulkona oli melkoinen tuuli. Meripelastajat olivat saaneet pelastaa kasapäin sellaisia, joilla oli enemmän uskoa taitoihinsa kuin todellista taitoa. Lisäksi myrskytuuli oli katkonut sähköjä mökeilta melkoisia määriä. Jäi futis katsomatta...
Jokatapauksessa hukkuneita ei ollut kovinkaan hirveästi.
This midsummer is supposed to be warmest time of our summer. But definitely not this year. Emergency rescue in the sea worked quite much.
But this weather made it really hard for our typical drowning-death: having a bottle of our vodka ("koskenkorva"). That makes one believe much too much for swimming-abilities. Reality is really quite different thing...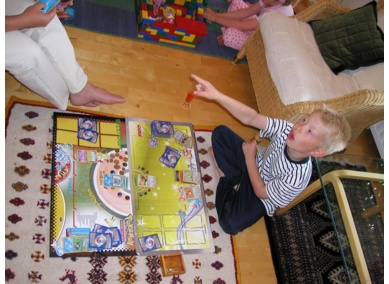 Pauli pelasi erittäin innokkaasti Pokemoneilla. Tiettyjä epäilyksiä herää siitä, että sääntöjä keksitään aina sopivasti...
Pauli (and Tuuli, too) really loves to play these Pokémons. And it seems, that he invents new and improved rules every time he needs to...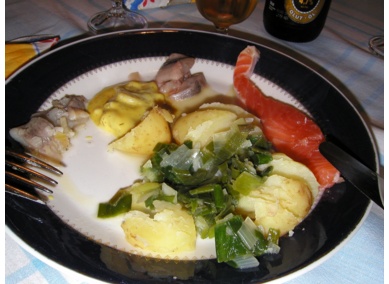 Ihan traditionaalinen juttu on erilaisten sillien (tässä on parisen lajia maustesilliä ja sinappisilli) syöminen uusien pottujen kanssa. Niin, tuo punainen on graavilohta. Se on selvästi ihan täysin suomailainen (tai kaipa sitä on muissakin pohjoismaissa) omituisuus. Ja pottujen päällä on ihanaa sipulikastiketta.
In the beginning we have mostly different fish-things . Mostly salmon (that red one) and at left of it three different types of herrings. One at the middle (yellowish one) is made of mustard and cream (or maybe sour-). The other two are made of vinegar and various spices.
And then we have that delicious onion-sauce on new potatoes.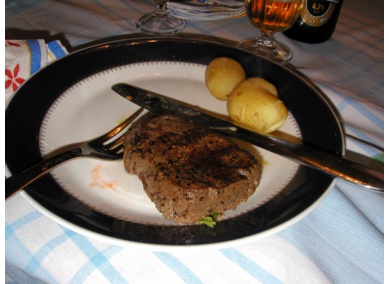 Grillattu makkara olisi kylla ollut huomattavasti traditionaalisempi juttu. Mutta täytyy kyllä myöntää, että tällainen tournados on huomattavasti herkullisempaa.
Traditionally one would have different kind of sausages (usually fried much too much) here. But we had this really delicious steak. And it was really raw!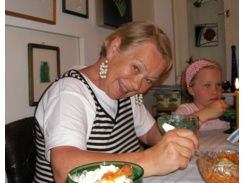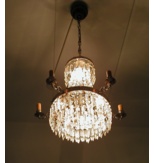 Pauli (ja Tuuli kanssa) napsi ihan hulluna kuvia digitaalikamerallani. Myönnettäköön, että niiden joukossa oli aika runsaasti sutta ja sekundaa... Kulemma erikoisen tyydyttävä oli tämä kuva kattokruunusta.
Kids took some photos. And I must admit, that most of them were really of horrible quality.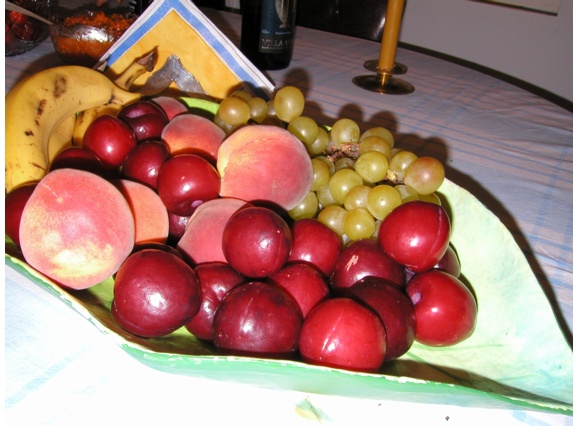 Jos jostain kummallisesta syystä oli vielä jäänyt nälkää, niin tässäpä olisi ollut hedelmiä. Eipä herättänyt kovin valtaisaa innostusta...
Do You still feel hungry? Here are some fruits!!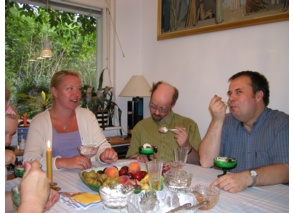 Ja sittenpä jäätelöä, kuohukermaa. mansikoita ja lakkoja. Ynnä tietenkin raparperipiirakkaa.
Then some ice-cream. And whipped cream. And some strawberries. And cloudberries. And then some rhubarb-pie.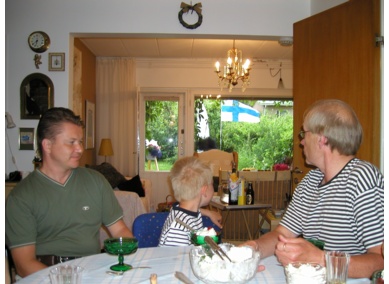 Tuosta lipusta näkee ihan selvästi, kuinka kamalan kova tuuli ulkona onkaan.
One can easily see from the flag, that there was really extremely strong wind.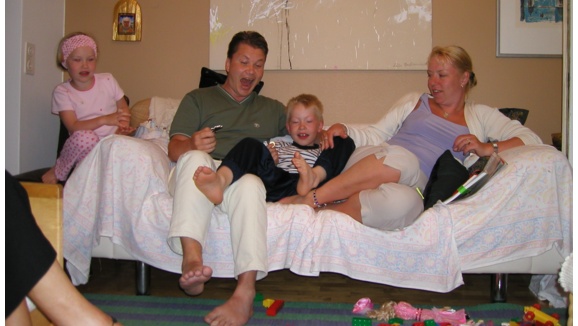 Sitten olikin vuorossa telkkarista tuttu kuutamolla. Minä en enää tässä vaiheessa ollut varmaankaan mitenkään hirvittävän paljon edukseni, koska olin päässyyt suunnilleen äskettäin sairaalasta...
Then we had some kind of "play" from telly...

---
Olli Arnberg <oar@arnberg.fi>